MidWinter 2017 Education Program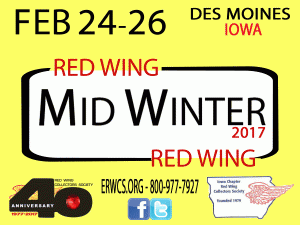 Keynote Session Saturday, February 25, 2017
8:00am
Convention 2017 – RWCS Celebrates 40th Anniversary in a new venue!
Presenters: Stacy Wegner and Nancy Lambert
Come to the keynote and hear about what's being planned for the 40th Anniversary Celebration. Hear about the new home of the 2017 Convention – Minnesota State College Southeast Red Wing. During the session members also will get to hear all the latest news on the location of Show and Sale, the auction, and other events and activities.
General Sessions – Saturday, February 25, 2017
Session 1 9:40 am – 10:30 am
Session 2 10:40 am – 11:30 am
**** All sessions will run both session times.If you are interested in speaking at MidWinter please contact Michelle Weisen, education manager at education@redwingcollector.org.
Early Colfax Springs History and Stoneware by Mark Wiseman
Recent research, previously unknown details concerning the first Colfax Springs Hotel, The Old M.C. Springs Hotel.  The research follows the involvement of  L.E. Gray of Ottumwa, Iowa, and the other two original partners . L. E. Gray later founded the Ottumwa Mineral Springs Hotel. Relating of Red Wing stoneware to the Hotels history, and recent digging of related artifacts.
Red Wing Dinnerware Mysteries & Reproductions by Terry Moe and Larry Roschen
Terry and Larry first presented a seminar on this subject in 2004, then updated the presentation for 2012.  This year they will present information uncovered since then as well as new mysteries waiting to be solved.  Odd Red Wing dinnerware items, reproductions, fakes and hobby shop items made from old Red Wing molds will be among the topics to be presented.
Bean Pots! Are all the Rage! by Yoshi Hoffman
Don't know beans about bean pots? Want to hear more about the index and see what's hard to find for a bean pot collector? Come, see and hear Yoshi Hoffman talk about his extensive collection of bean pots. Bring your stories too.
Special Session 11:30 – Noon
Facebook Q & A by Yoshi Hoffman
Having fun on Facebook but need some tips, tricks, or have a question? Come to this casual session to get your questions answers by a  member of the RWCS Facebook Chapter. One on one help available stop in for one question or stay for the whole session something for every Facebook user.
---
About Education
Education is a focal point of the RWCS events. Each year the Education Manager puts together an education schedule for both Convention and

MidWinter

filled with great learning opportunities for members. Education sessions is held on the Saturday of

MidWinter

– keynote speaker followed by four session break out times.
Education Sessions are a great way to: hear about the new research being done about Red Wing, learn tips and ideas from fellow members.
Video Lending Library

Each year the Education Manager selects session to be record and added to our library and available Free to RWCS Members. To see a complete list of sessions available on DVD and VHS please contact the
RWCS Business Office
or log into the members only section of the website to the Resource Page.