Convention 2016 – HANDS On Education

Thursday, July 7 and Friday, July 8
at Red Wing High School
Celebrate the RWCS turning 40!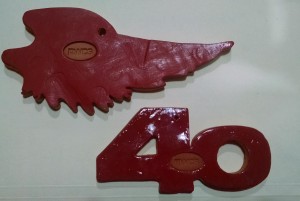 Sign up to make your own RWCS wing or #40 for your collection!
During the Convention on Thursday and Friday, stop by Richard Spiller's booth in the Cafeteria and decorate your own Wing, #40, or both, with engobe glaze and apply the scraffito technique. After the Convention, the piece will be fired and shipped to you.
Make your own or order custom!
$20 each or both for $35 + for shipping

Also for sale:
Wing and #40 Ornaments $18.95
Earrings and Tie Tacks $10
---
Wondering how you can personalize your piece? Here are some ideas to help get your creative design flowing:
Scratch in all the pieces that you collect or the words and phrases
Draw a design from a crock, dinnerware, or art pottery piece
Choose a color to create your own Wing and #40
Decorate as a gift for a 40th Birthday, Anniversary or Reunion
Wondering how to use either your Wing or #40 once its created? Each will come with a hole to thread a ribbon, rope or string for easy hanging. The #40 can also stand up. Ideas to think about:
Hang it on your door, on the wall in your home, or off a jug handle
Use it as trivet on your dining table
A cup coaster or paperweight
Smaller versions of both the Wing and #40 will be made in ornament sizes too!
Not sure if you would like to create your own limited number will also be available for purchase or you can order a custom one.
---
About the Potter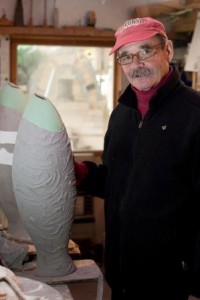 Richard Spiller
A resident of rural Wisconsin, Spiller was educated at Western Michigan University and the University of Wisconsin – Madison. An Emeritus Professor of Art at Eastern Carolina University, Spiller has been a practicing potter and ceramic artist for nearly 50 years. His expertise included kiln building with firing experience from corn cob raku to Tozan Noboigama and firing to cone 10 reduction.