Convention Education 2018
Educational Seminars are held at Minnesota State College Southeast in Red Wing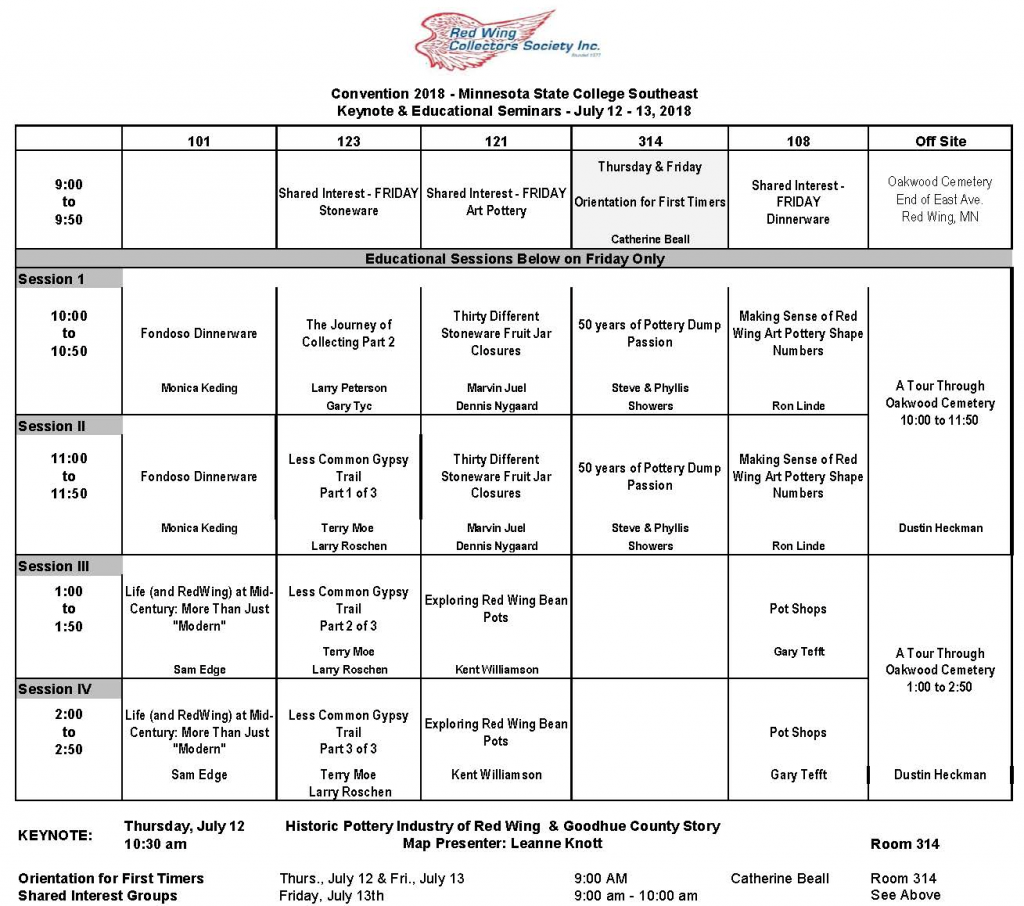 Historic Pottery Industry of Red Wing & Goodhue County Story Map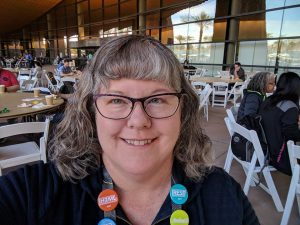 Thursday: July 12, 2018
10:30 a.m.
Presenter: Leanne Knott, GIS Systems Specialist, Goodhue County
Goodhue County GIS Systems Specialist Leanne Knott will share a visual history of the pottery industry in Red Wing and Goodhue County with maps, images, video, and narrative using an Esri Story Map web application. History topics include early pottery manufacturers, Sanborn Fire Insurance maps of the potteries, clay mining, Zumbrota-based manufacturing, transportation systems, workforce neighborhoods, pottery dump, and the enduring legacy of Red Wing pottery history today.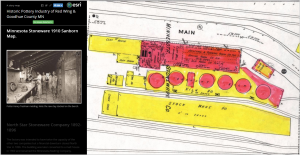 Speaker Biography:
Leanne Knott, GISP, has been working as a GIS Systems Specialist for Goodhue County, Minnesota since 2015. She previously worked as GIS Specialist for the City of Red Wing. She is a graduate of the University of Minnesota and completed her Masters of Science in GIS at St. Mary's University. Leanne is also an award-winning novelist and has published three novels to date.
---
Orientation for First Timers
Thursday: July 12, 9:00 a.m. to 10:00 a.m.
Friday: July 13, 13:00 a.m. to 10:00 a.m.
Start your first Convention experience out right by attending an Orientation Seminar led by longtime RWCS member Catherine Beall. Catherine will discuss all of the activities that are lined up and offer tips on making the most of your Convention experience.
Speaker Biography:
Hello all, my name is Catherine Beall. I have been involved in the Red Wing Convention for over ten years now. I have been speaking at the Convention for eight years now. My interest in Red Wing is the history and preservation of that history. The Charles E. Murphy prints are my particular area of interest. Hope to see you all there.
---
Shared Interest Groups
Friday, July 13
9:00 am

Come to the College early to meet up with others with your same collecting interest. Share your specific Red Wing collecting passion for Dinnerware, Stoneware, or Art Pottery. This is your time to network with other collectors and swap stories, ask questions, and get connected with other RWCS members with your area of interest.
See schedule for assigned rooms.
---
Educational Seminars
Friday, July 13, 2018

Session 1: 10:00 a.m. to 10:50 am.
Session 2: 11:00 a.m. to 11:50 a.m
Session 3: 1:00 p.m. to 1:50 p.m.
Session 4: 2:00 p.m. to 2:50 p.m
Session Title: Less Common Gypsy Trail (THIS IS A THREE PART SESSION)
Speakers: Larry Roschen & Terry Moe
Part 1 Session 2: 11:00 a.m. to 11:50 a.m.
Part 2 Session 3: 1:00 p.m. to 1:50 p.m.
Part 3 Session 4: 2:00 p.m. to 2:50 p.m.
Session Description: This seminar is designed to take 3 sessions.
Gypsy Trail is the dinnerware line with the most items not shown in the popular sources. Since many of the items are not marked, it is difficult for collectors to identify them. Larry and Terry will show photos and discuss all of the less common items. This seminar is designed to precede a series of RWCS Newsletter articles.
Speaker Biography:
Terry Moe and his wife Marilyn have been collecting Red Wing pottery since they inherited a partial set of Gypsy Trail Plain and Reed in 1975 from Terry's Grandmother. They primarily collect dinnerware. Gypsy Trail, Wreath, Ivanhoe, Nassau, Ardennes, Hotel or Restaurant, and Normandy along with Merrileaf have been their main focus. Primary source materials allowing them to document dinnerware have become a major interest.
Larry Roschen and his wife Kathy have collected all forms of Red Wing pottery since 1980. Red Wing pitchers, teapots, salt & pepper shakers are primary collecting interests along with building complete sets of several dinnerware patterns. Larry's interests eventually turned from growing the collection to learning more about the Red Wing dinnerware lines through research of vintage documents. Larry currently serves as the dinnerware advisor for the "Ask the Experts" section of the RWCS website.
Larry and Terry have conducted numerous dinnerware seminars for RWCS Midwinter and Summer Conventions.
Session: Fondoso Dinnerware
Speaker: Monica Keding
Session 1: 10:00 a.m. to 10:50 a.m.
Session 2: 11:00 a.m. to 11:50 a.m.
Session description:
Come and talk about the fun of collecting Dinnerware. This session will give you something new to look for and I will highlight Fondoso dinnerware
Speaker Biography:
Monica Keding has been a member of since 1990 and has been collecting Fondoso since 1988. She is also the webmaster of the Facebook page Red Wing Fondoso. Monica is still searching for a few pieces to complete her Fondoso collection and also collects stoneware pitchers, bowls as well as art pottery.
Session Title: The Journey of Collecting Red Wing Part 2
Speakers: Larry Peterson, Gary Tyc
Session 1: 10:00 a.m. to 10:50 a.m.

Session Description:
Larry Peterson has identified over ten stages of collecting Red Wing. He along with Gary Tyc will help to identify where you are right now and give you ideas for how to move purposely forward. They will share many new ways to enhance your collecting experience, and how to have more fun in your Red Wing adventure. Class participation will be encouraged.
Speaker Biography:
Larry Peterson, RWCS Charter Member and Hall of Fame member has been collecting Red Wing since 1970. Larry was asked to display some of his favorite pieces at the first convention. He has participated in every convention since. He has served as Education Chairperson, and President of the Cannon Valley Chapter. He has coauthored three books on Red Wing. Larry has always dreamed of creating a pottery museum. With Dave and Diane Hallstrom he started the Pottery Museum twenty years ago at Red Wing which became the new museum. He was project manager, overseeing the designing, coordinating the transfer to the current site, and moving the Schleich museum to the city of Red Wing. He works hard every year with other volunteers to have a new display and many new items for you to enjoy. He is owner of Larry's Jugs Antiques. His passion is to promote the history, the collecting, and the investing in Red Wing stoneware and pottery by sharing, teaching, and having fun.
Gary Tyc has been collecting Red Wing stoneware and other antiques for over 30 years. He has served and is currently serving as a RWCS Foundation Board Member. He is a past president of the RWCS Rocky Mountain (Colorado) Chapter from 1994 through 1997. His primary collecting interests are salt glaze water coolers, beehive jugs, crocks, and certain merchant advertising pieces. Professionally he is the CFO of a mutual fund company with headquarters in New York City and Tucson, AZ. He has lived in Tucson, AZ for the past 17 years.
Session Title: Thirty Different Stoneware Fruit Jar Closures
Speakers: Dennis Nygaard and Marv Juel
Session 1: 10:00 a.m. to 10:50 a.m.
Session 2: 11:00 a.m. to 11:50 a.m.
Session Description:
Marv Juel and Dennis Nygaard will present on 30 different fruit jar closures. Examples of all the discussed closures will be available so that members of the audience will be able to physically examine them.
Speaker Biographies:
Dennis Nygaard is a long time RWCS member inducted in to the RWCS Hall of Fame in 2011. He has been digging in the Red Wing dump since 1980. In addition to his passion for Red Wing and the Pottery dump, Dennis collects stoneware fruit jars from all United States potteries with a special interest in New Brighton, PA, pottery. Dennis has been a speaker at both MidWinter and Convention for a number of years. He is a member of the Gopher Chapter. Dennis lives in Hastings, MN, with his wife, Virginia.
Marv Juel was born and raised in Iowa. He is a 1950 graduate of Nashua High School. He attended and graduated from LaCrosse State College, LaCrosse, Wisconsin University of Minnesota with a master's degree in mathematics in education. Marv made a career of teaching high school mathematics and did some coaching of boy's sports. He retired after the 1986-1987 school year.
Session Title: 50 years of Pottery Dump Passion
Speakers: Steve & Phyllis Showers
Session 1: 10:00 a.m. to 10:50 a.m.
Session 2: 11:00 a.m. to 11:50 a.m.
Session Description:
Steve and Phyllis Showers are taking time this convention to reflect on 50 years of digging the stories of Red Wing. Come and hear their timeless story of curating the unique history of Red Wing stoneware and pottery via the production dumps in Red Wing.
Speaker Biography:
"Red Wing Archeologist" Steve Showers has been a Red Wing pottery dump digger for over 50 years and is a RWCS Hall of Fame Member. He has been a speaker at every Convention since he joined the RWCS. Steve and his wife, Phyllis, are active members of the Gopher Chapter and Iowa Chapter. Phyllis are avid gardeners, using their Red Wing sewer pipe as planters, and shards as ground cover and stepping stones. They live in Welch, Minnesota.
Session: Making Sense of Red Wing Art Pottery Shape Numbers
Speaker: Ron Linde
Session 1: 10:00 a.m. to 10:50 a.m.
Session 2: 11:00 a.m. to 11:50 a.m.
Session Description:
Are you puzzled by the shape number on your art pottery or want to know more about dating the year that your Red Wing art ware was first produced? Ron Linde developed a schematic to explain how these shape numbers were developed and how you can date when your art ware was first in production. You are invited to bring a couple favorite pieces for dating and any questions that you might have related to art ware production.
Speaker Biography:
Ron Linde joined the RWCS in 1981. He has researched Red Wing stoneware and art pottery and given over 30 presentations and museum tours. Ron was a charter board member of the Red Wing Collectors Society Foundation and served as president for six years. He was inducted into the RWCS Hall of Fame in 2003 and is a Life Member of the American Art Pottery Association.
Session Name: Life (and Red Wing) at Mid-Century: More than just "modern"
Speaker: Sam Edge
Session 3: 1:00 p.m. to 1:50 p.m.
Session 4: 2:00 p.m. to 2:50 p.m.
Session Description:
Mid-Century Modern. Early American. Tiki. Brutalist. Hollywood Regency. Kitsch. Do you see these words and wonder what the heck they all mean? In this session, we will attempt to demystify the craze that currently surrounds Mid-Century design, placing the products made by the Red Wing Potteries into a wider design (and societal) context. We will discuss the many (sometimes conflicting) styles that existed during the Mid-Century era and how they manifested themselves into a dazzling array of products. We will examine both current and vintage materials to aid in our understanding. Come ready to learn and to have some fun!
Speaker Biography:
Sam Edge was born and raised in Stewartville, Minnesota, a small town just outside of Rochester. A member of RWCS since 2005, Sam was born into a Red Wing (and antiques) loving family. When he is not busy working on his Master of Library and Information Studies degree, Sam can probably be found either working in the library system at Mayo Clinic or at one of six local thrift stores (no joke – his iPhone once thought he lived at Savers). Sam is an avid collector of Mid-Century items, including Red Wing and studio pottery.
Session Title: Exploring Red Wing Bean Pots
Speaker: Kent Williamson
Session 3: 1:00 p.m. to 1:50 p.m.
Session 4: 2:00 p.m. to 2:50 p.m.
Session Description:
Everything you want to know about Bean Pots. Pre-1900, Dinnerware bean pots, Advertising bean pots and various bean pot sizes.
Speaker Biography:
Kent Williamson joined the RWCS in 1969, He has given seminars on cookie jars and bean pots. He started a special interest group in advertising bean pots in 2016. He is the president of the Southwest Chapter. He owns over 300 various Red Wing bean pots and loves to share that knowledge with others.
Session Title: Pot Shops
Speaker: Gary Tefft
Session 3: 1:00 p.m. to 1:50 p.m.
Session 4: 2:00 p.m. to 2:50 p.m.
Session Description:
The sizes, locations, and layouts of the pot shops in Red Wing and the machinery, equipment and processes used through the years will presented and explained. You will learn where and how your favorite pieces of stoneware, art pottery of dinnerware were made and some of the reasons behind the when & why.
Speaker Biography:
Gary Tefft began collecting Red Wing Pottery from the perspective of an engineer and Red Wing native in addition to the usual appreciation for the pleasing aesthetic qualities we all share as collectors. He has been a frequent author of Newsletter articles since the Society's early days. Along with his wife, Bonnie, they researched and collected the history of the Red Wing pottery industry as intently as they sought its wares. Their book, Red Wing Potters & Their Wares, in three editions beginning in 1981, presented the fruits of that search. After several years as an observer, he is returning as a seminar presenter this year.
Session Title: A Tour through Oakwood Cemetery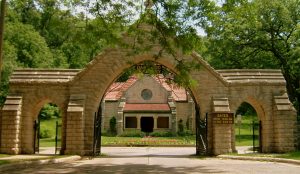 Onsite at Oakwood Cemetery at the End of East Ave., Red Wing, MN
Speaker: Dustin Heckman
Session 1: 10:00 a.m. to 11:50 a.m.
Session 2: 1:00 p.m. to 2:50 p.m.
Session Description:
Journey through one of the cemetery's most historic sections as you visit the final resting places of some of Red Wing's most notable names, including: Reverend Joseph Hancock, Abraham E. Welch, T.B. Sheldon, and more. Learn the difference between male and female Victorian mourning customs, the meanings behind tombstone symbolism, and what life was like for a 19th century Red Wing resident.
Speaker Biography:
Dustin Heckman has worked in local history for over 11 years throughout Minnesota. He currently is the Alliance Coordinator for the Minnesota Alliance of Local History Museums and was the previous Executive Director of the Goodhue County Historical Society. A beginning collector, Dustin lives in Red Wing with his wife and daughter.
Directions to Oakwood Cemetery (meet at the caretaker office):
From the college (10 min.):
Take a left out of the college parking lot. At MN 58N (the traffic light) turn left. Continue down the hill and turn left onto 15th St. Take 15th Street to East Avenue and turn left. East Avenue leads into the entrance of Oakwood Cemetery. Follow road to the right up the hill. At top of hill take an immediate left. The caretaker's office is straight ahead on the right.
From the Pottery Museum (11 min):
Head out of the Pottery Museum parking lot. Turn right on Old West Main Street. At the intersection of Main Street (HWY 61) turn left. At the next traffic light turn right on to West Avenue (by Econo Foods). Continue straight to stay on West Ave. Turn left onto West 7th St. Then turn right onto East Ave. East Avenue leads into the entrance of Oakwood Cemetery. Follow road to the right up the hill. At top of hill take an immediate left. The caretaker's office is straight ahead on the right.
---
Education Manager – David Yoshi Hoffman
About Education
Education is a focal point of the RWCS events. Each year the Education Manager puts together an education schedule for both Convention and MidWinter filled with great learning opportunities for members. Education sessions is held on the second day of Convention, Friday with three or four session break out times as Saturday of MidWinter.
Education Sessions are a great way to: hear about the new research being done about Red Wing, learn tips and ideas from fellow members.
Education Manager is always looking for speakers, please contact him at education@redwingcollectors.org.

Video Lending Library
Each year the Education Manager selects session to be record and added to our library and available Free to RWCS Members.. To see a complete list of sessions available on DVD and VHS please contact the RWCS Business Office or log into the members only section of the website to the Resource Page.
Any RWCS Member can become a speaker at the Annual Convention by simply contacting the Education Manager via email.