2013 Convention Banquet
Saturday, July 13
Tickets:
$20 adults
$10 children
Menu: Full Salad Bar with fruit and pasta salad, Roast Chicken, Green Beans, Cheesy Potatoes, Meatball & Mariana Sauce with penna pasta, garlic toast, tiramisu and chocolate cake.
The 2013 Banquet will feature an all you can eat buffet including coffee and milk, cash bar available. Door prizes donated by Red Wing Area businesses will be awarded.
Speaker: To be announced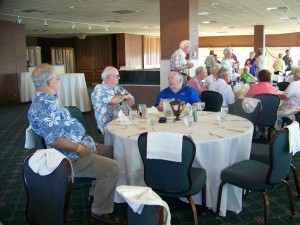 About the Event
The Annual Convention for the Red Wing Collectors Society closes with a members only banquet. The banquet is the members opportunity to gather once more before hitting the road home from the Convention.
The banquet traditionally starts at 6:30 pm and offers a speaker and door prizes. All members are welcome to attend the banquet in Red Wing.