2016 Auction Check-in:
Noon to 3 p.m. on Wednesday, July 6
8 to 11 a.m. on Thursday, July 7
The earlier you can be there to submit your piece, the better.
Auction viewing: 12:15 to 4:15 p.m. Thursday, July 7
Auction Starts: 4:30 p.m., Thursday, July 7
Concessions by Winger Volleyball
4:00pm – 8:00 pm
2016 Auction Submission Form – available February 2016
Forms in 2015 will not be accepted via email.
2015 Convention Information:
The 2015 RWCS Auction. will once again have a flat commission of 10 percent on items that sell for $100 or more, and items that sell for less than $100 will be charged a flat $20 commission. The reserve option for high-end items to be sold will be available again this year. The minimum reserve price will be $2,000. Items that don't hit the reserve will be charged a $150 fee. The Auction Manager reserve the right to not accept the reserve if a specific item has a value far less than $2,000. In this case, the member submitting the piece will be notified. Consignors are encouraged to return their forms early and include a photo so we can promote their items in the June RWCS Newsletter and on the website.
I look forward to having a great Auction at Convention this year! I hope to have the volunteers from past auctions helping us this year and anybody new is also welcome to help.
Scott Hardman
Auction Manager
auction@redwingcollectors.org
CONVENTION AUCTION PREVIEW FROM 2015. These were published in the 2015 June Newsletter.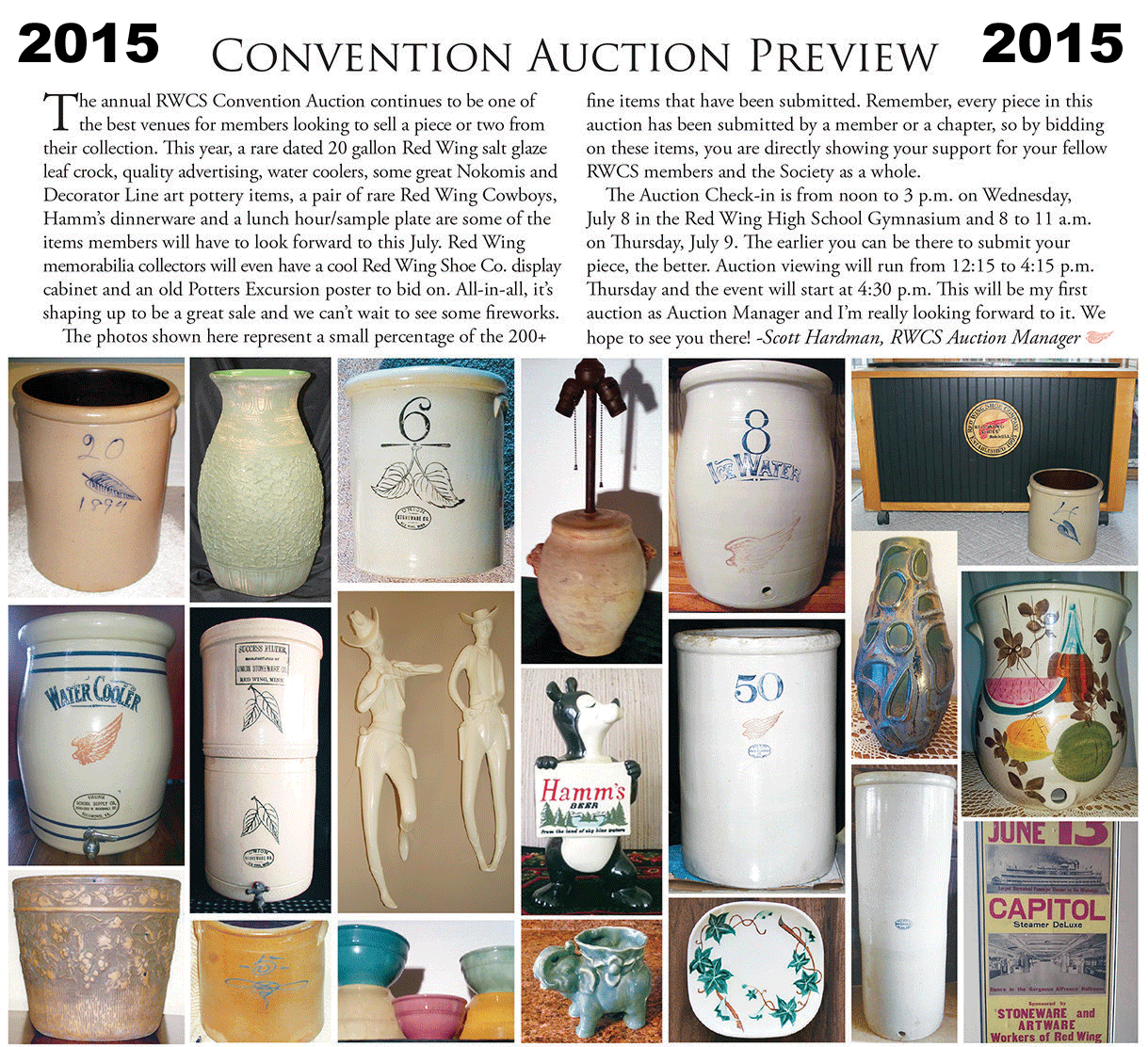 ---
About the Auction: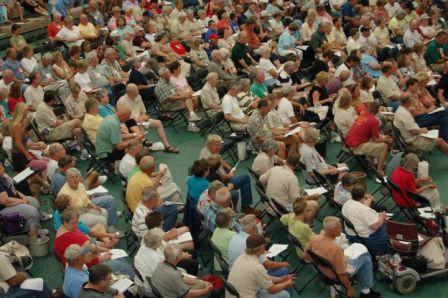 The Annual Convention Members only Auction is always on the Thursday evening of the July Convention at the Red Wing High School Gym. You must be a registered attendee in order to attend the Auction.
Each year the Auction Manager publishes the Auction Guidelines which are available in the February Newsletter and online.
In general, the the annual member's only auction is open to the entire membership and each member can submit a piece for the auction via completion of the submission form.
Starting in 2011, the RWCS Auction Manger requested and the RWCS Board approved the  "Second Submission" Process.
Second Piece Submission Process: Members now have the opportunity to submit a second piece to the auction which they should mark as "SECOND" on their submission form. In the event that the auction lottery has space remaining for additional lot numbers, the Auction Manager will choose submission forms marked "SECOND" at random until the auction is filled.
All entries are still subject to the lottery. For more information regarding the Convention Auction please contact the Auction Manager or the RWCS Business Office.
Previous Years Prices Realized: