RWCS Newsletter Classifieds!
BOOKMARK THIS PAGE FOR ONLINE ONLY AUCTION ADS ALL YEAR LONG!
MidWinter 2017

Feb. 24-26, 2017 in Des Moines, IA
Membership is only $35 a year and includes six full-color newsletters
---
AUCTION
Advertise your upcoming auction here.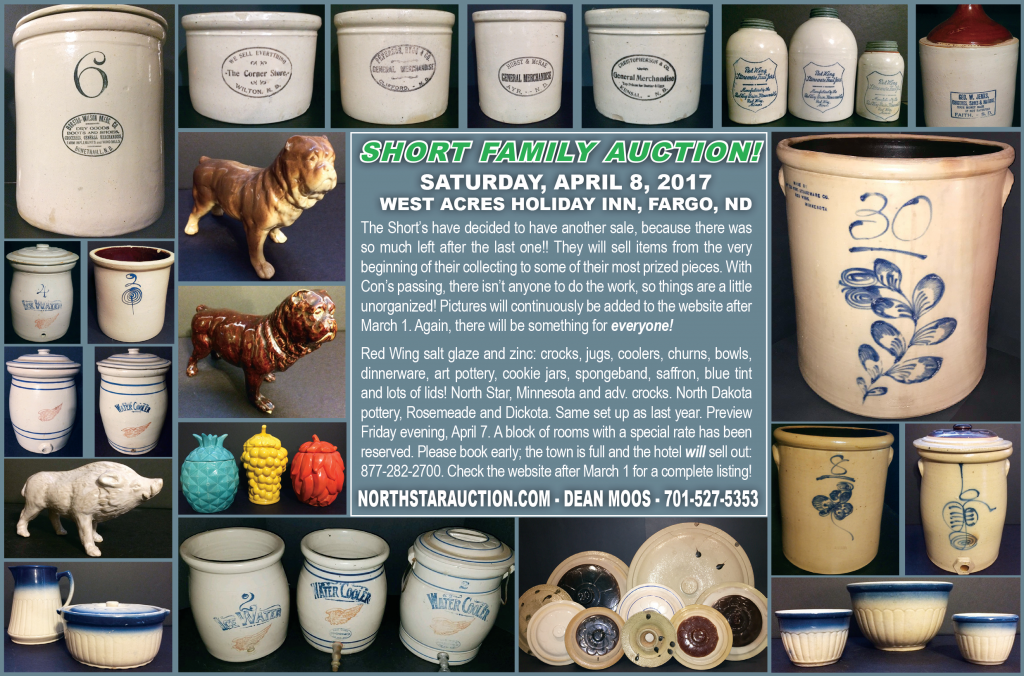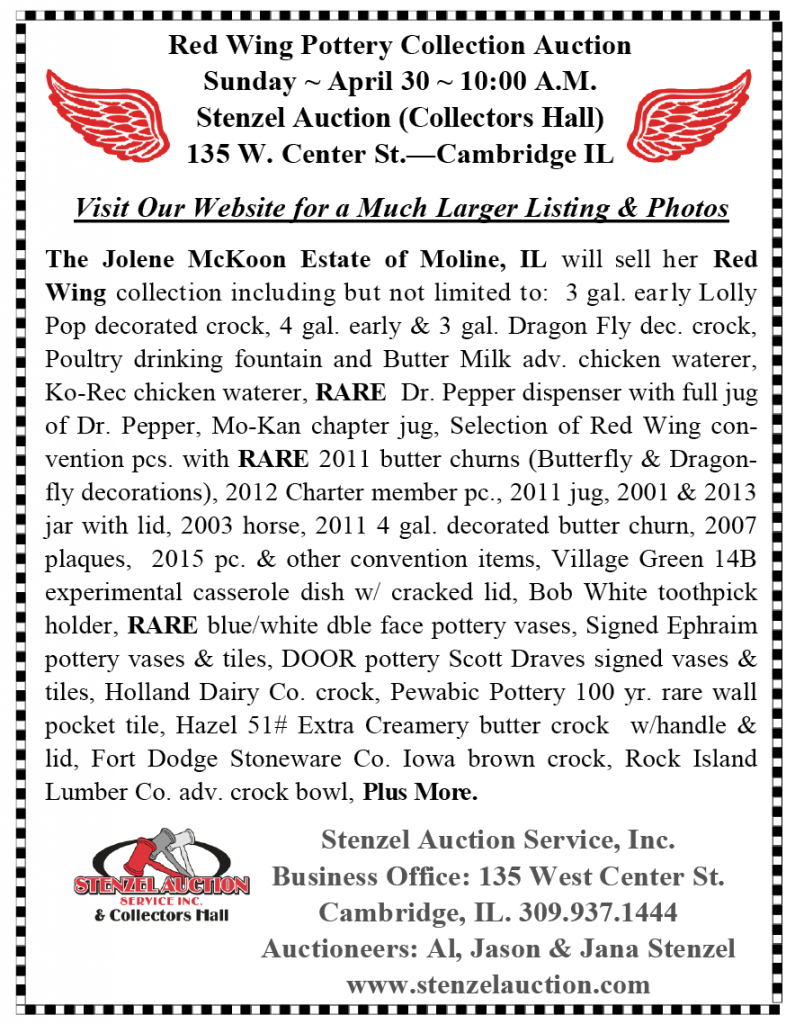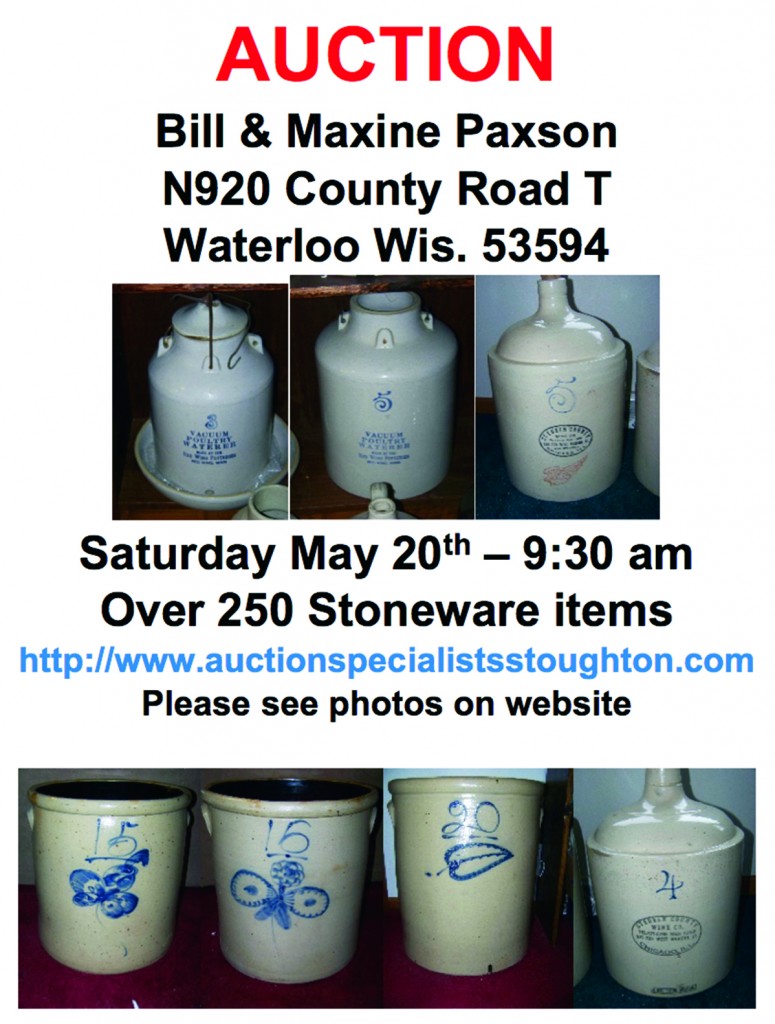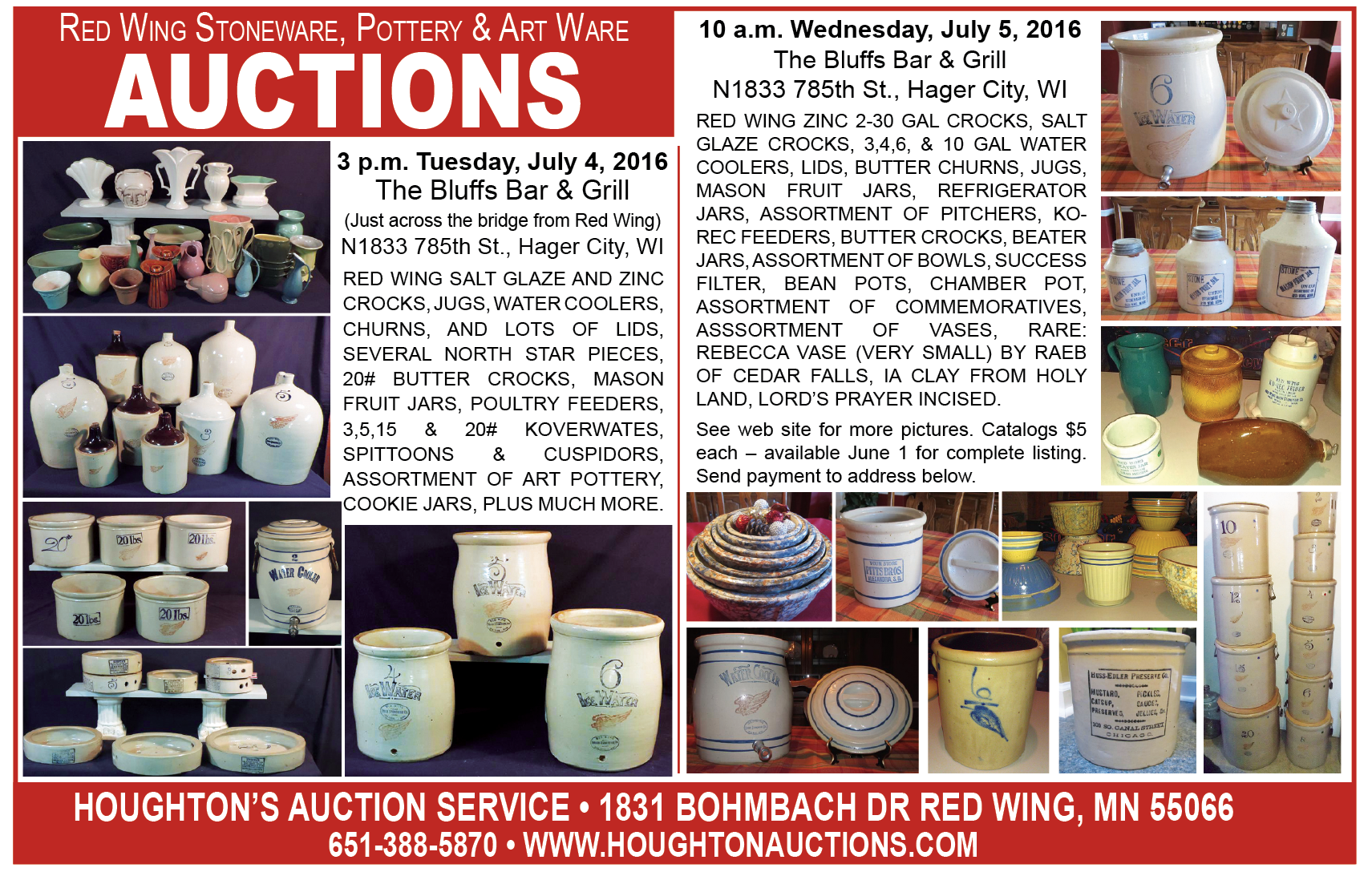 ---
FOR SALE: Red Wing Grayline "Cookies" casserole with lid, $1000 (excellent cond.); Grayline casserole with lid 7" and 8", $250/each (excellent cond.); Grayline bowl 7", $150 (excellent cond.); Grayline bowl 9" with advertising: "It pays to mix with Kohnkes, Clear Lake SD, $150 (with crack); Saffron pitcher with advertising: "Fairway Fine Food Nergres' Store, ND, $375 (excellent cond.); Red Wing 5 gallon cooler with lid, $1000 (cooler, excellent cond., lid with chip on rim). Contact Maureen at nydreamer2@gmail.com or 703-801-7105.
FOR SALE: Looking for dinnerware? We have a number of items from various dinnerware patterns for sale. Please let us know what you want. We can bring items to MidWinter. Contact 319-270-3683 or tmmoe@gypsytrail.net (put Red Wing in the subject line) afternoons and evenings until 8 p.m.
FOR SALE: 9 ½" Red Wing multi-colored King of Tarts cookie jar from 1950. No cracks, chips or crazing. Cookie jar is in excellent condition. Contact Carol at cabwillowick3@roadrunner.com or 440-585-2922.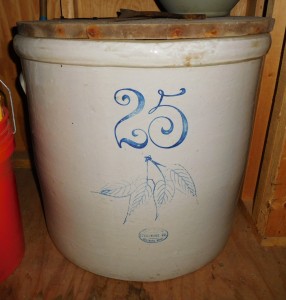 FOR SALE: 25 gallon Union Stoneware crock, excellent condition, $300. Pickup in Racine County, WI. Delivery might be possible for a fee. Contact Liz at 262-939-0921 or auntliz822@gmail.com.
---
RED WING WANTED
WANTED: Hamm's Red Wing Banks, Brown Bears and Unique Hamm's Red Wing items. CASH PAID. Call Kirk RWCS member #917 at 612-618-3717 or 763-252-0114 (office). 8/17
WANTED: 155 vases, white/ivory, 9" & 12" tall. E-mail ralphryan@charter.net. 10/17
WANTED: Syracuse, NY glass or stoneware pieces – Geo. W. Halloway Drug Store. Contact Ed at lindy9122@gmail.com or 315-637-9747. 8/17
WANTED: Mini and salesman sample flower pots in any colors. Contact cobe142@cox.net or 402-598-1315.
WANTED: L. Borserini, Atchison, Kansas advertising jug – contact julibug@cox.net, or 479-283-9889.
WANTED: Looking for a Willow Wind pattern Spoon Rest – the last one I need to complete my collection of Red Wing spoon rests! Please call Margaret at 651-388-9729.
WANTED: NORTH DAKOTA! Looking for jugs, crocks, butter crocks and churns with advertising. Will pay top dollar for the right pieces. Contact 701-270-0242 or beehive@polarcomm.com.
WANTED: Will pay strong price for Red Wing bean pot with Westby, Wis. advertising. Contact Rich at repatlargeeast@redwingcollectors.org or 608-617-7424.
WANTED: Red Wing large blue/green Chromoline vases in mint condition (#687 & M3006). Contact Rick at 414-416-9464 or newsletter@redwingcollectors.org.
---
EVENTS
---