RWCS Newsletter Classifieds!
BOOKMARK THIS PAGE FOR ONLINE ONLY AUCTION ADS ALL YEAR LONG!
MidWinter 2015

February 6-8, 2015 in Oconomowoc, WI
Membership is only $35 a year and includes six full-color newsletters
AUCTION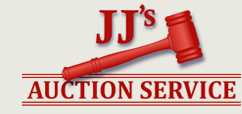 ORDNER COMPLETE ESTATE AUCTION
SEPTEMBER 21
| | |
| --- | --- |
| Date & Time: | AUCTION WILL START ENDING ON SEPTEMBER 21ST STARTING AT 7PM–PICKUP TO BE SEPTEMBER 22ND 10AM TILL 6 30PM INSPECTION WILL BE ON WEDNESDAY SEPTEMBER 17TH 2 TO 6 30PM |
| Location: | 10800 385TH ST NORTH BRANCH,MN |
THIS AUCTION ,HAS SOMETHING FOR EVERYONE, RARE 50 GALLON CROCK, CRAFTSMAN TOOL CHEST ,LOTS OF CRAFTSMAN TOOLS, NICE ANTIQUES, VINTAGE METAL TABLES,ANTIQUE FURNITURE., ALUMACRAFT CANOE, OUTDOOR ITEMS, HUNTING ITEMS, FISHING ITEMS.BIG SAWMILL BLADES
Notes:
inspection:WILL BE WEDNESDAY SEPTEMBER 17TH 2PM TILL 6 30 PMAUCTION WILL START ENDING: SUNDAY SEPTEMBER 21ST AT 7PM

.REMOVAL–WILL BE MONDAY SEPTEMBER 22ND 10AM TILL 6 30 PM .

Terms:
Terms…THERE IS 10% BUYERS PREMIUM AND SALES TAX WILL BE COLLECTED
EVERYTHING IS SOLD AS IS WHERE IS WITH NO WARRANTIES OR GUARANTIES FROM THE AUCTION SERVICE YOU MUST INSPECT PROPERTY. INSPECT BEFORE BIDDING.ALL AUCTION WILL CLOSE 4 ITEMS A MINUTE.. PLEASE BRING A LIST OF ITEMS THAT YOU WANT TO LOOK AT, THE STORE IS VERY SMALL..
Directions:
5 MILES EAST OF INTERSTATE 35 ON HWY 95, TURN RIGHT ON LANTZ AVE GO 1,2 MILE TO 385TH FIRST DRIVEWAY ON LEFT…ON THE CORNER OF LANTZ AND 385TH.
Contact:
JJ's Auction Service
10800 385th St
North Branch MN 55056
Phone: 612-801-3068
Email Web-page
---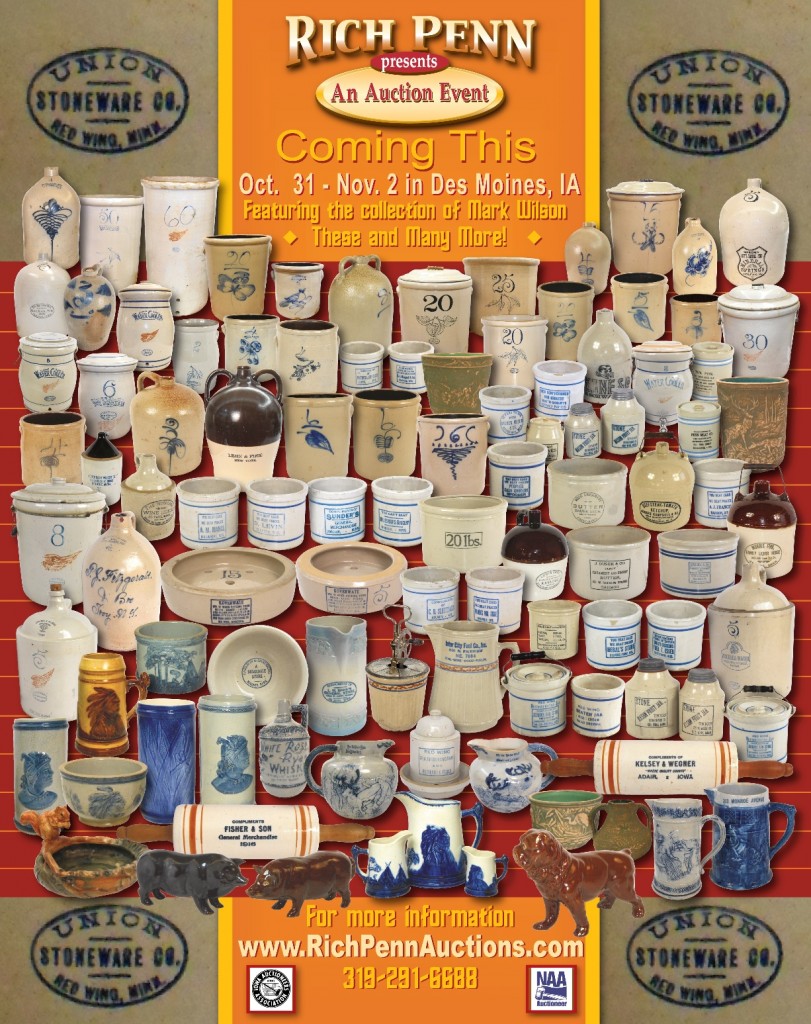 RWCS Foundation Auction – 9 a.m. Saturday, Nov. 8, 2014. at the Zumbrota VFW Hall in Zumbrota, MN. This auction will consist of Red Wing pottery, artware, dinnerware and antiques. Proceeds will benefit the Pottery Museum of Red Wing. Look for more information in the October RWCS Newsletter and on our website. Houghton's Auction Service www.houghtonauctions.com.
---
---
Four pieces of RW Nokomis artware. $450 for the large double-handled vase and $250 each for the other three pieces. Call Lorraine at 715-532-5095.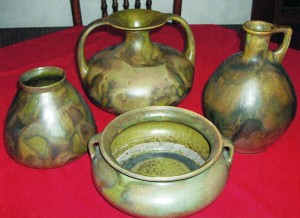 25-year collection of RW stoneware and pottery located in Michigan. Over 500 various pieces including crocks up to 30 gal, 3 water coolers, 9 pcs of Nokomis, some advertising stoneware, some North Star, several cookie jars, Success Filter, etc. Want to sell the entire lot at once. Call Jerry at 734-426-2168 for info and pictures.
Selling 20-year collection of 100+ pieces of small/mini stoneware including jugs, banks, bowls, mugs, misc. Red Wing and other makers, many with advertising. All in VG to excellent condition. Best offer over $3,000. Also 4 gallon Red Wing churn with reverse wing and oval, no lid, no cracks or chips, $400. Call Carol at 269-329-0219 or e-mail copria@att.net.
Red Wing dinnerware plate collection. Over 100 different dinner plates. Excellent condition. Many with cups and saucers. No Bud or Labriego plates. Sold as a group. Pick up in the Iowa Great Lakes area. Contact choreboy@outlook.com. 10/14
Red Wing "wing" crocks: 1, 2, 3, 5, 10 and 20 gallons. 2 & 3 gallon jugs. "2" butter churn. 2 pitchers. Small 25 gal and 35 gal crocks. 2 pots for plants. Utensil holder, butter dish, 3 canisters (1 broken lid), s/p shakers, cream & sugar, tea candle, vase, large flat bowl, mug, 2 containers w/lids and a couple miscellaneous small crocks. Some old and some new. Will send pictures if interested. Contact Jennifer at 563-544-8023 or chadjenn@acegroup.cc.
Large Red Wing button-knob petal lid that measures about 22.5 inches in diameter. Can fit 25, 30 or 40 gallon crocks. One small chip. $750. Mint 25 gallon squatty blue birchleaf crock with no oval, $375. I also have many other wing and birchleaf crocks in good condition sizes 1-30 gallons and churns sizes 2-6 gallons. Looking for a damaged crock to use outside as a planter? I have many of those, too, sizes 5-20 gal. Located in SE Wisconsin. Will consider trades for Wisconsin adv. bean pots I don't have, such as Westby or Wittenberg, Wis. Contact Richard at rnatynski@frontier.com or 608-617-7424.
---
RED WING WANTED
Wanted: "Early" Normandy, the first version of the Normandy pattern, with maroon and blue bands at the outer edge of the plates. Will buy or trade. Any condition considered. Also wanted: Ivanhoe pieces. Contact John at secretary@redwingcollectors.org or 612-861-0066.
Wanted: These Xmas advertising bean pots: Koehnkes – Clear Lake, SD; C & W Shafer – Branch, WI; Gjermundson Bros
Hdwe – Wittenberg, WI. Any condition considered. Also looking for 9-inch blue and white panel bowl. Will consider any condition. Call 414-731-0218 or e-mail redwingr@gmail.com.
Wanted: Mini and salesman sample flower pots. Contact cobe142@cox.net or 402-331-4749.
Wanted:"Schwingle & Co., Muscoda", or "E.J. Schwingle & Co., Muscoda Wisconsin" advertising stoneware. Please contact Becca at hoffer5@hotmail.com or 507-272-1107. 8/14
Wanted: NORTH DAKOTA! Looking for jugs, crocks, butter crocks and churns with advertising. Will pay top dollar for the right pieces. Contact beehive@polarcomm.com or 701-270-0242.
Wanted: Red Wing #687 & M3006 vases especially blue/green Chromoline in mint condition. Also seeking mint #675 blue/green Chromoline bowl, damaged Chromoline in other shapes and Menominee, Michigan advertising jug. Contact Rick at 414-416-9464 or newsletter@redwingcollectors.org.
---
CLUBS &EVENTS
Elkhorn Flea Market, Walworth County Fairgrounds in Elkhorn, WI. Sunday, Sept. 28. More than 500 quality dealers! Visit www.nlpromotionsllc.com for information.
Walnut Antique Fall Festival – Walnut, Ia. Sept. 13-14, 2014. Primitives, stoneware, advertising, toys, furniture, art pottery, etc. Dealer space available. Contact Tim Lockard at 641-862-3239.
Advertise your upcoming antique show, flea market, or club event here.