RWCS Newsletter Classifieds!
April 2018 Ads Now Posted!
BOOKMARK THIS PAGE FOR ONLINE ONLY AUCTION ADS ALL YEAR LONG!
July Convention 2018

July 12-14, 2018 Red Wing, MN
Membership is only $35 a year and includes full-color newsletters
Advertise with us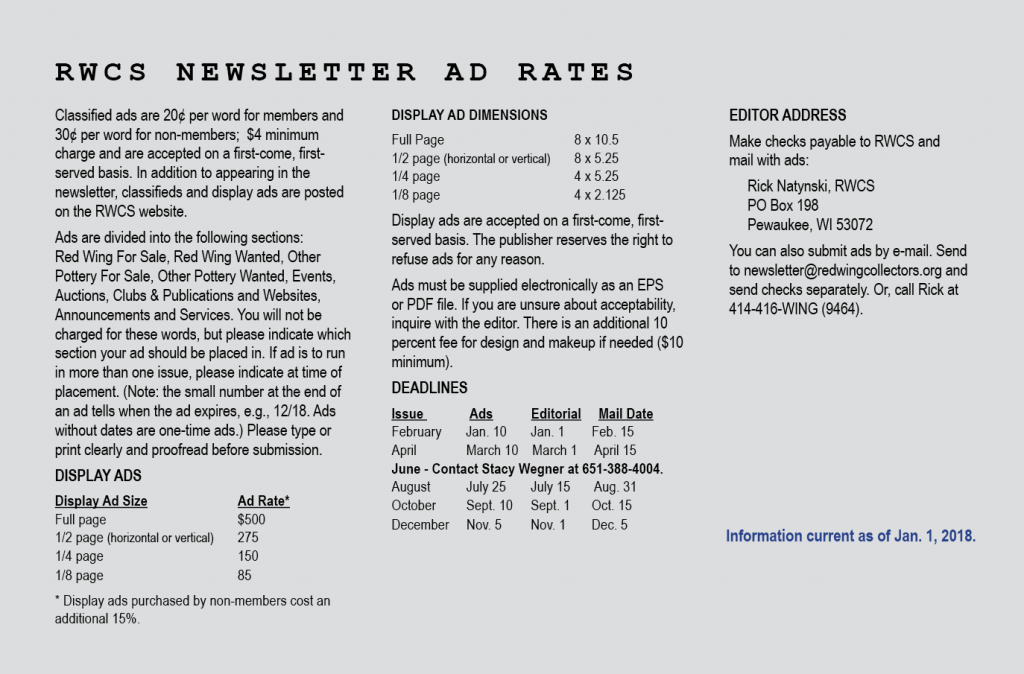 AUCTION
Sweeney Auction Center
click here
for all the auction photos!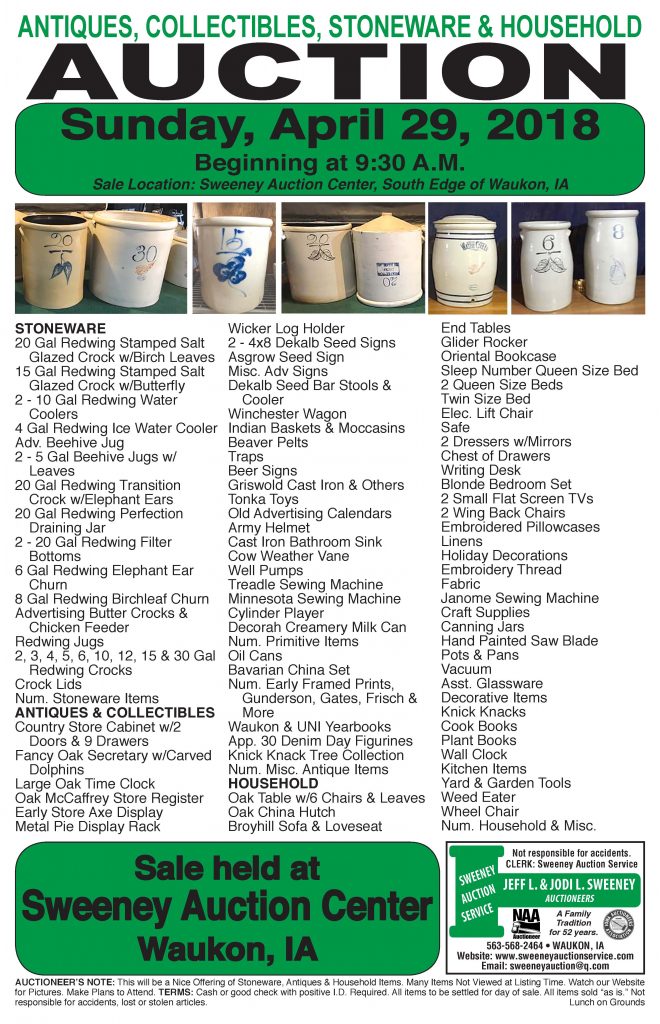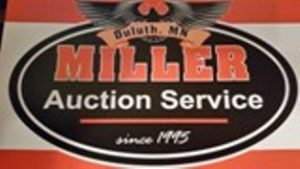 Sunday, April 29, 2018
Barnum Community Center
3677 County Rd 61
Barnum, MN
Sale starts at 12 noon
WW1 WW11 VIETNAM ARTIFACTS AND MEMORABILIA
Several berets, caps, uniforms and helmets. Large collection of special ops and air borne patches, many military books, photos and papers pus much more.
RED WING POTTERY
1880's Mini red wing jug, 10gal advertising crock. Bob white water cooler lid plus other lids, 5gal Jugs, 4 leaf 15gal union stoneware, several commemorative pieces along with several other pieces of western and other named pottery.
GENERAL ANTIQUES
Metal Adirondack chairs, walking sticks, spearing decoys, TV and table lamps, art deco ashtrays, native American pieces, nemadji pottery, Beatles memorabilia and much much more.
AUCTIONEERS NOTES
If your into antiques and collectibles especially red wing or military this is a sale you need to attend.
Phone:
715.922.0526
715.922.0126
Email: millerauctionservice1@gmail.com
Facebook Miller Auction House!
---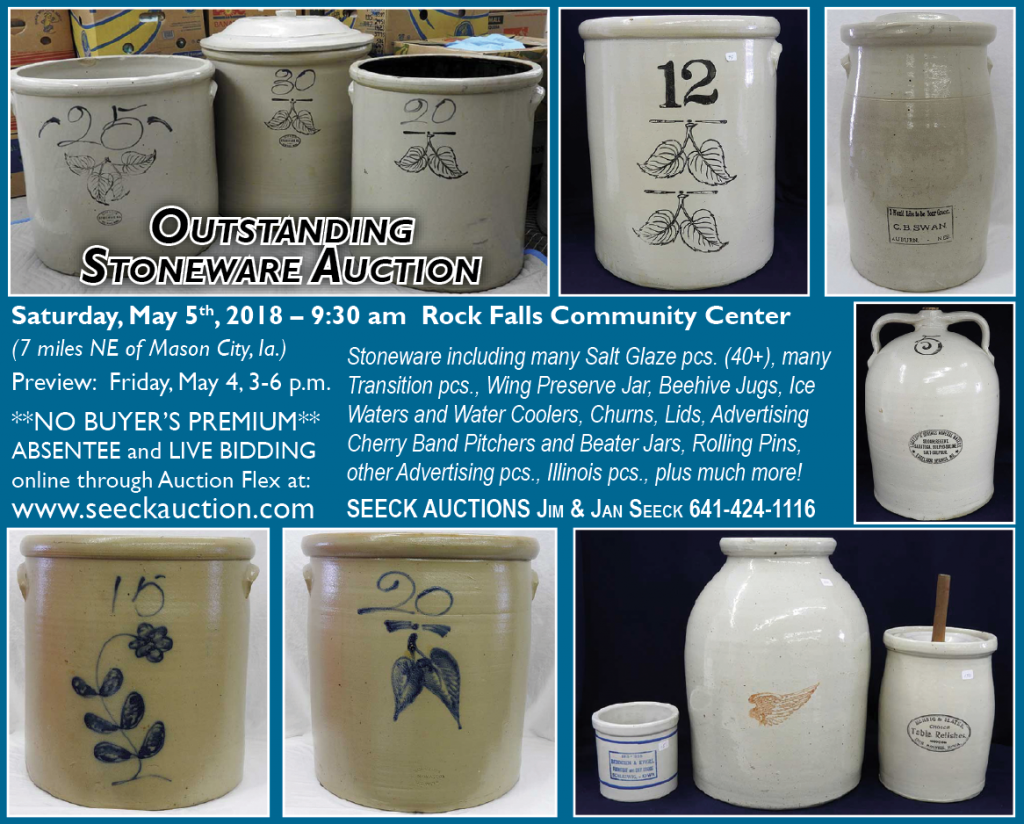 Advertise your upcoming auction here! Contact the office 651-388-4004.
FOR SALE: Lid for RW 5 lb butter pail (gray with blue bands), $80. RWCS Commemoratives: 2007 threshing jug and 2009 bean pot, $15 each. Iowa Chapter Commemoratives: 1998 cherry band pitcher, 2003 Osage crock, 2004 chicken waterer, 2005 pantry jar and 2009 adv. jug, $15 each. Shipping extra. Please call 507-526-5966 or 507-520-0103.
FOR SALE: Hilda Lothner 4 ¾ inch shape 892 "Forget-me-not" design, 14-inch Delta Blue chop plate, pair of Egyptian #159 12 ½ inch vases (one standard green & cream, one unusual tan & brown). Call RWCS member #209 with best offer at 715-425-5141.
---
RED WING WANTED
WANTED: Daisy chain dinnerware, dinner, salad plates, bowls and serving pieces. Contact Ruth at 218-310-2373 or ruthrjanke@yahoo.com.
WANTED: 1986 RWCS Convention SPECIAL COMMEMORATIVE – Acid Proof Pitcher with blue sponging. E-mail grandmagretah@yahoo.com or call or text Greta at 847-372-1000.
WANTED: 155 vases, white/ivory, 9" & 12" tall. E-mail ralphryan@charter.net.
WANTED: Bob White: 4 oz. juice tumblers and supper sets; Delta Blue: coffee mugs & beverage mugs; Tampico: tall beverage mugs, water cooler base & lid; Capistrano: 2 dish tidbit tray; Roundup: 2 mugs; Reed: white & ivory tumblers: Water Cooler bar petal lids, winged 2, 8 & 10 gal; Wing crocks: 40, 50 & 60 gal with or without lids. Contact Herb at hdaniels000@gmail.com or 417-876-7104. 12/18
WANTED: Red Wing Brewing 3-4 color glass, any etched glasses, tokens, signs, ball tap knobs, foam scrapers, letterheads, etc. from Remmler, Midwest, Cokins, or Red Wing Brewing. Contact 651-564-0200 or minnbeer@gmail.com. 12/17
WANTED: 155 vases, white/ivory, 9" & 12" tall. E-mail ralphryan@charter.net.
WANTED: Green Iris Pitcher, any size. Also need 6 inch size Iris Pitcher in Burgundy and yellow. Contact Lee at Lee.elder47@gmail.com or 785-738-8363.
WANTED: Still, and always looking for jugs and crocks with Montana advertising. Working hard to improve my collection. Contact Aaron at adbliss@3riversdbs.net or call (406) 788-7851. 12/18
WANTED: Will pay strong price for Red Wing bean pot with Westby, Wis. advertising. Contact Rich at repatlargeeast@redwingcollectors.org or 608-617-7424.
WANTED: Red Wing Daisy Chain dinner plates and salad/cereal bowls serving pieces. Contact Nancy at nancy194805@gmail.com or 785-691-7213.
WANTED: Mini and salesman sample flower pots in any colors. Contact cobe142@cox.net or 402-598-1315.
WANTED: Looking for a Willow Wind pattern Spoon Rest – the last one I need to complete my collection of Red Wing spoon rests! Please call Margaret at 651-388-9729.
WANTED: NORTH DAKOTA! Looking for jugs, crocks, butter crocks and churns with advertising. Will pay top dollar for the right pieces. Contact 701-270-0242 or beehive@polarcomm.com.
WANTED: #687 Blue/Green Chromoline vase in mint condition and Red Wing advertising bean pots from Shamokin, Pennsylvania and Frazer, Montana. Contact Rick at newsletter@redwingcollectors.org or 414-416-WING.
---
EVENTS
American Art Pottery Association: The Nation's Best Art Pottery Show! 9 a.m. to 4 p.m. Saturday, April 28. Located at Gateway Hotel & Convention Center, 2100 Green Hills Drive, Ames, IA. Admission is free. Visit www.aapa.info or AmericanArtPotteryAssociation on Facebook for more information.