RWCS Newsletter Classifieds!
BOOKMARK THIS PAGE FOR ONLINE ONLY AUCTION ADS ALL YEAR LONG!
MidWinter 2017

Feb. 24-26, 2017 in Des Moines, IA
Membership is only $35 a year and includes six full-color newsletters
---
AUCTION
Advertise your upcoming auction here.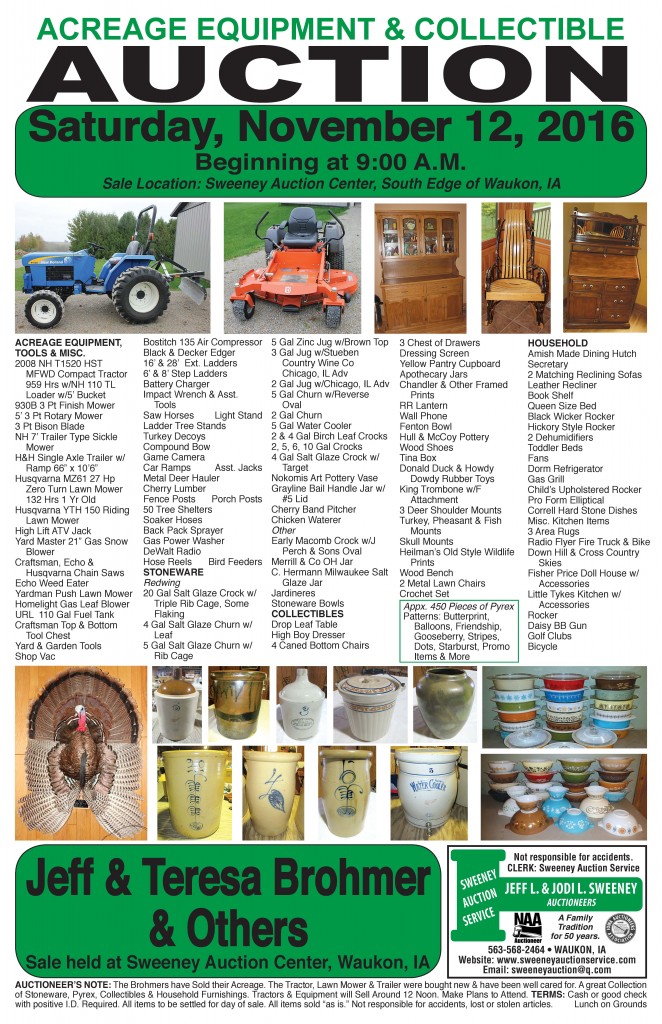 ---
Saturday, November 26th, 2016 at 11:00 AM
Red Wing Stoneware – Churns, Crocks, Jugs & More;
Guns; Furniture; Pink Depression Glass; Miscellaneous
Citizen Pottawatomi Community Building 806 Nishnabe Trail, Rossville, Kansas
REDWING STONEWARE:
RED WING CHURNS including 2 gallon small wing; 2-3 gallons; 3 gallon Birch leaf with bar handles; 4 gallon (small wing) with wire handle; 2-5 gallons; 6 gallon; 4 gallon-no handle.
RED WING CROCKS including 30 gallon-large wing; 25 gallon (small crack); 20 gallon-large wing; 20 gallon Birch leaf; 2-12 gallons; 10 gallon; 8 gallon Birch leaf (no oval); 6 gallon Birch leaf; 2-5 gallon Birch leaf; 4 gallon Birch leaf; 3 gallon elephant ear; 2 gallon oval over; 2 gallon oval only; 3-2 gallon; 6 gallon small wing; 8 gallon 4" wing.
RED WING JUGS: 5 gallon small wing; 3 gallon-base chip; 2 gallon Beehive (no mark); one gallon bottom mark (small chip); one gallon Albany Slip.
SALT GLAZE: 8 gallon Butterfly; 6 gallon.
MISCELLANEOUS RED WING: 20 gallon Perfection Sanitary self-draining jar; 6 gallon water cooler (base chip); churn lids; lay down chicken waterer; Poultry drinking font & buttermilk feeder (no base); 2 brown hot water bottles; Minnesota stoneware apple butter jar; small beanpot; no mark squatty crock; framed Red Wing sheet music; crock jug; 2 RW Hamm's Krug-Klub beer mugs; splatter bowl; newer Lincoln, Nebraska 'Home has it all' pitcher; 6 gallon lid (repaired); newer utility jar; 5 gallon jug; Minnesota stoneware bottom marked preserve/snuff jar.
RED WING COMMOMERATIVE: 3-2003 Pegasus planters; 4-2004 Brush pottery vases; 2004 Iowa Chapter lay down chicken waterer; 2006 round-up teapot; 2 Trails 5 single leaf; 2 Trails West Chapter 2004 bird baths; 3-2002 RWCS buttons.
RED WING ART POTTERY: 2 tall Bob White pitchers; yellow Friar Tuck cookie jar; Oomph bowl; several other pieces.
GUNS: Winchester Model 67 .22 rifle, single shot short, long, long rifle, no butt plate; I BARGUN EBAR double barrel shotgun 12ga, 2 ¾ chambers, Richland Arms Co., made in Spain; US Springfield Armory Model 1899, 30-40 Kreg; US Remington Model 03-A3 with sling; Ruger Model 10/22, .22 carbine with Weaver 4X scope, damaged front sight; Ruger 10/22 New Grey laminate Mannlicker stock; heckler & Koch GMBH, P7 M8, 9MM, 3 magazines in box with papers, made in West Germany, HK Chantilly, Va.; Rossi Model 720 NIB, .44 Special hammerless revolver with papers Smith & Wesson 629 NIB, SS, .44 mag., Mountain pistol 4" barrel; Ruger Blackhawk NIB, SS 45 Colt 4 ¾ barrel; Ruger Blackhawk used blue 45 colt, 4 ¾" barrel; Colt Woodsman Match Target, .22 LR with holster, 6" barrel; High Standard Supermatic Citation, .22 LR Model 107 Military; Colt Combat Commander 45 ACP Remington 870 12ga, ADJ. stock pistol grip, extended magazines; Stoeger double barrel shotgun, NIB, 12ga; Remington Rand Inc., 45 auto 45 ACP; 2-US Firearms Company Model Rodeo, both 4 ¾" barrels, 45 Colt, both NIB; Winchester 1892 lever action, 32 WCF, pat. October 14, 1884; Browning Arms 243, short mag.; Ruger Mark II Target 22 LR Adj. sights, one magazine used; Colt AR, 15 NIB, Match H-Bar, Model R6601, Pre-Ban; Smith & Wesson Bodyguard, .380 cal., Model BG380 with laser pointer, NIB; Walther PPK/S .380 ACP, SS, NIB; Stock, NIB, sniper the Ultimate Sniper, fully adj., aluminum bedding; H&R 20ga, pump shotgun; Ruger Blackhawk 357, 4 ¾" barrel, older Blackhawk three screws & not transfer bar, used but like new. There is a small quantity of ammo 22lr, 380, 45acp etc; knives NIB; leather holsters.
FURNITURE & MISCELLANEOUS: Treadle sewing machine; antique baby cradle; approximately 30 pcs Pink depression glass including covered bowl, creamer, sugar, sherbets, divided bowls, plates, handled bowls; several other pieces; Oak Regulator wall clock; old cast iron blue rock thrower; Rayo lamp; electrified Coleman lamp; square metal kerosene jug in wooden crate.
2 AREA COLLECTORS
GANNON REAL ESTATE AND AUCTIONS
VERN GANNON BROKER/AUCTIONEER
785-770-0066 MANHATTAN, KANSAS 785-539-2316
www.gannonauctions.com
---
FOR SALE: Red Wing Christmas Tree Holder. Best offer plus shipping from CT. Contact kathybrot@gmail.com for photos.
FOR SALE: Red Wing Lotus 39-pc. collection. Includes many serving pieces. Selling full collection for $500 + shipping. Contact Nancy at nhunter1358@gmail.com or 970-260-4484.
FOR SALE: RW Spring Song dishes. Contact sandra.linn@comcast.net for more information.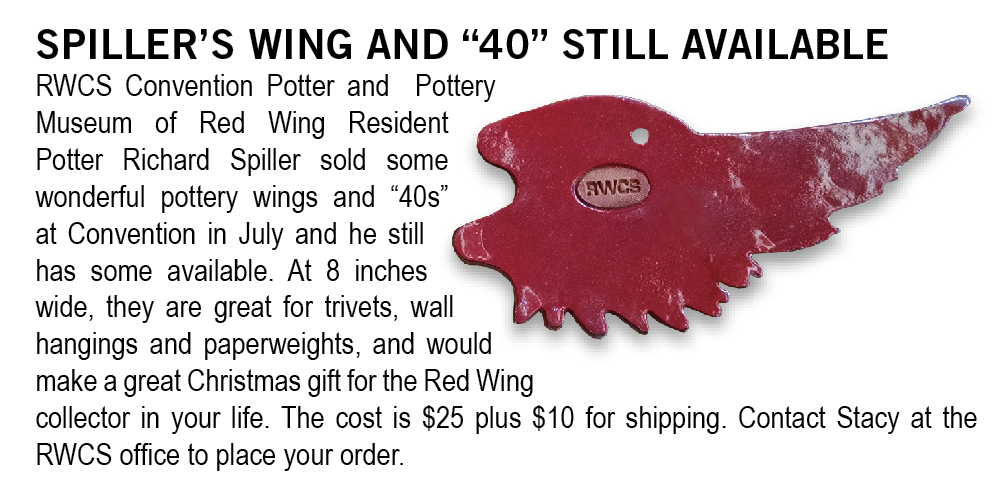 ---
RED WING WANTED
WANTED: Hamm's Red Wing Banks, Brown Bears and Unique Hamm's Red Wing items. CASH PAID. Call Kirk RWCS member #917 at 612-618-3717 or 763-252-0114 (office). 8/17
WANTED: NORTH DAKOTA! Looking for jugs, crocks, butter crocks and churns with advertising. Will pay top dollar for the right pieces. Contact 701-270-0242 or beehive@polarcomm.com
WANTED: L. Borserini, Atchison, Kansas advertising jug – contact julibug@cox.net, or 479-283-9889.
WANTED: Looking for a Willow Wind pattern Spoon Rest – the last one I need to complete my collection of Red Wing spoon rests! Please call Margaret at 651-388-9729.
WANTED: MOOSE JAW, Saskatchewan, Canada advertising. Will consider any condition. Please contact Greg at 307-543-2010 or ghouda@wyoming.com  12/16
WANTED: Will pay strong price for Red Wing bean pot with Westby, Wis. advertising. Contact Rich at 608-617-7424 or repatlargeeast@redwingcollectors.org
WANTED: Mini and salesman sample flower pots in any colors. Contact 402-598-1315 or cobe142@cox.net
WANTED: Red Wing #687 & M3006 large blue/green Chromoline vases in mint condition. Contact Rick at 414-416-9464 or newsletter@redwingcollectors.org
---