RWCS Newsletter Classifieds!
BOOKMARK THIS PAGE FOR ONLINE ONLY AUCTION ADS ALL YEAR LONG!
Convention 2014

July 10-12, 2014 in Red Wing, MN
Membership is only $35 a year and includes six full-color newsletters
AUCTION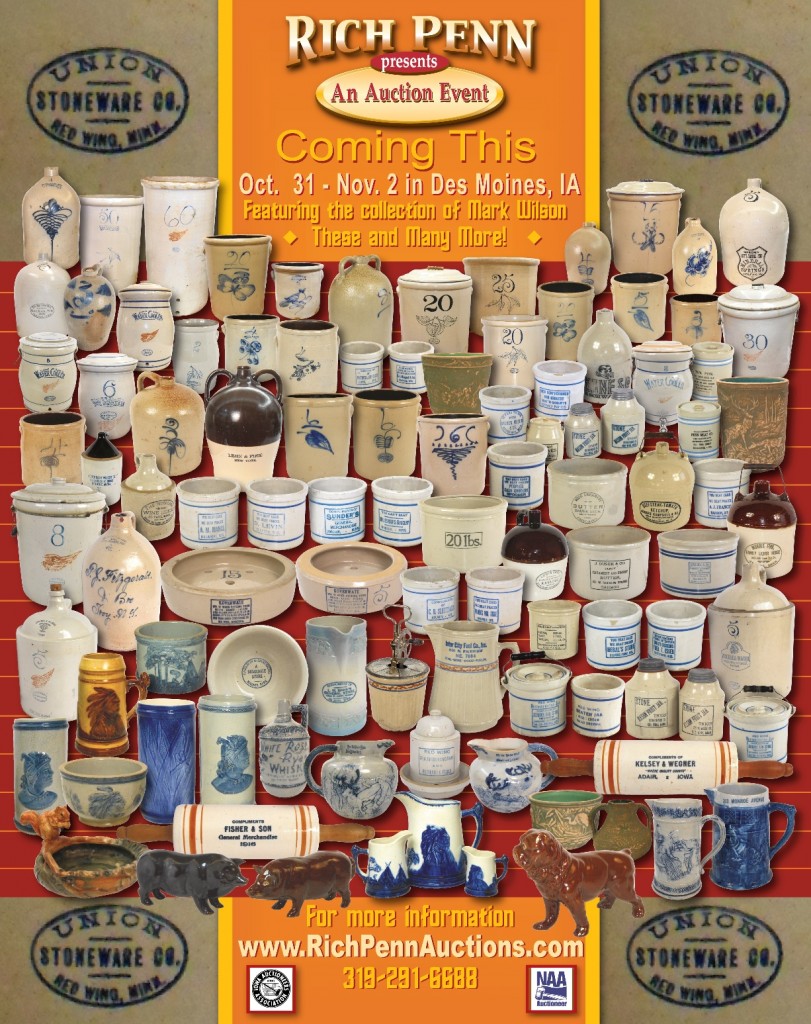 ---
---
All 25 Commemoratives from 1981-2005. Many RWCS Newsletters and Convention buttons dating back to early 1980s. Anniversary brochures and many Convention ribbons. 12-place setting of Random Harvest dinnerware plus several seriving pieces. Also have multiple place-settings of Homer Laughlin's Amberstone and Fiesta Casual (Yellow Carnation) dinnerware. Make offers on any or all. Call 928-232-0269 or e-mail vanglorp@hotmail.com. Items located in Bayfield Wis. until Labor Day.
Small cherryband pitcher, $75; 3 gal water cooler lid, $295; Quart Mason jar, black mark, $200. Call Orville at 509-751-0948.
5 gal Elephant Ear beehive jug, Union oval, bold black print, $3,250; Complete set of 7 paneled spongeware bowls, sizes 5-11, $1,400; 5 gal. hand-turned water cooler, 4" wing, RWUSC oval, spigot, and original button lid that has been repaired, $750; Blue banded bailed butter tubs with lids, 3#, $250, 5#, $275. Mason jars, black print, "short quart", $175, ½ gal, $200. Will deliver to Convention. Phone 515-225-3024 or e-mail clreedinwdm@mchsi.com.
Selling many years of Red Wing stoneware collection, including: crocks, jugs, canning jars, refrigerator jars, pitchers, spatterware bowls, etc. All are in mint or near-mint condition. All reasonable price offers will be accepted. Would prefer to sell groups of items or entire collection to one buyer. This is an excellent opportunity for collectors or dealers. Would arrange for viewing at your convenience, whenever possible. Contact Tom Witasek, tdbwit@att.net or 920-312-3544 for list and possible phone pictures.
Commemoratives: two 1996, two 1999, one 2001, one 2002, three 2003, two 2004, one 2007, one 2008, two 2009, three 2010, three 2011, one 2012. Twenty two pieces all like brand new and most are in the original boxes with the cards. Will sell all of them in a group for $880 OBO. 847-668-1099.
Commemoratives: 1986-2013. Please make offers. Can see viewed in Beloit, Wis. Also have duplicates from several years. Call 608-921-1834.
50 gallon Red Wing birchleaf crock in excellent condition. Contact Richard at 608-617-7424 or natynski@frontier.com.
---
RED WING WANTED
Wanted: "Early" Normandy, the first version of the Normandy pattern, with maroon and blue bands at the outer edge of the plates. Will buy or trade. Any condition considered. Also wanted: Ivanhoe pieces. Contact John at secretary@redwingcollectors.org or 612-861-0066. 6/14
Wanted: These Xmas advertising bean pots: Koehnkes – Clear Lake, SD; C & W Shafer – Branch, WI; Gjermundson Bros Hdwe – Wittenberg, WI; Virnig & Gross – Chokia, MN. Any condition considered. Also looking for 9-inch blue and white panel bowl. Will consider any condition. Call 414-731-0218 or e-mail redwingr@gmail.com.
Wanted: "Schwingle & Co., Muscoda", or "E.J. Schwingle & Co., Muscoda Wisconsin" advertising stoneware. Please contact Becca at hoffer5@hotmail.com or 507-272-1107. 8/14
Wanted: Mini and salesman sample flower pots. Contact cobe142@cox.net or 402-331-4749.
Wanted: NORTH DAKOTA! Looking for jugs, crocks, butter crocks and churns with advertising. Will pay top dollar for the right pieces. Contact beehive@polarcomm.com or 701-270-0242.
---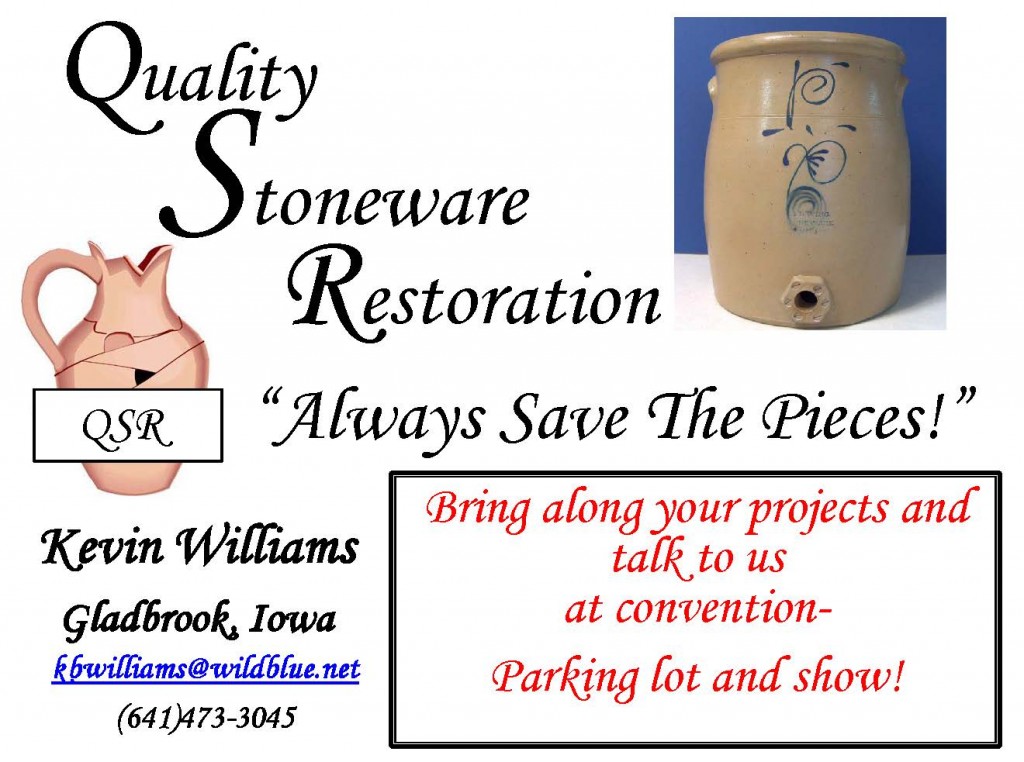 ---
CLUBS &EVENTS
Advertise your upcoming antique show, flea market, or club event here.