RWCS Newsletter Classifieds!
BOOKMARK THIS PAGE FOR ONLINE ONLY AUCTION ADS ALL YEAR LONG!
Convention 2015

July 9-11, 2015 in Red Wing, MN
Membership is only $35 a year and includes six full-color newsletters
AUCTION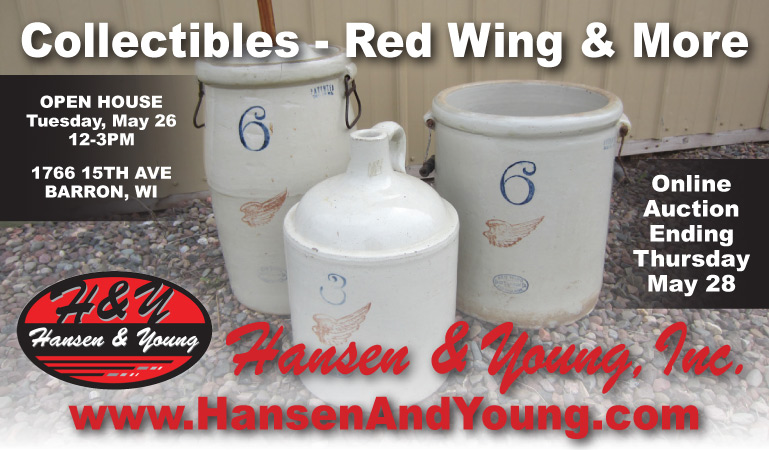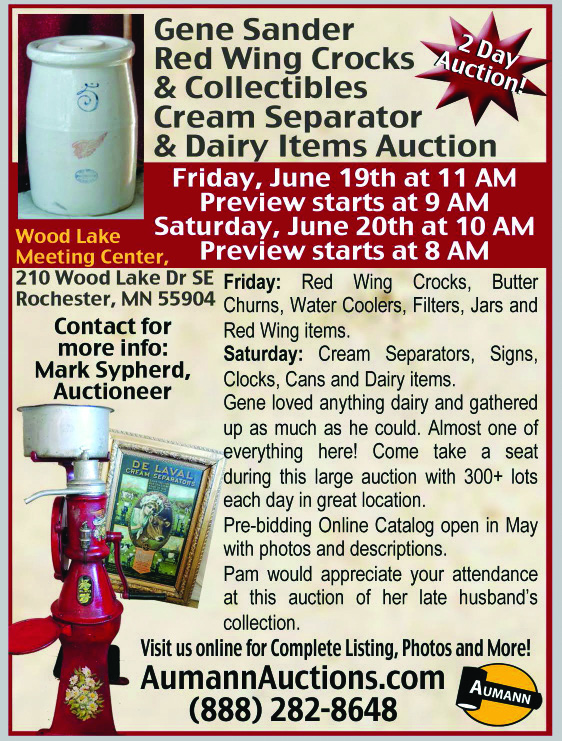 3 p.m. Tuesday, July 7, 2015 at the Bluff's, Hager City, WI. Crocks, Water Coolers, Jugs, Churns, Mini Jugs, Grayline, Pitchers, Saffron, Bowls, Cookie Jars, Brushware, Nokomis, Commemoratives, plus much more.
10 a.m. Wednesday, July 8, 2015 at the Bluffs, Hager City, WI. Very large assortment of Salt Glaze & Zinc Crocks, Western Crocks, Butter Churns, Jugs, Butter Crocks, Mason Stone Jars, assortment of Spongeband, plus much more. Catalogs available June 1 at $5 each. Houghton's Auction Service, 1967 Launa Ave., Red Wing, MN 55066.
---
For sale: Large assortment of Red Wing Stoneware. 5 gal water cooler, lid and stand. Men's and ladies' chamber pots, refrigerator jars, prohibition pitchers/mugs, crocks and covers, adveretising beater jar and bowls. Many others. YE OLDE ANTIQUES, Medford, WI. E-mail cstoerzi@charter.net (eBay member cstoerzi).
For sale: Red Wing Commemoratives 1977-2014, missing 1998. Will sell together only. Mint condition. Contact Karla at 660-665-9055 or sourtoe@cableone.net.
For sale: Midnight Rose dinnerware: 13" platter, egg tray, 9" bowl, 5 cups & saucers, bread plate, celery dish (rim nick) and three dinner plates (one w/chip). Sold as one lot. Est. retail value: $485. Asking only $300. Located in Phoenix. Call Jeanne at 623-214-5069.
For Sale: 1977 RWCS Commemorative, $1050. E-mail nancy194805@gmail.com.
For sale: Red Wing 5 gallon shoulder jug small wing $75.00, medium wing $125.00 + shipping. Both excellent condition. Contact Maureen at nydreamer2@gmail.com
For sale: Red Wing Magnolia dishes, service for twelve 95% complete, with platters, serving bowls, covered tureen, gravy boat, salt & pepper, butter dish. Excellent condition – make reasonable offer. Local pickup only in Phoenix, AZ. Tandra Love: tandra.love@fisglobal.com or 480-629-7749.
For sale: Commemoratives: 1991, 1992 (2), 1993 (2), 1995, 1997, 1998, 1999. Wisconsin Chapter Commemoratives: 1992, 1993, 1996, 1997, 1998. Marmalades: 2 pineapple with tray/lid – 1 yellow, 1 turquoise. 4 apples with tray/lid – 2 pink, 2 turquoise. 1 pear with lid/tray, turquoise. 1 pear with lid, turquoise. Belle Kogan 100 #762 7.5" copper. Capistrano casserole dish with lid (green bottom, light pattern top). Fancy Free (desert) beverage server with lid. Incised peasant design munch jar (light stone color). Animal novelties: #879 brown fish, #876 white donkey, #880 matte green pelican. #734 9.5" birch bark canoe. All items mint. Call Patricia at 608-924-3322. (4/15)
---
RED WING WANTED
Wanted: Red Wing sponge cap bowl with advertising for "Prospect, Wis. Compliments of J.E. Elger, 1935". Call Clint at 262-679-6427. (8/15)
Wanted: Bowey Chocolate Cattail Brushware Cookie Jar, bottom stamped, no damage with lid. Kashmir covered serving bowl. Contact nancy194805@gmail.com.
Wanted: All blue panel sponge bowls in the 5", 7" and 10" sizes; must be mint. Also looking for 4 & 10 gallon "Drop-8" crocks and "Drop-8" churns sized 3, 4, 6 and 8 gallons. Contact Chris at cctincher@gmail.com or 316-708-5272.
Wanted: NORTH DAKOTA! Looking for jugs, crocks, butter crocks and churns with advertising. Will pay top dollar for the right pieces. Contact beehive@polarcomm.com or 701-270-0242.
Wanted: These Xmas adv. bean pots: Kohnke's – Clear Lake, SD; Sinai Elevator Co, Sinai, SD; and Gjermundson Bros Hdwe – Wittenberg, WI. Any condition considered. Also looking for 9-inch blue and white panel bowl. Will consider any condition. Call 414-731-0218 or e-mail redwingr@gmail.com.
Wanted: Mini and salesman sample flower pots. Contact cobe142@cox.net or 402-331-4749.
Wanted: Red Wing #687 & M3006 blue/green Chromoline vases and #675 blue/green bowl in mint condition. Also interested in buying Galena Pottery. Contact Rick at 414-416-9464 or newsletter@redwingcollectors.org.
---
EVENTS

Elkhorn Flea Market, Walworth County Fairgrounds in Elkhorn, WI. Sundays: May 17, June 28, Aug. 9 and Sept. 27. More than 500 quality dealers! For information, visit www.nlpromotionsllc.com.
---