RWCS Newsletter Classifieds!
BOOKMARK THIS PAGE FOR ONLINE ONLY AUCTION ADS ALL YEAR LONG!
MidWinter 2017

Feb. 24-26, 2017 in Des Moines, IA
Membership is only $35 a year and includes six full-color newsletters
---
AUCTION
Advertise your upcoming auction here.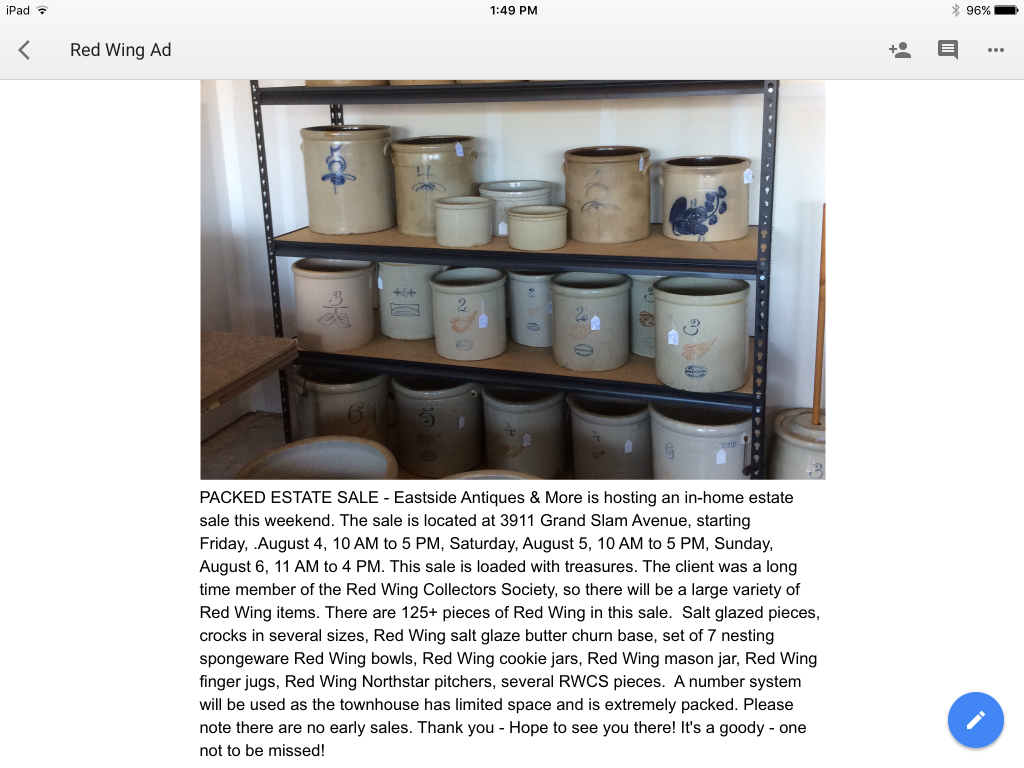 ---
FOR SALE: RWCS Commemoratives 1989-2016 (includes all boxes); 4 salt glaze crocks with lids, including 20 gallon salt glaze front-stamped butterfly crock. Many other rare crocks, large variety of Birchleaf crocks, 5 wing churns, 3 Birchleaf churns, Safety valve jars and RW canoe. Located near Hannibal, MO. Call Billie at 573-231-6727. (6/17)
FOR SALE: Entire crockery collection, which includes crocks, jugs, Mason jars, and bottles (all crockery). Most is Red Wing.  40+ items. X-large Red Wing crocks, too! Located in Washington State. Contact pagarrisshoemaker@hotmail.com or 907-750-6278.
FOR SALE: Bob White dinnerware (28 pcs) and Tampico dinnerware (27 pcs). E-mail Kathy at swannpower@aol.com for info and pictures.
FOR SALE: Red Wing 1/8 pint "Merchants Hotel, St. Paul, Minn." advertising mini jug, no damage or repairs, $750.00. Contact Rich at poorrichards@windstream.net.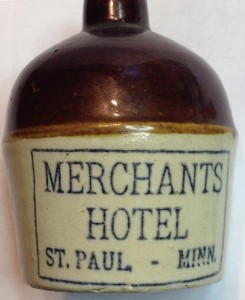 FOR SALE: 2017 BARGAIN! – must sell all Red Wing Commemoratives years 1986 through 2011. Includes two versions (A and B) of 2009 Xmas "advertising bean pot". 26 Red Wing Commemoratives, all in boxes and never displayed; mint condition. In addition, included in sale is a "Minnesota/Michigan Who Will Win?" mini jug. Made in 1930 with "Minnesota/Michigan" on one side and "Who Will Win?" on the other in blue ink. Brown top with light brown bottom. No cork. Small chip on top rim, otherwise perfect condition. Price for mini jug and all commemoratives is $500.00. Delivery in St. Paul, MN, or at the July Convention in Red Wing. Call 651-484-2959 or e-mail bagnoli555@aol.com.
---
RED WING WANTED
WANTED: Bob White 4 oz. juice tumblers, supper sets, marmites & cocktail trays; Roundup water cooler w/stand; Delta Blue water cooler & coffee mugs; Tampico tumblers & tall beverage mugs. Contact Herb at hdaniels000@gmail.com or 417-876-7104. 12/17
WANTED: Hamm's Red Wing Banks, Brown Bears and Unique Hamm's Red Wing items. CASH PAID. Call Kirk RWCS member #917 at 612-618-3717 or 763-252-0114 (office). 8/17
WANTED: 155 vases, white/ivory, 9" & 12" tall. E-mail ralphryan@charter.net. 10/17
WANTED: Syracuse, NY glass or stoneware pieces – Geo. W. Halloway Drug Store. Contact Ed at lindy9122@gmail.com or 315-637-9747. 8/17
WANTED: Green Iris Pitcher, any size. Also need 6 inch size Iris Pitcher in Burgundy and yellow. Contact Lee at Lee.elder47@gmail.com or 785-738-8363
WANTED: Looking for a Willow Wind pattern Spoon Rest – the last one I need to complete my collection of Red Wing spoon rests! Please call Margaret at 651-388-9729.
WANTED: NORTH DAKOTA! Looking for jugs, crocks, butter crocks and churns with advertising. Will pay top dollar for the right pieces. Contact 701-270-0242 or beehive@polarcomm.com.
WANTED: Mini and salesman sample flower pots in any colors. Contact cobe142@cox.net or 402-598-1315.
WANTED: Will pay strong price for Red Wing bean pot with Westby, Wis. advertising. Contact Rich at repatlargeeast@redwingcollectors.org or 608-617-7424.
WANTED: Large #687 Blue/green Red Wing Chromoline vase in mint condition. Contact Rick at newsletter@redwingcollectors.org or 414-416-9464.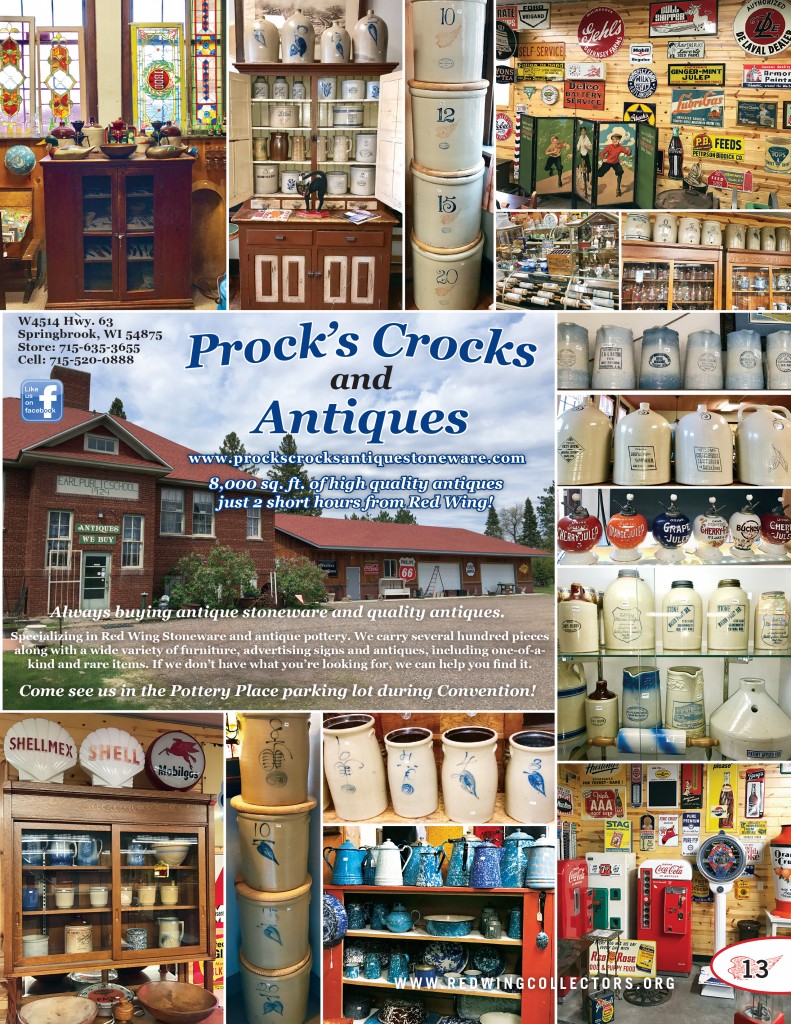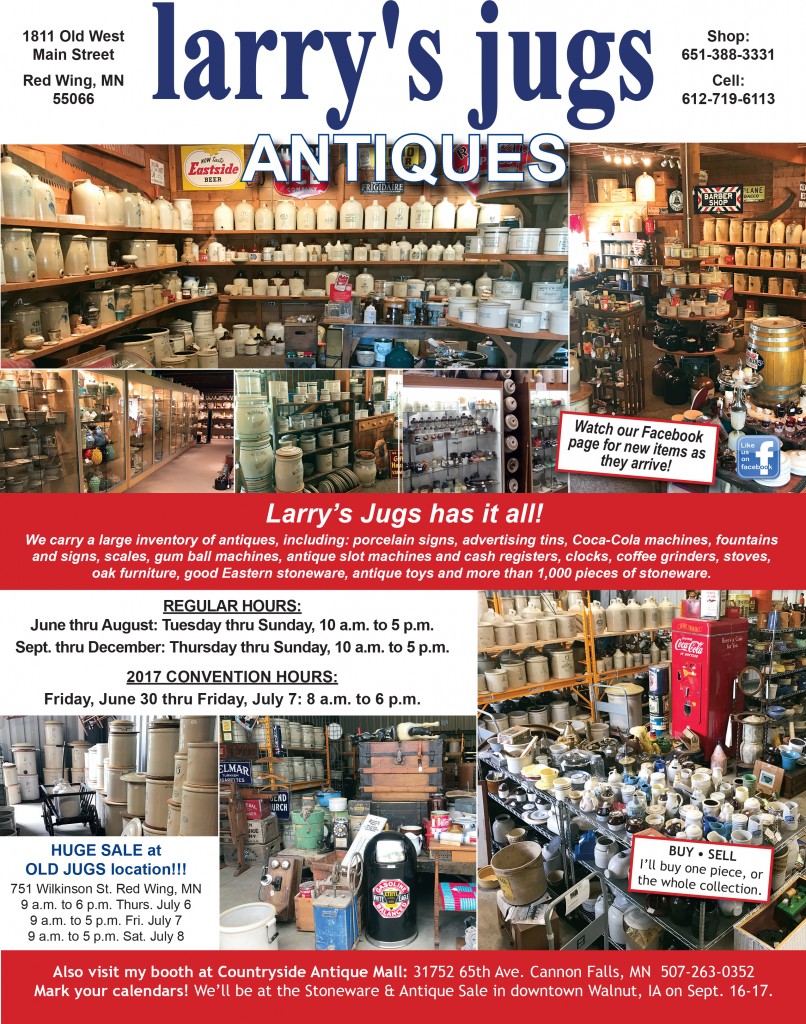 ---
---
EVENTS
Save
Save