December 2014 RWCS Newsletter Classifieds up!
BOOKMARK THIS PAGE FOR ONLINE ONLY AUCTION ADS ALL YEAR LONG!
Convention 2014

July 10-12, 2014 in Red Wing, MN
Membership is only $35 a year and includes six full-color newsletters
AUCTION

Cedarburg Auction Company
227 N. Main St.
Thiensville, WI 53092
(262)238-5555
Fabulous Stoneware auction with over 200 lots
Sunday, March 23
10:30 AM
AUCTIONEERS NOTE: Fabulous Stoneware Auction with many unusual and rare pieces. Don't miss this
opportunity to buy items from this one owner collection.
Bid online www.liveauctioneers.com or in house at Cedarburg Auction Gallery.
CROCK COLLECTION PREVIEW PICTURES
In person viewing beginning Monday, March 17 – Friday March 21

Terms and Conditions:
10% buyers' fee in house. Everything is sold as is; we do not accept returns for anything wh
at-so-ever.
---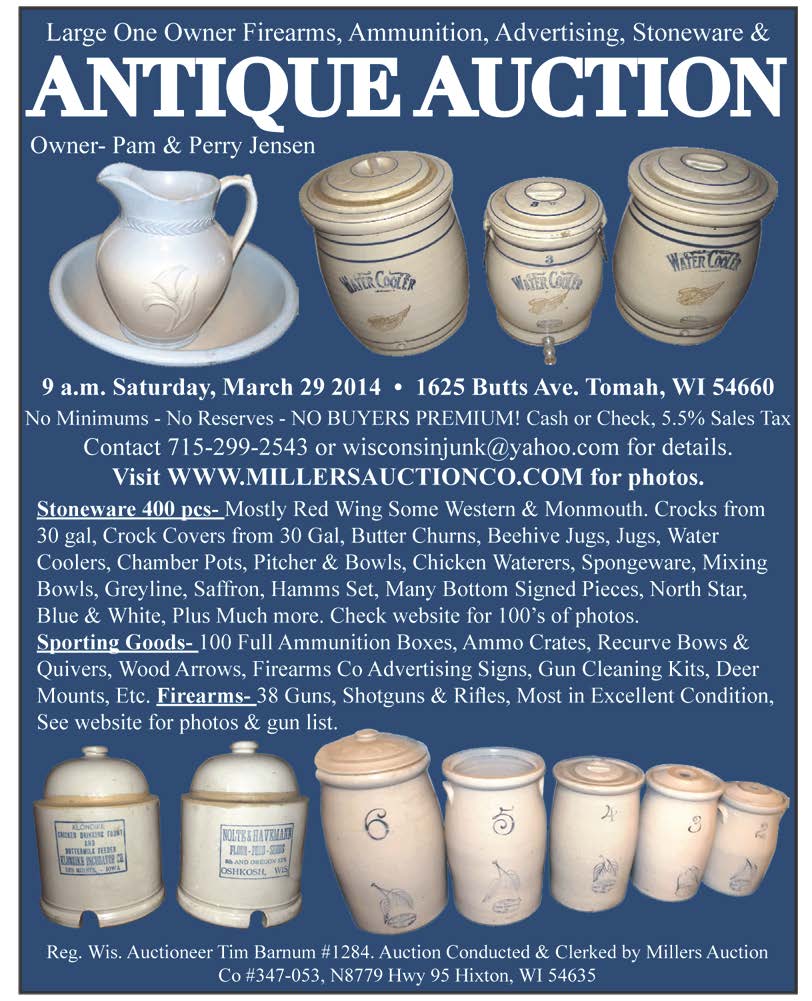 ---
Sponge band salt shaker in excellent condition $575; special Version B 2011 RWCS Commemorative salt glaze butter churn with cobalt butterfly, $100. Also have Tampico dinnerware: Four each: 10 ½ inch plates, 6 ½ inch plates, tea cups and saucers, cereal bowls; one 13 inch platter and one nappy. All in excellent condition, $175. Contact Cindy at 612-961-1872 (Buffalo, MN).
5 gal RW Purex advertising jug w/Los Angeles adv. Excellent condition – no damage. $275 plus shipping, OBO. Contact Fern at 503-868-7932 or fern414@peoplepc.com.
Commemoratives: 1981–$400; 1982–$525; 1984–$300; 1988–$95; 1989–$200; 1990–$70; 1992–$40; 1994–$55; 1995–$55; 1996–$80; 1997–$80; 1998–$80; 1999–$45; 2000–$70; 2001–$70; 2002–$70; 2003–$60; 2004–$65; 2005–$80; 2007–$80; 2008–$75; 2009–$75; 2010–$65. Call evenings – 320-253-2696.
Selling my Clay Giants! I still have two 50 gal crocks (wing & birchleaf), a 40 gal wing (hairlines in bottom) and a 25 gallon squatty birchleaf crock in mint condition. Contact Richard at 608-617-7424 or rnatynski@frontier.com.
White/green 10" vase, Luster DuBonnet, #1283, $35 OBO; 4 gal water cooler w/4" wing, $325 OBO; Hazel butter crock, $225 OBO; 6½" Sleepy Eye pitcher, $85. Shipping extra. Call 309-781-6834.
---
RED WING WANTED
Wanted: I want to buy a Red Wing Hamm's Bear Bank in the brown bear version or other versions. Call weekdays at 763-252-0114 or e-mail me at kirkschnitker@gmail.com 4/14 Wanted: Nokomis Elephant #236C, 5 inches tall, in mint condition. Please contact Steve at spaul@mchsi.com or 563-380-6784.
Wanted: "Early" Normandy, the first version of the Normandy pattern, with maroon and blue bands at the outer edge of the plates. Will buy or trade. Any condition considered. Also wanted: Ivanhoe pieces. Contact John at secretary@redwingcollectors.org or 612-861-0066. 6/14
Wanted: Red Wing Kashmir bread tray and covered butter dish; North Star 4 gallon churn; 6 gallon crock and ½ pint Albany tall butter; also 2 gallon salt glazed target "squatty" crock. Contact Wayne at 785-331-9339 or nancy194805@gmail.com.
Wanted: Collector seeks Red Wing pitcher, shape/mold #1580. Prefer black, whiter metallic silver, but will consider other colors. Please contact Richard at 510-233-3396 or jrintl@comcast.net.
Wanted: Red Wing 2 gallon Salt glaze Ribcage crock, any condition considered. Also interested in 4 or 5 gallon Ribcage crocks with turkey droppings. Contact 570-239-5259 or bmattmandi8@aol.com. 4/14
Wanted: RW Albany cat. Also interested in complete birdbaths with RW ink stamp on pedestal or bowl or individual birdbath pedestals or bowls with ink stamp. Looking for Contact Bob at morawskib@yahoo.com or 262-853-8269.
Wanted: Mini and salesman sample flower pots. Contact cobe142@cox.net or 402-331-4749.
Wanted: Green and blue Chromoline large vases – M3006 and #687.  Also interested in other Chromoline pieces.  Will buy damaged Chromoline, too. Also seeking Red Wing jug with "Abbott & Co., Vancouver B.C." advertising. Contact 414-416-9464 or newsletter@redwingcollectors.org.
---
Election Ads
Disclaimer: The following campaign advertisements were paid for by the candidate, or their committee, and reproducing them on the RWCS website in no way constitutes endorsement of any candidate by the RWCS Board or members.
Click on advertisement to enlarge.
---
CLUBS &EVENTS
Advertise your upcoming antique show, flea market, or club event here.