RWCS Newsletter Classifieds!
BOOKMARK THIS PAGE FOR ONLINE ONLY AUCTION ADS ALL YEAR LONG!
MidWinter 2017

Feb. 24-26, 2017 in Des Moines, IA
Membership is only $35 a year and includes six full-color newsletters
---
AUCTION
Advertise your upcoming auction here.
---
FOR SALE: Red Wing Christmas Tree Holder. Best offer plus shipping from CT. Contact kathybrot@gmail.com for photos.
FOR SALE: Red Wing Lotus 39-pc. collection. Includes many serving pieces. Selling full collection for $500 + shipping. Contact Nancy at nhunter1358@gmail.com or 970-260-4484.
FOR SALE: RW Spring Song dishes. Contact sandra.linn@comcast.net for more information.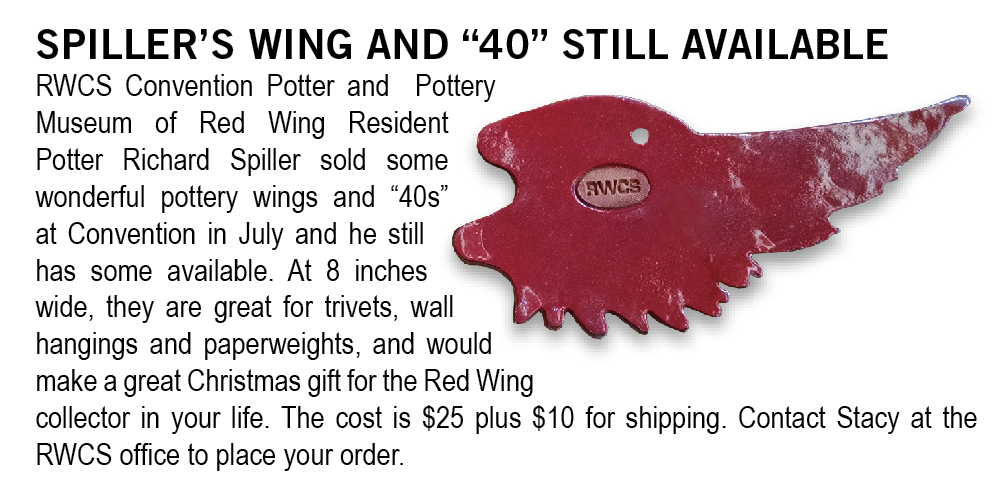 ---
RED WING WANTED
WANTED: Hamm's Red Wing Banks, Brown Bears and Unique Hamm's Red Wing items. CASH PAID. Call Kirk RWCS member #917 at 612-618-3717 or 763-252-0114 (office). 8/17
WANTED: NORTH DAKOTA! Looking for jugs, crocks, butter crocks and churns with advertising. Will pay top dollar for the right pieces. Contact 701-270-0242 or beehive@polarcomm.com
WANTED: L. Borserini, Atchison, Kansas advertising jug – contact julibug@cox.net, or 479-283-9889.
WANTED: Looking for a Willow Wind pattern Spoon Rest – the last one I need to complete my collection of Red Wing spoon rests! Please call Margaret at 651-388-9729.
WANTED: MOOSE JAW, Saskatchewan, Canada advertising. Will consider any condition. Please contact Greg at 307-543-2010 or ghouda@wyoming.com  12/16
WANTED: Will pay strong price for Red Wing bean pot with Westby, Wis. advertising. Contact Rich at 608-617-7424 or repatlargeeast@redwingcollectors.org
WANTED: Mini and salesman sample flower pots in any colors. Contact 402-598-1315 or cobe142@cox.net
WANTED: Red Wing #687 & M3006 large blue/green Chromoline vases in mint condition. Contact Rick at 414-416-9464 or newsletter@redwingcollectors.org
---