RWCS Newsletter Classifieds!
BOOKMARK THIS PAGE FOR ONLINE ONLY AUCTION ADS ALL YEAR LONG!
Convention 2016

July 7-9, 2016 in Red Wing, MN
Membership is only $35 a year and includes six full-color newsletters
---
AUCTION
LARGE RED WING & POTTERY AUCTION
Name: Sally Pavlak Estate
Date: Wednesday May 11, 2016
Time: 9:30 AM
Address: 1050 N. Orange Street, Richland Center WI
Phone: 608-739-4404
Location: Auction will be held indoors at the Richland Center Community Center at 1050 Orange Street, Richland Center, WI. Watch for Wilkinson Auction arrows.
Note: Sally was an avid Red Wing collector and had many beautiful pieces, a rare & unique auction. There will be approx. 300 lots of Pottery, mainly Red Wing, along with some nice primitive items.  Plan to attend!
Chas. R. Horrie wholesale cash grocer 6 gal jug;  Sol Ruvel wines and liquors ad jug, Chicago Heights IL; brown bale handled jug; RW 4 gal ad jug "Grommes & Ullrich"; RW Grommes & Ullrich 3 gal jug; August Ziegenhagen Inc ad jug, Chicago IL; Malcomb Pottery Co. crock, Malcomg IL; RW brush ware 12″ vase; RW art pottery flower pot; National Pickle & Canning Co. jug, Chicago IL; Club House Brand fruit juice jug; August Warnke 1.5 gal jug, Chicago IL; Patd October 3d 82 salt glaze jug; RW 2 gal birch leaf crock; Humboldt Dairy Products butter crock; Gail C. Downing bean pot, Capron IL; Grommes & Ullrich jug, Chicago IL; Sam Schmalhausen wines & liquors jug, South Chicago IL; RW Reid, Murdoch & Co. pickle display crock w/ glass top;  Steuben County Wine Co. 2 gal jug; Grommes & Ullrich 1 gal jug; RW McDonalds collector mugs, 2004; Sponge ware bowl "Sheldon Hardware, Janesville WI"; Sponge ware bowl "W.H. Schaefer, Sheffield, IA"; Sponge ware bowl "F.B. Pratt, Plainfield WI"; RW vase #BIN25; (2) Abingdon fish figure #444; Dunlap ad bowl "Columbia metal products, Chicago IL" (chipped on rim); RW Union stoneware bowl; RW brush ware bowl; RW speckled lobster dish; RW pink speckled candy dish #M1485; RW vase #813; RW pink speckled vase #M1570; RW pot #M1512; Maple City pottery gingerbread man mug; glass bottle; RW wall sconce #M1454; RW green bowl #840; WA Painters pottery works double handled brown mini jug; ASCO/RW limited edition "mix at the red wing 10th annual get together" bowl; RW flower pot; RW vase; RW greenish yellow pedestal vase; RW orange scalloped top dish; Pink speckled pot; (2) RW vases #677; RW compote; RW turquoise vase; pair of candle stick holders; RW vase and candle holder set; RW pink speckled goose planter RW pink speckled wagon planter; RW pink speckled planter; RW turquoise speckled candle holder set; RW tan speckled vase set; (9) Rumrill vase; Rumrill orange pitcher; RW turquoise planter; Rumrill black vase; RW salmon footed pot; RW footed planter; RW blue wall pocket; RW hornatopia planter; RW green bud vase; RW bud vase; RW vase; RW bus vase; RW hornatopia planter; RW horn vase; Abingdon pair of planters; RW bud vase; Orange & brown teapot; RW pair bud vases; RW fluted planters #M152; RW vase #M1461; RW vase #M1524; RW vase #1198; Monmouth vase; Abingdon pair flower pots #151; green handle pot; RW McDonalds collector 2005, crock & 2 cups; RW McDonalds collector 2006, crock & 2 cups; RW vase #M1442; 3 blue & white mugs; blue & white Pure Test Malt & Hops Co. mug; RW shoes 100 yr crock & cup;  RW self-draining jar, 2005 convention collector; RW collector suitcase "pack", Mid-West get together; RW shoes collector bank w/ box; (3) RW "Minnesota Centennial" collector trivet, tan speckle, yellow, & red; RW collector "North Star" jug 1992; RW souvenir mini mug 2004; RW giraffe collector #M1995; RW collectors "Illinois pottery & stoneware" mini jug, 2002; (2) RW mugs; RW leaf tray; RW pink vase #B1403; (2) RW flower pots; RW orange ashtray #831;  RW "President Eisenhower, Hawaii bridge" 1960 plate; (3) Hankscraft vases #968; RW 6 cent butter crock #71; RW pink bud vase #755; RW square vase #1378; RW little boy with flower flower pot #1344; Western Stoneware miniature; Western Stoneware speckled milk jug collector;  Hankscraft clown cup #971; Abingdon vase #P5; (3) Western Stoneware 2006 "end of production" tea pots; (2) RW apple planters #964 Illinois Pottery & Stoneware 11th annual convention collector piece; RW duck vase #972 (10) Abingdon covered pots #83 RW covered pot #723-S; Abingdon bud vase;  (3) Abingdon Dutch figure vases #469, #470; Western Stoneware speckled milk jug collector;  RW yellow vase #M1575; RW pink vase w/ handles #M1610; (2) Abingdon flower pots #152S; (3) Abingdon flower pots #151S; (3) Abingdon flower pots #150S; (2) Abingdon flower pots #149S; Pigeon flower pot #149; RW gray vase #1111; RW handled pot #1206; (2)RW vase #1278; (9) RW triple handled vase #1359; (2) RW flowered vases #B2002; (3) RW flower pots unmarked; Abingdon pink vase #538; RW pink vase #1301; RW green rib vase #1345; RW pot #445; Abingdon pot #558; Abingdon pot #T4; Abingdon pot #149; Abingdon flower pot #152S; Abingdon platter #B2084; RW relish tray #801; (3) Abingdon cattail vases #150, #149 (4) Abingdon flower vases #150; RW green vase #B2000; RW green square planter #B2017; RW pink speckled boat #655; RW pink speckled shell #1567; Abingdon flower top salt & pepper shakers; RW candy dish #659; RW vase #892; RW giraffe collector #M1995; RW salmon flower pot; RW deer figure #1126; unmarked yellow geese figure; RW banjo wall pocket #M1484; Abingdon blue vase #516, RW pink pot #276, duck plate; Anderson Stoneware Redwing mid-winter get together mini crock collector; unmarked green handled vase; Rumrill basket #438; RW vase 2004 convention collector's edition; Rumrill vase #501; RW square vase #1378; RW collector's edition mini milk can;  RW pink speckled vase #1556; RW pink speckled plate #1543; RW maple leaf dish #429 RW blue speckled vase #437; RW pedestal bowl #1458; RW pedestal bowl #M1591; (3) RW star dishes #791; Grommes & Ullrich "Est. 1860, Chicago IL" bale handled jug; RW vase #1301; T Blue EE3-3 vase; RW "Quiet House suites" 7 gal double handled crock lamp; RW blue speckled vase #M1514; RW pink speckled vase #M1575; Rumrill blue vase #504; RW green vase; (2) Abingdon blue and green gravy boat #532 RW pink vase #108; RW pink speckled gold handled vase #M1598; RW vase #1357; Abingdon double handled black vase; RW pink speckled flower pot ; Abingdon pink flower pot; Abingdon flower pot #151; RW pedestal dish #M3017; McCoy tan speckled flower vase; Abingdon shell dish; RW pedestal pot #M5009; RW dish #414; RW gray vase #M5001; Abingdon yellow vase #558; Western Stoneware jug; RW bean pot; RW purple dish #1407; RW pink speckled vase #M1595; RW embossed planter #643; Abingdon vase #462 Rumrill vase #499; RW green bud vase #1509; (2) large steins (one damaged); (3) RW shell vase #892; brown jug; RW green vase #975; Abingdon yellow flower pot #P6; WA Painter Pottery Works "Collectors of Illinois" mini crock; Abingdon blue vase #535; RW pink speckled vase #656; Rumrill vase #537; (2) Maple Leaf mini crock; pitcher; Abingdon double handled vase #520; Abingdon green vase #522; Black amethyst candle dish;  Western Stoneware pie plate #3611; (2) Abingdon cookie jar #677, Abingdon creamer #679, Abingdon salt shaker; Abingdon cookie jar #588, Abingdon candle holder, Abingdon toothpick holder #506, Abingdon plate; RW plate #210 & RW platter #22
RED WING BOB WHITE DISH SET INCLUDES; Water cooler w/lid, pitchers, platters,  teapot, cookie jar, salt & peppers, cream & sugars, egg plate, warming stand, double warming tray, plates, cups & saucers, glasses, bowls and more!!  Approximately 100 pcs.
PRIMITIVES & MISC: E. V. Gabler, "The Rexall Store" Muscoda WI. advertising fan; Child's lawn chain; Child's games; Child's slate; Little Orphan Annie toy stove; Maytag oil can; stereo viewer & cards; primitive scythe; enamelware; set of brown transfer ware dishes; Chimayo Indian basket; Indian drum;  box of Indian arrow heads & misc; Eskimo stone carving; yard long military picture; costume jewelry; jardiners; misc adv. pcs; Pinocchio doll; brass bell; RW coverweight commerative; toy cable car in original box; antique cast iron pcs; selection of primitives; blue willow dishes; tin ware; coal skuttle antique croquet set; EZ clothes dryer.
TERMS: CASH OR GOOD CHECK. Everything to be settled for day of sale. 5.5% sales tax charged. No warranties or guarantees are given or implied on any items sold.
SALE ARRANGED BY   WILKINSON AUCTION CO. MUSCODA WI.
(608) 739-4404   warco1.com
REGISTERED WISCONSIN AUCTIONEER: Perry Wilkinson #31, Muscoda WI.
---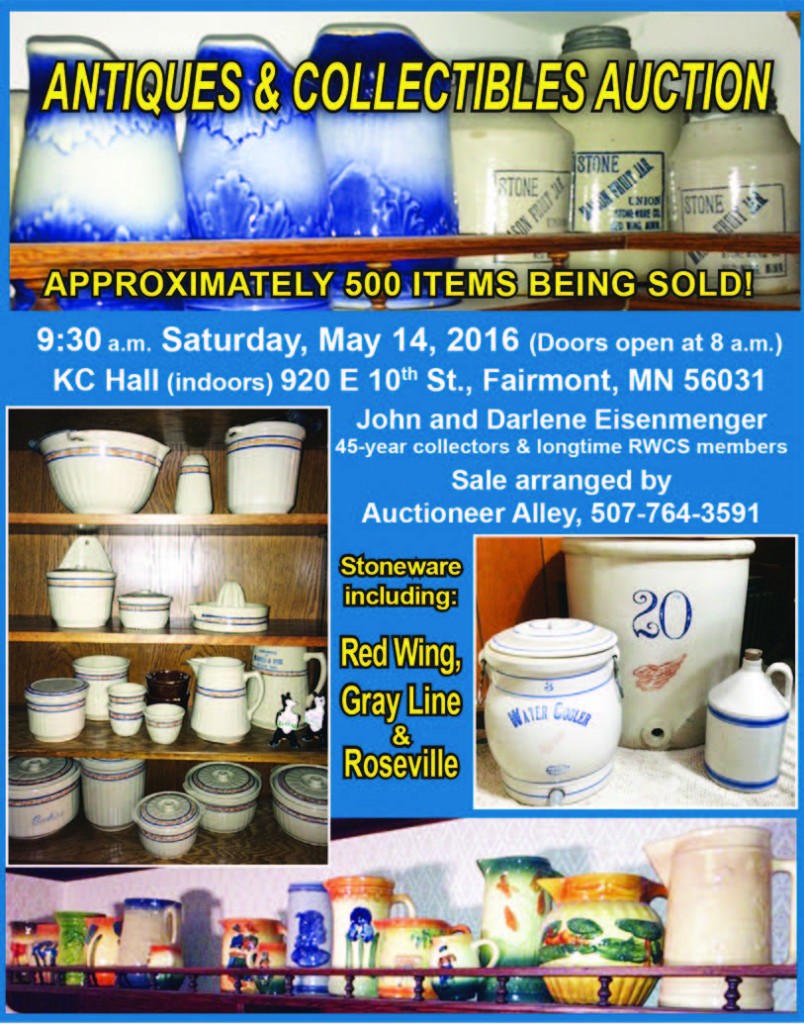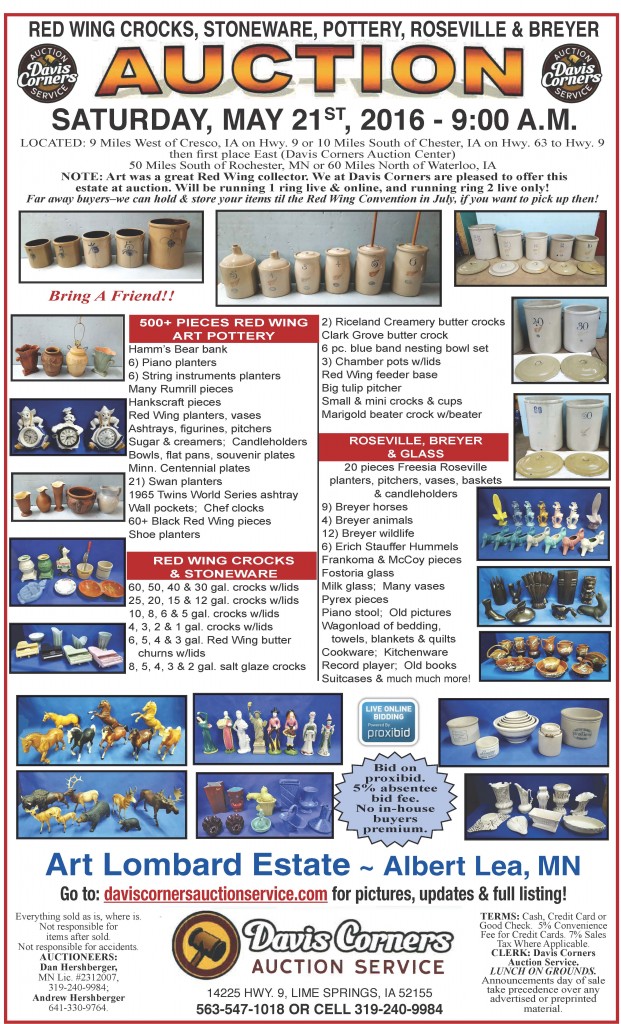 ---
FOR SALE: Red Wing McDonald's crocks and cups, 1992-2005. All have two cups EXCEPT 2003, which has the crock and no cups. Asking $60 per set; 14 sets. Also have 210 different RWCS Newsletters – make offer. Call Tom in Mankato, MN at 507-317-1181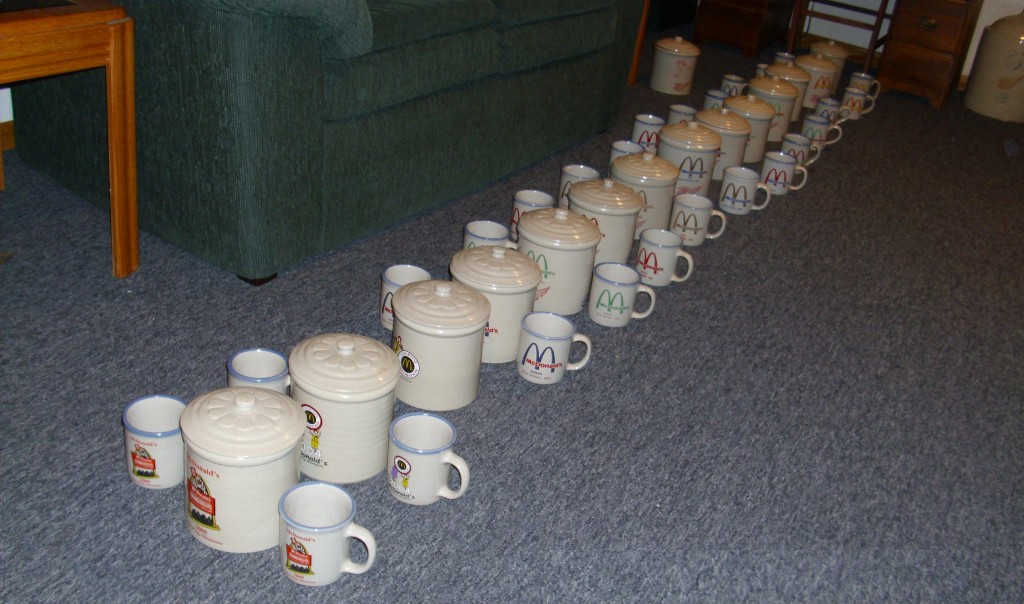 FOR SALE: Six-piece Lute Song relish tray, $200 + shipping, OBO. Excellent condition; underside of some pieces appear to have uneven glaze coverage. Photos on request. Contact Vickie at vckj9184@comcast.net.
FOR SALE: 1 gal RW domed fruit jar with shield, $2,900 and 4 gal water cooler lid, $175. No damage. Contact Orville at 509-751-0948.
FOR SALE: RW Town & Country Dinnerware. Peach. Circa 1949. Matching set includes plates, bowls, cup/saucers, marmites, pitcher, sugar and creamer, salt and pepper. 101 pieces total. Sold as set only. Excellent condition. $850+SHI. For full listing and photos, contact 301-964-5835 or rghulse1961@yahoo.com
FOR SALE: Complete set RWCS Commemoratives, $5,000. Call 715-338-5363.
---
RED WING WANTED
WANTED: 1986, 1997, and 2000 Special Commemoratives. Contact 847-372-1000 or grandmagreta@comcast.ne.
WANTED: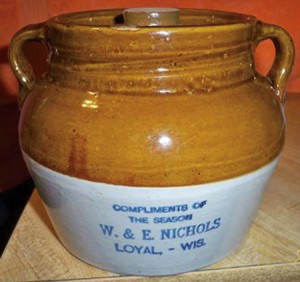 Xmas advertising bean pots for W&E Nichols – Loyal, WI. Any condition considered. Also looking for 9-inch blue and white panel bowl. Will consider any condition. Contact redwingr@gmail.com or 414-731-0218.
WANTED: NORTH DAKOTA! Looking for jugs, crocks, butter crocks and churns with advertising. Will pay top dollar for the right pieces. Contact 701-270-0242 or beehive@polarcomm.com
WANTED: Moose Jaw, Saskatchewan Canada advertising. Please contact me at ghouda@tcsd.org or 307-543-2010 evenings/weekends for Greg or Judy.
WANTED: Mini and salesman sample flower pots in any colors. Contact 402-598-1315 or cobe142@cox.net
wanteWANTED: 2 gallon salt glaze ribcage churn. Also seeking Red Wing #687 & M3006 blue/green Chromoline vases in mint condition. Contact Rick at 414-416-9464 or newsletter@redwingcollectors.org
---
EVENTS

Elkhorn Flea Market, Walworth County Fairgrounds in Elkhorn, WI. Sundays May 15, June 26, Aug. 14 and Sept. 25. More than 500 quality dealers! For information, visit www.nlpromotionsllc.com.
27th Annual North Dakota Pottery Collectors Society Convention: June 10-12, 2016 Grand Forks Inn & Suites – Grand Forks, ND. Visit www.ndpcs.org for more information.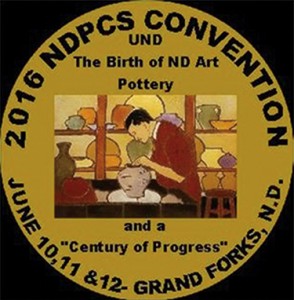 ---