RWCS Newsletter Classifieds!
BOOKMARK THIS PAGE FOR ONLINE ONLY AUCTION ADS ALL YEAR LONG!
MidWinter 2017

Feb. 24-26, 2017 in Des Moines, IA
Membership is only $35 a year and includes six full-color newsletters
---
AUCTION
Advertise your upcoming auction here.
---
FOR SALE:
5 Red Wing water coolers – never used. Made by the new Red Wing Stoneware Company in the 1990s or 2000s??5 gallon (only 3 made), $1,275;?3 gallon (20 made), $625; 2 gallon Collectors' Club (1986 5th 1990), $475;?2 gallon Hormel Barrel, $425;?2 gallon Hormel barrel with red
wing
, $475?(fewer than 50 made). Free shipping in the contiguous United States. Prices firm. Questions? Please call Tom at 507-298-1495.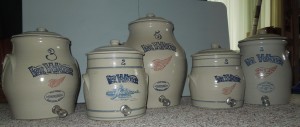 FOR SALE:
2 gallon
wing only jug, $900. Blue banded lid, $100. Will not ship jug. Call 515-669-8566.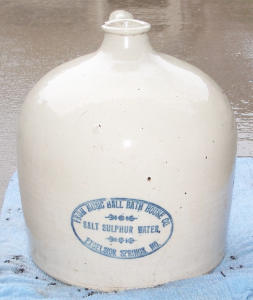 FOR SALE:Red Wing 2 gal adv jug. From farm auction in Waverly, KS. "Music Hall Bath House, Excelsior Springs, MO." One of three known to exist. $2975. We deliver. Contact 816-510-2248 or mjm2fl@comcast.net.

FOR SALE:RW Tampico water cooler, lid & stand in perfect condition, $400 plus SHI. Contact efreeman1987@outlook.com.
FOR SALE:Bob White 12 piece dinnerware set. Includes 12 Plates 6 1?2", Soup/Cereal Bowls 6 1?2", Fruit/Dessert (Sauce Bowls) 5 3?4, Plates 10 1?2", Cups & Saucers. Also 1, 13" Platter, 2 Sugar & Creamer Sets, 1 Gravy Boat – Stick Handle w/lid, 1 Bird Hors D'Oeuvers Holder, 1 Relish Dish, 3 sections, 1 Vegetable bowl, 1 Butter Dish 1?4 lb., 1 Teapot w/warmer stand, 1 20" Platter w/stand, 1 stand for gravy boat. Only sold as complete set. Located in NH. $2500. Contact BJRedfern@aol.com or (603)-426-1993.
FOR SALE:6" RW sponge panel bowl with "Meierhoff Hardware, Highland Park" adv from Illinois. $250. Contact Rick at 414-416-9464 or newsletter@redwingcollectors.org

---
RED WING WANTED
WANTED:
L. Borserini, Atchison, Kansas advertising jug – contact julibug@cox.net, or 479-283-9889

WANTED:
Looking for a Willow Wind pattern Spoon Rest – the last one I need to complete my collection of Red Wing spoon rests! Please call Margaret at 651-388-9729.
WANTED:
Oomph plates, all sizes. Large brown mugs with the Oomph rim and a set of baking dishes. Please contact Marty, mepeterson1955@gmail.com with description and cost. Shipping is to 04021. Thanks in advance, Marty from Maine. 8/16
WANTED: 6" and 8" green/brown Red Wing Oomph Bakeware mixing bowls. Call and/or text photos to Patricia at 503-360-8333.
WANTED:MOOSE JAW, Saskatchewan, Canada advertising. Will consider any condition. Please contact Greg at 307-543-2010 or ghouda@wyoming.com 12/16
WANTED:Will pay strong price for Red Wing bean pot with Westby, Wis. advertising. Contact Rich at 608-617-7424 or repatlargeeast@redwingcollectors.org
WANTED:Maroon Daschund planter & 12 gallon advertising crocks. Contact Matt at mhuepfel@svtel.net or 715-778-5684.
WANTED:9-inch Red Wing blue & white sponge panel bowl. Will consider any condition. Contact 414-731-0218 or redwingr@gmail.com
WANTED:NORTH DAKOTA! Looking for jugs, crocks, butter crocks and churns with advertising. Will pay top dollar for the right pieces. Contact 701-270-0242 or beehive@polarcomm.com
WANTED:Mini and salesman sample flower pots in any colors. Contact 402-598-1315 or cobe142@cox.net

WANTED:Red Wing #687 & M3006 large blue/green Chromoline vases in mint condition. Contact Rick at 414-416-9464 or
newsletter@redwingcollectors.org
---
EVENTS

Elkhorn Flea Market, Walworth County Fairgrounds in Elkhorn, WI. Sunday, Sept. 25. More than 500 quality dealers! For information, visit www.nlpromotionsllc.com
Walnut Antique Fall Festival – Walnut, Iowa. Sept. 17-18, 2016. Quality indoor and outdoor dealers. Limited space available. Furniture, pottery, toys, advertising and more! For information, call Tim Lockard at 641-862-3239 or like us on Facebook/walnutantiquefallfestival.