RWCS Newsletter Classifieds!
BOOKMARK THIS PAGE FOR ONLINE ONLY AUCTION ADS ALL YEAR LONG!
MidWinter 2015

February 6-8, 2015 in Oconomowoc, WI
Membership is only $35 a year and includes six full-color newsletters
AUCTION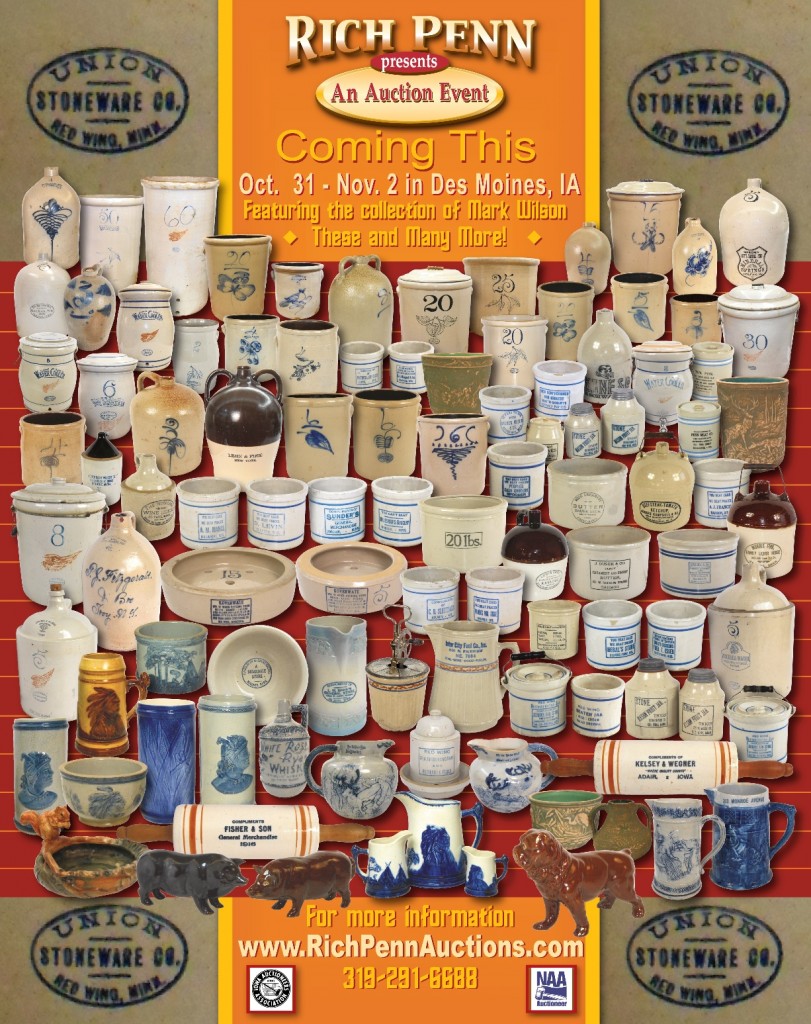 ---
Online Only Auction
Estate of Jack and Emma Lane
Arlee, MT

Friday, October 24 – Tuesday, November 4, 2014
Over 200 pieces of Stoneware

This online only auction will include over 200 pieces of Red Wing and other manufacturer stoneware including crocks from 30 gallon size down to jelly jar size, churns, water coolers, water funnels, chicken feeder, dishes, lids and more. Also in this sale will be all types of butter churns, glassware including bone china, pottery, leaded crystal, pressed glass, milk glass, amber glass, Depression glass, carnival glass as well as sterling ware and pewter ware. Lots of antique and vintage household items, some very rare, will be sold. Also included will be dozens of sausage stuffer/fruit and lard presses of all sizes and other creamery equipment.
Online bidding via Proxibid!
CLICK HERE TO VIEW ITEMS, REGISTER AND BID
Contact: Reed Tobol
Phone: (406)-249-1767
Email: reed@riverswestauction.com
Rivers West Auction Company
PO Box 351
Arlee, Montana 59821
---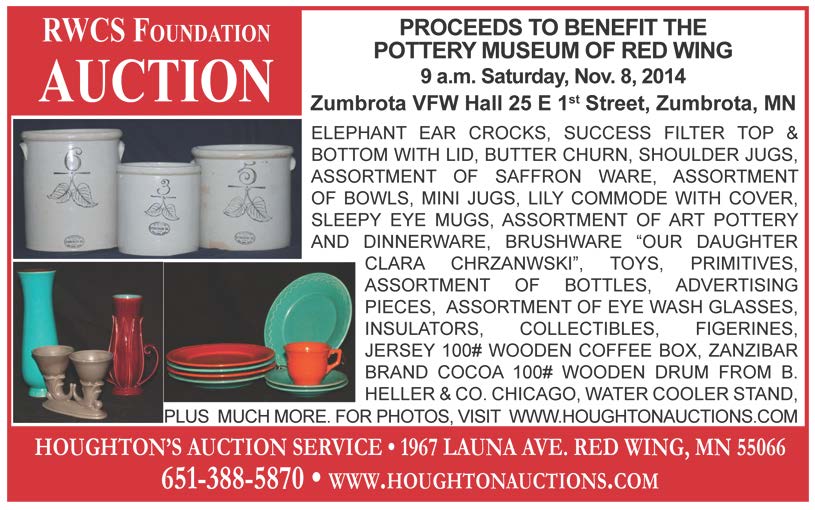 ---
---
Commemoratives: 1986-2013. Please make offers. Can be viewed in Beloit, Wis. Also have duplicates from several years. Call 608-921-1834.
1 gallon large wing crock, excellent condition, $425; 3 gallon Imperial shoulder jug with wing, excellent condition, $325. Will consider trades for Canadian Red Wing advertising. Contact Kelly in Canada at cccollector@gmail.com or 204-981-9616.
Red Wing dinnerware plate collection. Over 100 different dinner plates. Excellent condition. Many with cups and saucers. No Bud or Labriego plates. Sold as a group. Pick up in the Iowa Great Lakes area. Contact choreboy@outlook.com. 10/14
Large Red Wing button-knob petal lid that measures about 22.5 inches in diameter. Can fit 25, 30 or 40 gallon crocks. One small chip. $750. Mint 25 gallon squatty blue birchleaf crock with no oval, $375. I also have many other wing and birchleaf crocks in good condition sizes 1-30 gallons and churns sizes 2-6 gallons. Looking for a damaged crock to use outside as a planter? I have many of those, too, sizes 5-20 gal. Located in SE Wisconsin. Will consider trades for Wisconsin adv. bean pots I don't have, such as Westby or Wittenberg, Wis. Contact Richard at rnatynski@frontier.com or 608-617-7424.
---
RED WING WANTED
Wanted: NORTH DAKOTA! Looking for jugs, crocks, butter crocks and churns with advertising. Will pay top dollar for the right pieces. Contact beehive@polarcomm.com or 701-270-0242.
Wanted: Nokomis Elephant Planter #236C – 5" tall. Contact Steve Paul at 568-563-4398 or spaul@mchsi.com.
Wanted: "Early" Normandy, the first version of the Normandy pattern, with maroon and blue bands at the outer edge of the plates. Will buy or trade. Any condition considered. Also wanted: Ivanhoe pieces. Contact John at secretary@redwingcollectors.org or 612-861-0066.
Wanted: These Xmas advertising bean pots: Koehnkes – Clear Lake, SD; C & W Shafer – Branch, WI; Gjermundson Bros Hdwe – Wittenberg, WI. Any condition considered. Also looking for 9-inch blue and white panel bowl. Will consider any condition. Call 414-731-0218 or e-mail redwingr@gmail.com.
Wanted: Mini and salesman sample flower pots. Contact cobe142@cox.net or 402-331-4749.
Wanted: Red Wing #687 & M3006 vases especially blue/green Chromoline in mint condition. Contact Rick at 414-416-9464 or newsletter@redwingcollectors.org. Also seeking mint #675 blue/green Chromoline bowl. Will also buy damaged Chromoline in other shapes.
---
CLUBS &EVENTS
Advertise your upcoming antique show, flea market, or club event here.