RWCS Newsletter Classifieds!
BOOKMARK THIS PAGE FOR ONLINE ONLY AUCTION ADS ALL YEAR LONG!
MidWinter 2016

Feb 4-7, 2016 in Oconomowoc, WI
Membership is only $35 a year and includes six full-color newsletters
AUCTION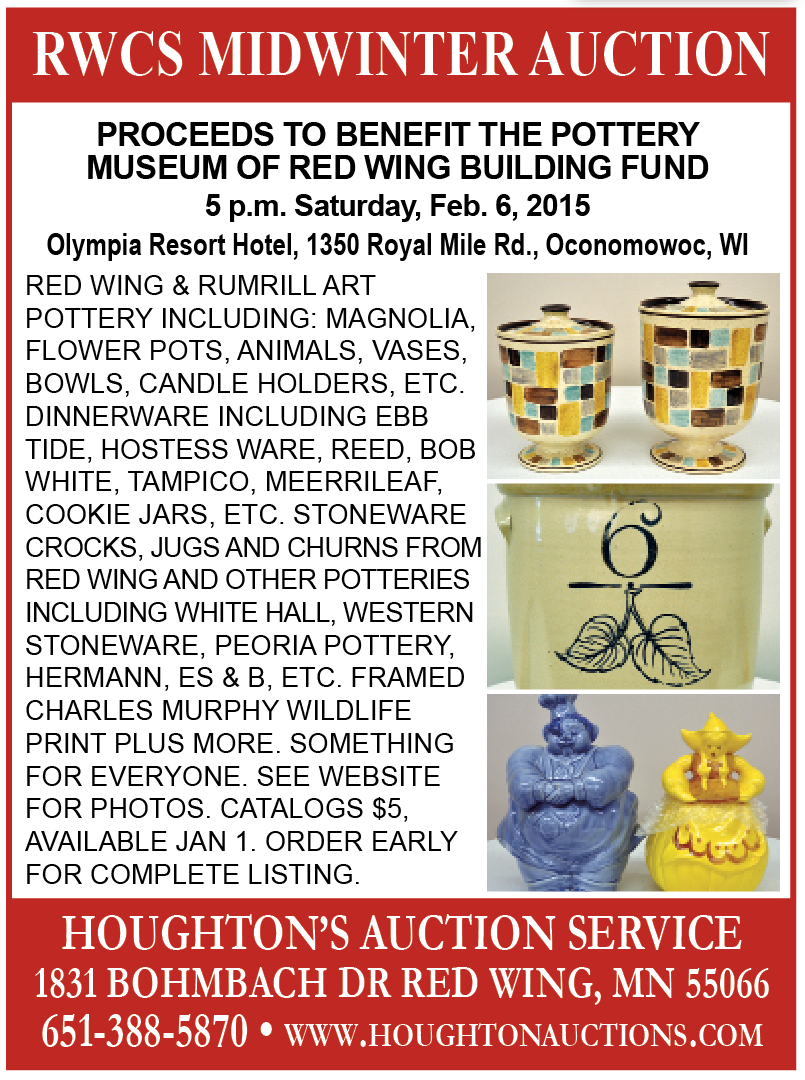 Catalogs can be purchased for $3 at MidWinter, $5 if you would like one mailed. Contact the Pottery Museum at 651-327-2220.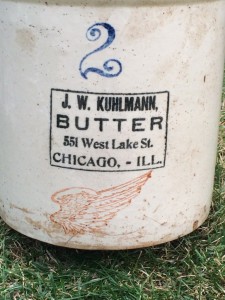 FOR SALE:
2 gallon Red Wing Chicago advertising crock in good condition. Asking price $900…appraised at $1200. Additional pictures upon request. Contact Tracy Rzewnicki at trzewnicki@northshore.org.
FOR SALE:
• 50 gallon RW Ice Water (IW) 4 birch leafs, 1900-1909, mint
• 50 gallon RW IW 1900-1909, 4 birch leafs, factory blem, major crack had been (factory?) repaired
• 50 gallon molded button lid 1920-1925, small edge chip
• 15 gallon RW IW, 4 birch leafs, Minnesota Stoneware Company, 1895-1906, mint
• 15 gallon RW IW, 2 birch leafs, spider web cracks on face
• 15 gallon lid, 3 chips on edge
• 10 gallon RW IW, no molded handles, double leaf above bung, 1897-1909, mint (*my favorite)
• 10 gallon RW IW, handles and red wing, damaged bung
• 10 gallon hand turned RW Water Cooler, 1909-1917, mint
• (2) 5 gallon shoulder jugs with small wings 1930-1947, mint
• (2) 3 gallon jugs, one small red wing, other standard red wing
Note: the 50 gallon IWs are like the one auctioned last November by Rich Penn Auctions, Des Moines, Iowa, the Mark Wilson collection. I would take $2,500 for the pair and the single lid. Price for all: upon request.
Otherwise, I wish to sell this collection as one lot. If interested, I can send you a 2007 appraisal (11K) and description completed for insurance purposes by Al Kohlman. Note: Al completed this appraisal from photos, NOT a hands on examination of the pieces.
Contact Richard at rg3666@hamiltoncom.net or 618-265-3666. Located in far southern Illinois. One hour west of Evansville, Indiana.
---
RED WING WANTED
WANTED: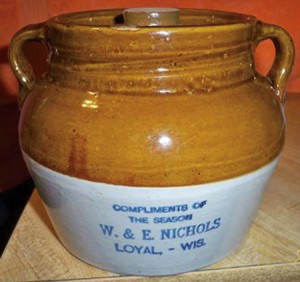 Xmas advertising bean pots for W&E Nichols – Loyal, WI. Any condition considered. Also looking for 9-inch blue and white panel bowl. Will consider any condition. Contact redwingr@gmail.com or 414-731-0218.
WANTED: Advertising bean pot from Jackson, Minnesota in mint condition. Please contact Gordon at 320-253-9954 or ccggcomstock@charter.net.
WANTED: Brown metallic/gunmetal brown Red Wing Town & Country Eva Zeisel items.  Interested in whatever you have.  Please contact me at wordsareseed@gmail.com or 321-663-7222.
WANTED: NORTH DAKOTA! Looking for jugs, crocks, butter crocks and churns with advertising. Will pay top dollar for the right pieces. Contact 701-270-0242 or beehive@polarcomm.com.
WANTED: Mini and salesman sample flower pots in any colors. Contact 402-331-4749 or cobe142@cox.net.
WANTED: 2 gallon Red Wing salt glaze ribcage churn. Also seeking Red Wing #687 & M3006 blue/green Chromoline vases in mint condition. Contact Rick at 414-416-9464 or newsletter@redwingcollectors.org.
---
EVENTS DURING MIDWINTER

65th Annual Winter Wisconsin Antiques Dealers Association Show: 11 a.m. to 9 p.m. Friday, Feb. 5 and 10 a.m. to 5 p.m. Saturday, Feb. 6, 2015. 55+ quality dealers, $6 admission. Waukesha County Expo Center Forum Building, 1000 Northview Road, Waukesha, WI 53188. From Olympia Resort, take I-94 East and exit 294 to Hwy J. South 1 mile, West to show. Call 414-510-4441 or Visit www.wisconsinantiquedealers.com for more information.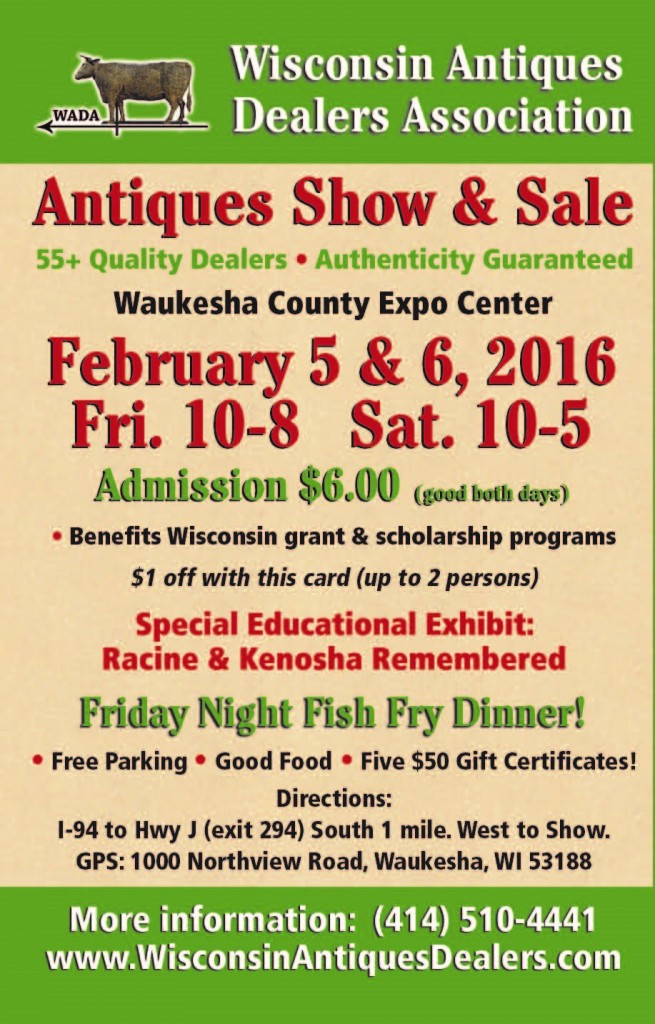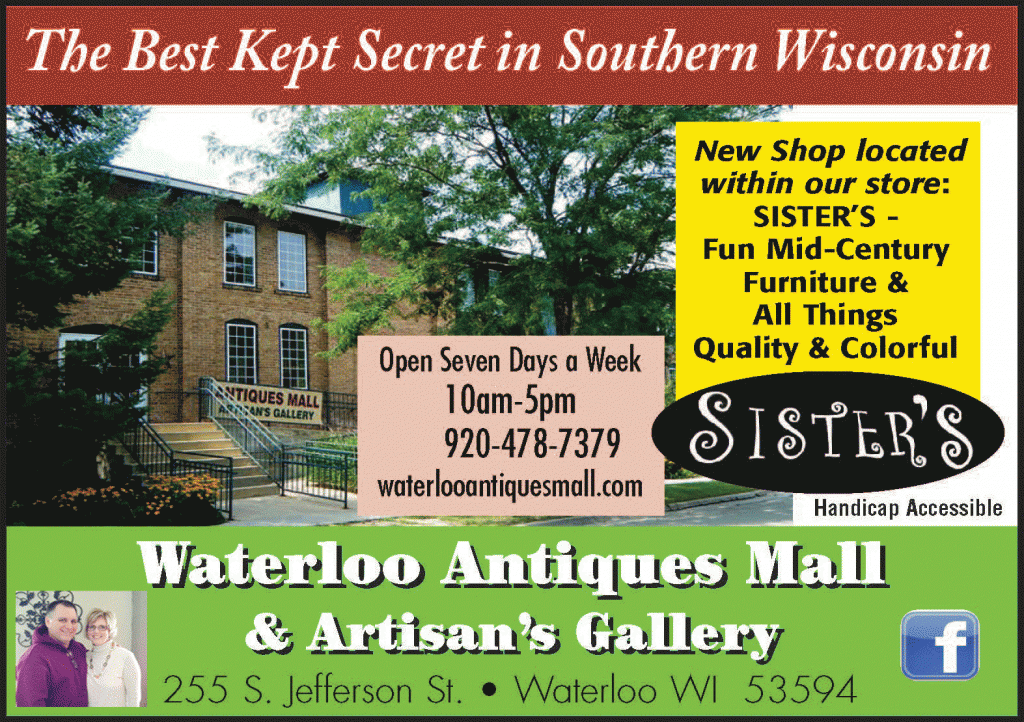 ---