RWCS Newsletter Classifieds!
BOOKMARK THIS PAGE FOR ONLINE ONLY AUCTION ADS ALL YEAR LONG!
Convention 2015

July 9-11, 2015 in Red Wing, MN
Membership is only $35 a year and includes six full-color newsletters
AUCTION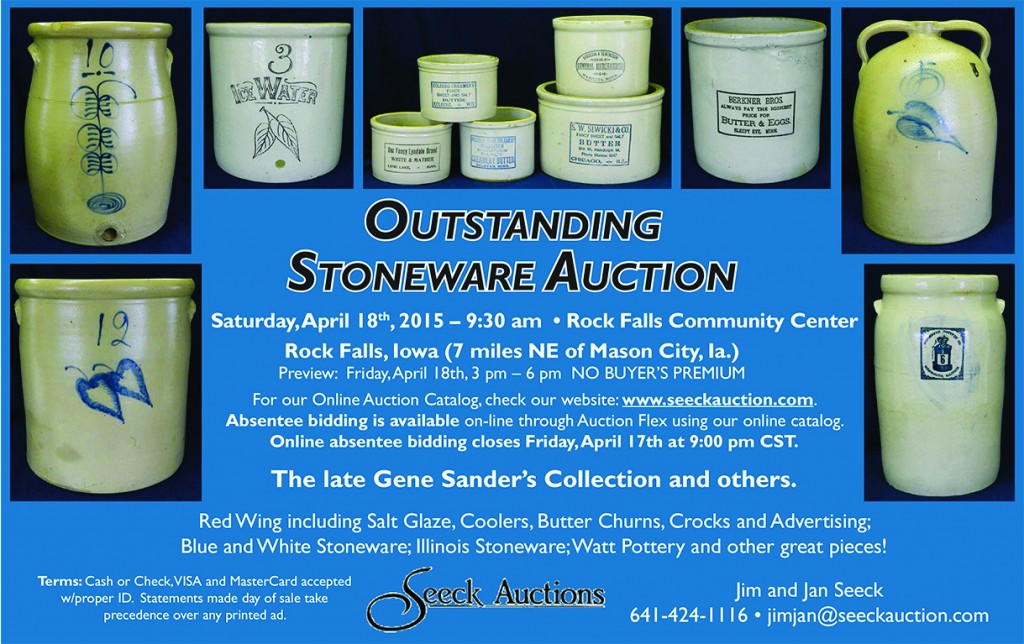 ---
For sale: 1 gallon large wing crock, excellent condition, $425; 3 gallon Imperial shoulder jug with wing, excellent condition, $325. Will consider trades for Canadian Red Wing advertising. Contact Kelly in Canada at cccollector@gmail.com or 204-981-9616.
For sale: RW sponge baking dish with "Akron Feed Mill, Akron, IA" advertising. Mint. Books for $350-$425. Looking for fair offer. Contact Doug at dd.evans@charter.net or 320-290-3194.
For sale: Two 25 gal RW squatty double birchleaf crocks (one black ink, one blue), $365 each. 10 gal hand-turned Union Stoneware water cooler w/wing ("10" on inside) and 10 gal button knob cooler lid, $1,450. All in good condition. Call Tom in McFarland, Wis. at 608-838-8926.
For sale: Commemoratives: 1991, 1992 (2), 1993 (2), 1995, 1997, 1998, 1999. Wisconsin Chapter Commemoratives: 1992, 1993, 1996, 1997, 1998. Marmalades: 2 pineapple with tray/lid – 1 yellow, 1 turquoise. 4 apples with tray/lid – 2 pink, 2 turquoise. 1 pear with lid/tray, turquoise. 1 pear with lid, turquoise. Belle Kogan 100 #762 7.5" copper. Capistrano casserole dish with lid (green bottom, light pattern top). Fancy Free (desert) beverage server with lid. Incised peasant design munch jar (light stone color). Animal novelties: #879 brown fish, #876 white donkey, #880 matte green pelican. #734 9.5" birch bark canoe. All items mint. Call Patricia at 608-924-3322. (4/15)
---
RED WING WANTED
Wanted: 3 gal shoulder jug with blue birchleaf without oval. Contact Roy at 574-533-5266 or dorokeim@bnin.net.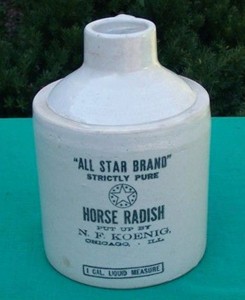 Wanted: I am interested in purchasing the All Star Brand horseradish jar as pictured. Please contact me with your price and how to make arrangements for the purchase. My email address is tck822@aol.com.
Wanted: Mini and salesman sample flower pots. Contact cobe142@cox.net or 402-331-4749.
Wanted: All blue panel sponge bowls in the 5", 7" and 10" sizes; must be mint. Also looking for "Drop-8" crocks in the following sizes 2, 3, 4 & 10 gallon. Contact Chris at 316-708-5272 or cctincher@gmail.com.
Wanted: NORTH DAKOTA! Looking for jugs, crocks, butter crocks and churns with advertising. Will pay top dollar for the right pieces. Contact beehive@polarcomm.com or 701-270-0242.
Wanted: These Xmas advertising bean pots: Kohnke's – Clear Lake, SD; Sinai Elevator Co, Sinai, SD; and Gjermundson Bros Hdwe – Wittenberg, WI. Any condition considered. Also looking for 9-inch blue and white panel bowl. Will consider any condition. Call 414-731-0218 or e-mail redwingr@gmail.com.
Wanted: Red Wing #687 & M3006 blue/green Chromoline vases in mint condition. Contact Rick at 414-416-9464 or newsletter@redwingcollectors.org. Also seeking mint #675 blue/green Chromoline bowl. Will also buy damaged Chromoline.
---
EVENTS DURING MIDWINTER

Elkhorn Flea Market, Walworth County Fairgrounds in Elkhorn, WI. Sundays: May 17, June 28, Aug. 9 and Sept. 27. More than 500 quality dealers! For information, visit www.nlpromotionsllc.com.