RWCS Newsletter Classifieds!
BOOKMARK THIS PAGE FOR ONLINE ONLY AUCTION ADS ALL YEAR LONG!
MidWinter 2015

February 6-8, 2015 in Oconomowoc, WI
Membership is only $35 a year and includes six full-color newsletters
AUCTION
---
---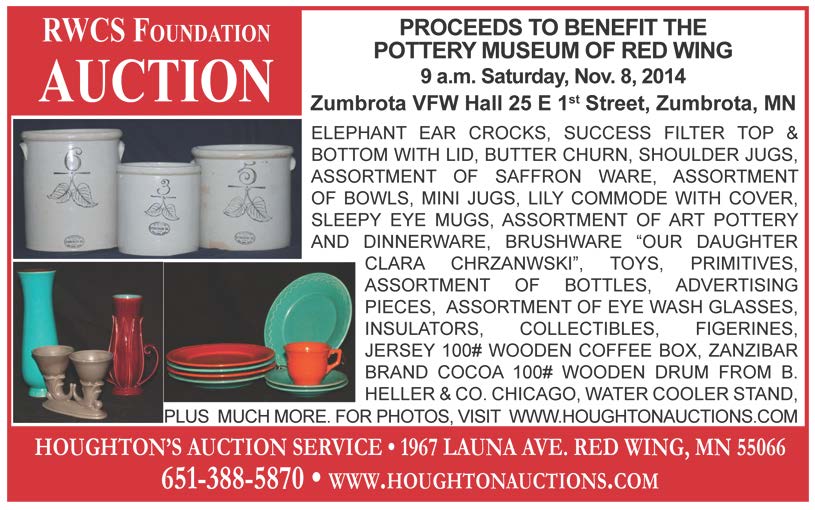 ---
---
Commemoratives: 1986-2013. Please make offers. Can be viewed in Beloit, Wis. Also have duplicates from several years. Call 608-921-1834.
1 gallon large wing crock, excellent condition, $425; 3 gallon Imperial shoulder jug with wing, excellent condition, $325. Will consider trades for Canadian Red Wing advertising. Contact Kelly in Canada at cccollector@gmail.com or 204-981-9616.
Red Wing dinnerware plate collection. Over 100 different dinner plates. Excellent condition. Many with cups and saucers. No Bud or Labriego plates. Sold as a group. Pick up in the Iowa Great Lakes area. Contact choreboy@outlook.com. 10/14
Large Red Wing button-knob petal lid that measures about 22.5 inches in diameter. Can fit 25, 30 or 40 gallon crocks. One small chip. $750. Mint 25 gallon squatty blue birchleaf crock with no oval, $375. I also have many other wing and birchleaf crocks in good condition sizes 1-30 gallons and churns sizes 2-6 gallons. Looking for a damaged crock to use outside as a planter? I have many of those, too, sizes 5-20 gal. Located in SE Wisconsin. Will consider trades for Wisconsin adv. bean pots I don't have, such as Westby or Wittenberg, Wis. Contact Richard at rnatynski@frontier.com or 608-617-7424.
---
RED WING WANTED
Wanted: NORTH DAKOTA! Looking for jugs, crocks, butter crocks and churns with advertising. Will pay top dollar for the right pieces. Contact beehive@polarcomm.com or 701-270-0242.
Wanted: Nokomis Elephant Planter #236C – 5" tall. Contact Steve Paul at 568-563-4398 or spaul@mchsi.com.
Wanted: "Early" Normandy, the first version of the Normandy pattern, with maroon and blue bands at the outer edge of the plates. Will buy or trade. Any condition considered. Also wanted: Ivanhoe pieces. Contact John at secretary@redwingcollectors.org or 612-861-0066.
Wanted: These Xmas advertising bean pots: Koehnkes – Clear Lake, SD; C & W Shafer – Branch, WI; Gjermundson Bros Hdwe – Wittenberg, WI. Any condition considered. Also looking for 9-inch blue and white panel bowl. Will consider any condition. Call 414-731-0218 or e-mail redwingr@gmail.com.
Wanted: Mini and salesman sample flower pots. Contact cobe142@cox.net or 402-331-4749.
Wanted: Red Wing #687 & M3006 vases especially blue/green Chromoline in mint condition. Contact Rick at 414-416-9464 or newsletter@redwingcollectors.org. Also seeking mint #675 blue/green Chromoline bowl. Will also buy damaged Chromoline in other shapes.
---
CLUBS &EVENTS
Advertise your upcoming antique show, flea market, or club event here.