RWCS Newsletter Classifieds!
BOOKMARK THIS PAGE FOR ONLINE ONLY AUCTION ADS ALL YEAR LONG!
MidWinter 2017

Feb. 24-26, 2017 in Des Moines, IA
Membership is only $35 a year and includes six full-color newsletters
---
AUCTION
Advertise your upcoming auction here.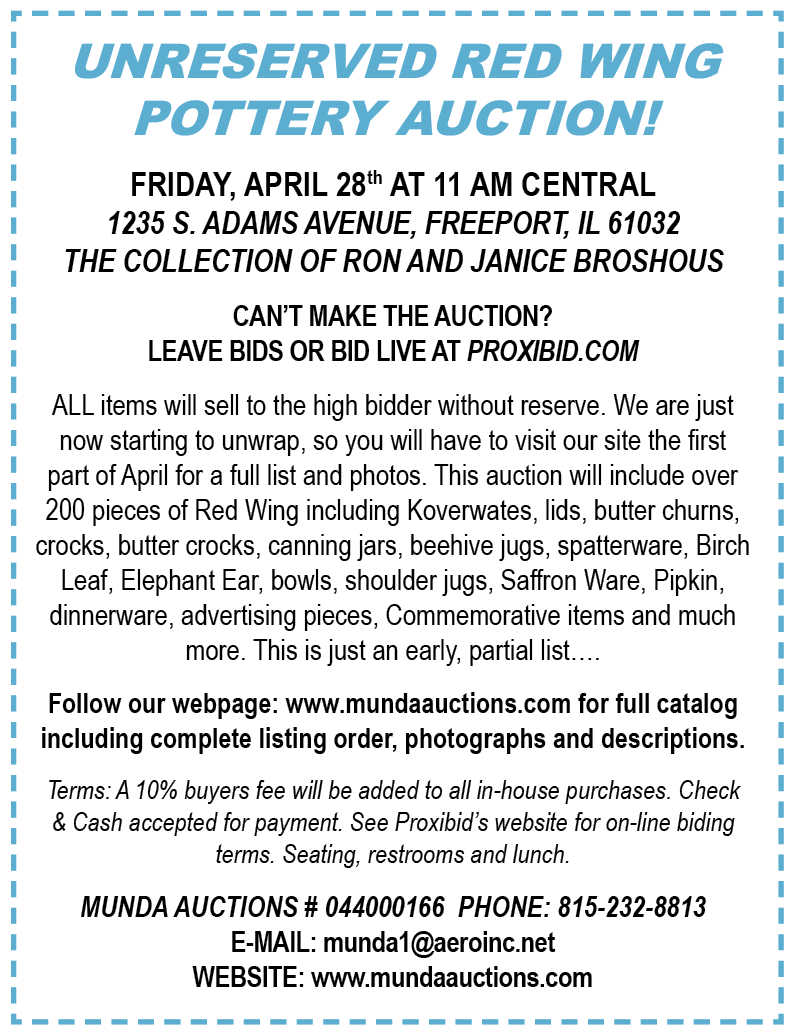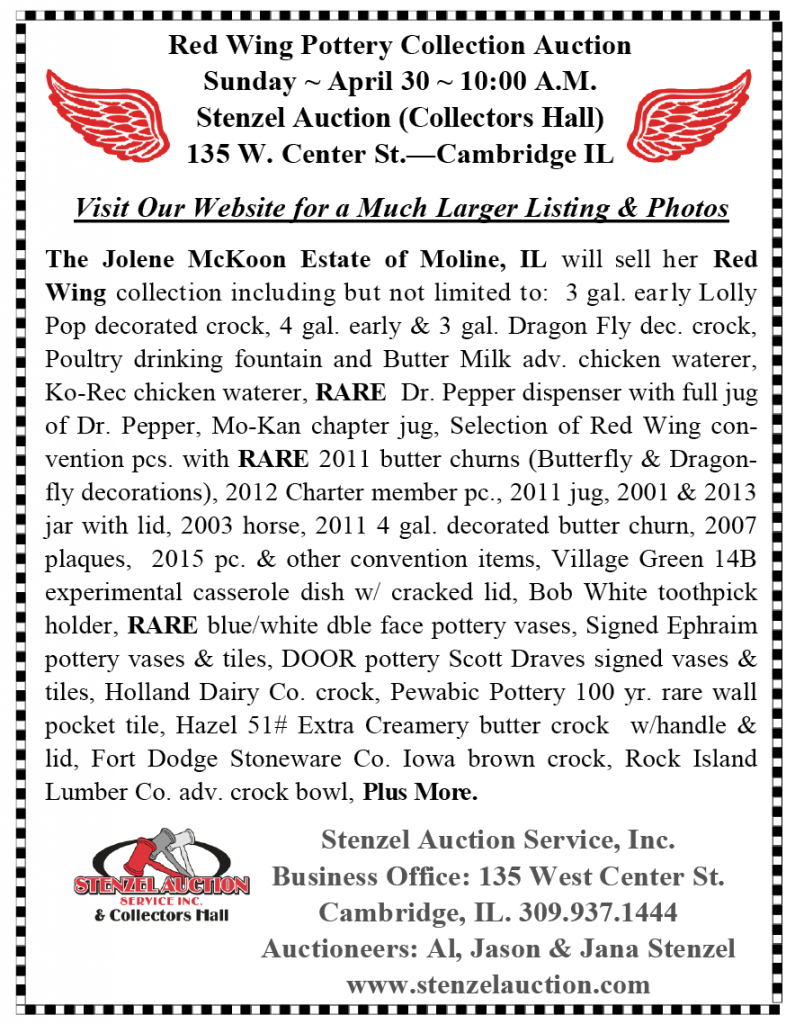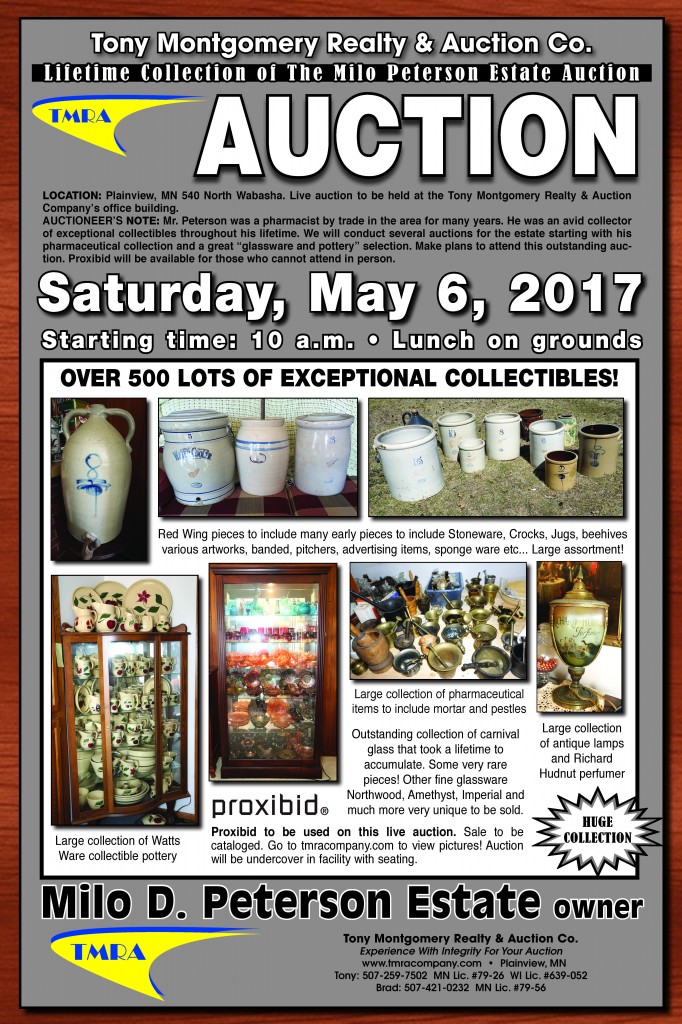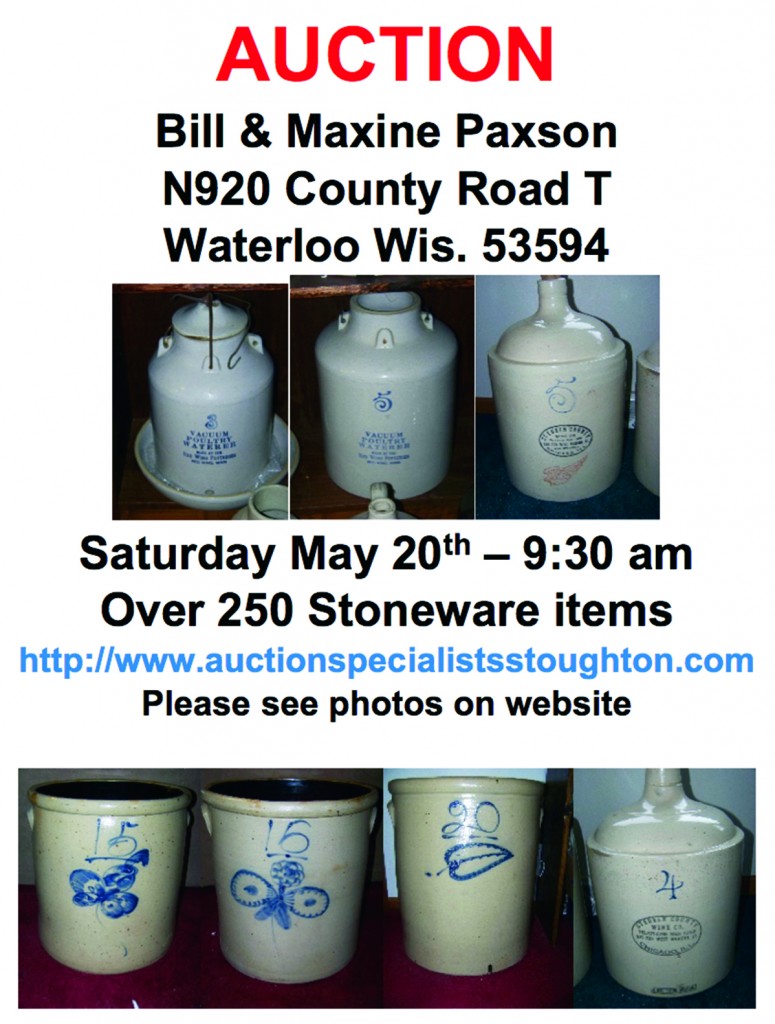 ---
FOR SALE: RWCS Commemoratives 1989-2016 (includes all boxes); 4 salt glaze crocks with lids, including 20 gallon salt glaze front-stamped butterfly crock. Many other rare crocks, large variety of Birchleaf crocks, 5 wing churns, 3 Birchleaf churns, Safety valve jars and RW canoe. Located near Hannibal, MO. Call Billie at 573-231-6727. (6/17)
FOR SALE: Red Wing egg trays with covers: Quartette – Mulberry, 2 pinhead-size fleabites between egg compartments; Caprice, excellent condition; Lanterns, excellent condition; Iris, excellent condition; Magnolia, excellent condition; Fruit, excellent condition; Quartette – Chartreuse, excellent condition; Spring Song, ¼" hairline where handle connects to tray; Fantasy, one tiny handle chip under glaze; Willow Wind – Blue, ¼" compartment chip; Blossom Time, fleabite under handle; Lotus, hairline through cover, 1/8" chip on egg compartment (this tray is the worst of the group). Call Ken at 440-774-3075.
FOR SALE: Red Wing 20 lb butter crock, excellent cond, $800; Red Wing grey line bowl with adv., 9" wide, 5 1/2" high, "It pays to mix with Kohnke's SD", with crack $125; Red Wing grey line sponge band bowl, 7" wide and 4 3/4" high, with 2 hairline cracks, $25; RW grey line bowl or cup, measures 4" x 3 7/8", from outside rim to outside rim, excellent cond, $250; RW 20 gallon birch leaves crock, excellent cond, $300. Contact Maureen at nydreamer2@gmail.com or 703-801-7105.
FOR SALE: Gladiola 9" gloss fleck Nile blue. Note: Dollen references state #416 was made in only 10" & 12". Excellent condition, $325 OBO; Wisconsin Badger 1939 figurine. (Head has been re-glued.) $88 OBO. Call Jan at 507-381-5446.
---
RED WING WANTED
WANTED: Bob White 4 oz. juice tumblers, supper sets, marmites & cocktail trays; Roundup water cooler w/stand; Delta Blue water cooler & coffee mugs; Tampico tumblers & tall beverage mugs. Contact Herb at hdaniels000@gmail.com or 417-876-7104. 12/17
WANTED: Hamm's Red Wing Banks, Brown Bears and Unique Hamm's Red Wing items. CASH PAID. Call Kirk RWCS member #917 at 612-618-3717 or 763-252-0114 (office). 8/17
WANTED: 155 vases, white/ivory, 9" & 12" tall. E-mail ralphryan@charter.net. 10/17
WANTED: Syracuse, NY glass or stoneware pieces – Geo. W. Halloway Drug Store. Contact Ed at lindy9122@gmail.com or 315-637-9747. 8/17
WANTED: Mini and salesman sample flower pots in any colors. Contact cobe142@cox.net or 402-598-1315.
WANTED: Looking for a Willow Wind pattern Spoon Rest – the last one I need to complete my collection of Red Wing spoon rests! Please call Margaret at 651-388-9729.
WANTED: NORTH DAKOTA! Looking for jugs, crocks, butter crocks and churns with advertising. Will pay top dollar for the right pieces. Contact 701-270-0242 or beehive@polarcomm.com.
WANTED: Will pay strong price for Red Wing bean pot with Westby, Wis. advertising. Contact Rich at repatlargeeast@redwingcollectors.org or 608-617-7424.
WANTED: Red Wing large blue/green Chromoline vases in mint condition (#687 & M3006). Contact Rick at 414-416-9464 or newsletter@redwingcollectors.org.
---
EVENTS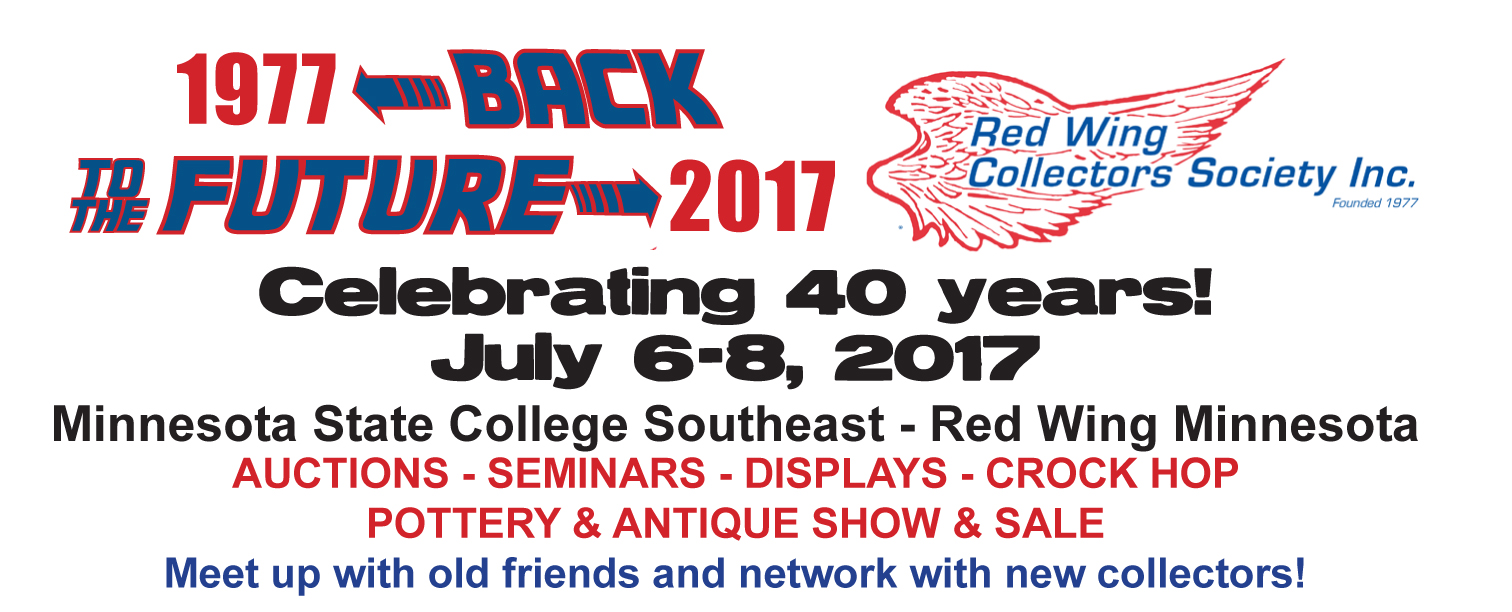 ---
Save