April RWCS Newsletter Classifieds up!
BOOKMARK THIS PAGE FOR ONLINE ONLY AUCTION ADS ALL YEAR LONG!
July Convention
July 11-13, 2013 in Red Wing
Membership is only $25 a year and includes six full-color newsletters
Interested in advertising online contact Stacy Wegner, RWCS Director
at 800-977-7927 or email at director@redwingcollectors.org.
Advertising Ad Rate Card- pdf file
AUCTION
3 p.m. Tuesday, July 9, 2013 at The Bluffs, Hager City, WI – 20 gal wing crock, 6 gal birchleaf crock, 5 gal birchleaf churn, 20 gal lid, butter crocks, Mason fruit jars, assortment of brushware, large assortment of Bob White, many other dinnerware and art pottery pieces, plus and much more.
10 a.m. Wednesday, July 10, 2013 at The Bluffs, Hager City, WI – 2 – 30 gal wing crocks, lids, spongeband umbrella stand, pantry jars, large assortment of 3 & 4# advertising butter crocks, 20# butter crocks, advertising jugs, canning fruit jars, mugs, assortment of grayline, spittoons, sponge Peterson and other advertising pitchers, Hamm's Bear bank, plus much more. Catalogs available June 1 at $5 each. Houghton's Auction, 1967 Launa Ave. Red Wing, MN 55006 www.houghtonauctions.com.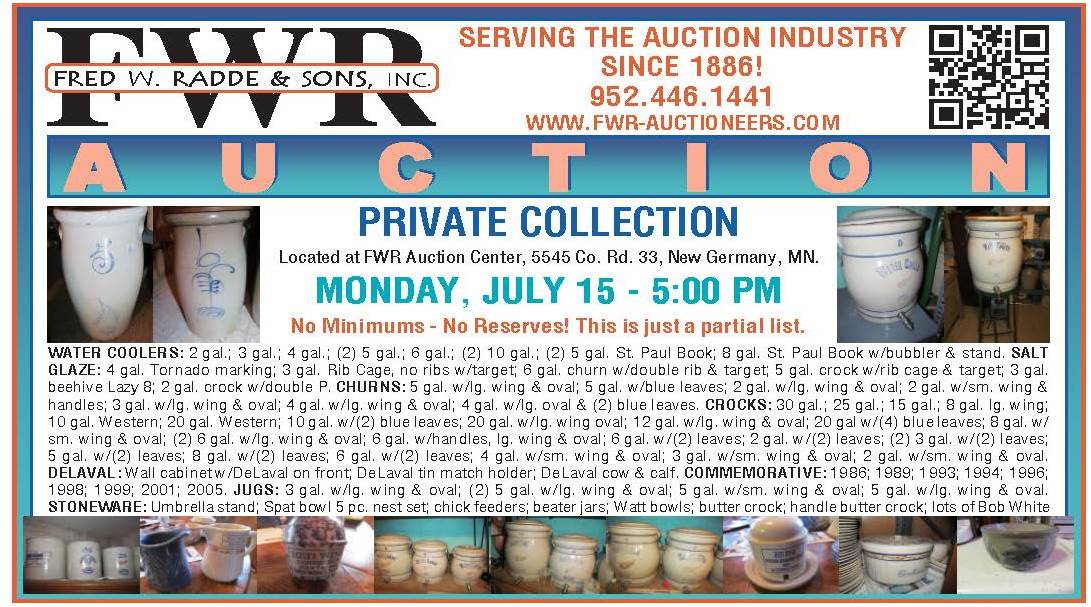 RED WING FOR SALE
King of Tarts cookie jar, blue speckled with black crown, scepter and "tarts". Mint condition. Contact Pat at pbrtlt@hotmail.com.
All 25 Commemoratives from 1981-2005. Many RWCS Newsletters dating back to early 1980s. Anniversary brochures and many Convention ribbons. We've dropped our price from $2150 to $1500! Call 928-232-0269 or e-mail vanglorp@hotmail.com.
Advertising pitcher from Halstad, Minnesota; advertising pitcher from Shelley, Minnesota; 1965 All-Star Game Home Plate; Twins 1965 World Series ashtray; "Win Twins" ashtray; "Pretty Red Wing" ashtray; Gopher on a Football; Badger on a Football; 3# Land O'Lakes butter crock, 5# Land O'Lakes butter crock. Have much more for sale. Contact 406-670-8277 or deweydoris@bresnan.net for more information.
Complete set of RWCS Commemoratives, 1977-2012. Mint condition. $11,500 OBO. E-mail bigoljohnny@msn.com for more information.
4 gallon Red Wing beehive jug w/blue birch leaves. Excellent condition. No cracks or chips. Asking $600 OBO. Red Wing refrigerator stacking jar. 6" wide x 3" high. Excellent condition. No cracks or chips. Asking $200 OBO. Contact Mary at gage6@sbcglobal.net or 949-351-1356.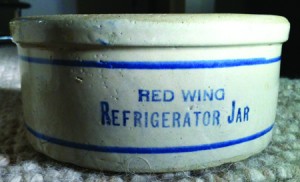 Copies of the Collecting the Legacy Volumes 1 & 2 combination book are still available. Only 500 copies were printed and a limited quantity remains. $20 plus $5 shipping. Contact the RWCS Office at 800-977-7927 or membership@redwingcollectors.org to order.
MISSISSISSIPPI SHUFFLE 25th ANNIVERSARY crocks. The American Cancer Society Relay for Life in Red Wing is celebrating its 25th year of walking this August. Numbered 4½" x 4" replicas of the 25 gallon crock with the Shuffle logo are being created. Preorders to be picked up at Convention or shipped. $25 each, $10 extra to select your own number, if available. Contact Nancy Falk at nancy@falkautobody.com.
Cream & green Red Wing stoneware Bread box. Base mint, lid broken in half. $2,500. Call 641-228-1736 for information.
RED WING WANTED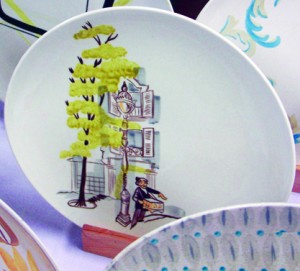 Wanted: Need Montmarte trivet (like pictured below) to complete our set. Contact 816-510-2248 or jerry@pressuremounts.com.
Seeking Red Wing bean pot (preferably with lid) advertising "Season's Greetings from Eden Valley Lumber Co." My grandfather owned the lumber mill in Eden Valley, MN. Please contact Thomas Koetting at 414-423-0092 or tkoetting@jrn.com.
Wanted: Lake Park, IA advertising ware. Contact bandjbush@hotmail.com. 8/13
Wanted: Researching the existence of souvenir or advertising pieces from Knapp, Wisconsin. With any information, please contact Tim at 715-263-2118 or rtwyss@gmail.com. 12/13
Wanted: Red Wing sponge cap bowl with advertising for "Prospect, Wis. Compliments of J.E. Elger, 1935". Call Clint at 262-679-6427.
Wanted: Red Wing ash receivers – burgundy cat, any carmel ones. Contact morrisey3@msn.com or 218-485-8345. 6/13
Wanted: Red Wing 5-inch and 9-inch blue & white sponge panel bowls. Any condition considered. Contact redwingr@gmail.com or 414-731-0218.
Wanted: Mint pieces from Charles Murphy's Red Wing Chromoline or Decorator line. Please e-mail me at mmbright2000@yahoo.com with pictures and prices.
Saffron Ware Information Wanted: Please help a fellow Red Wing collector gather information about rare Saffron Ware items, unusual decorations on Saffron Ware, company literature, paper advertising and ??? I plan on using the information gathered for future presentations or publications. Please don't assume  that I already know about your special piece of  Saffron Ware. Contact Brent Mischke at bvmischke@centurytel.net. Thank you! 4/13
Wanted: RW vase #155, white, 9". RW adv. jugs: 2 gal Sterling Wine House, St. Paul, Minn.; 3 gal Ladner, Aberdeen, SD; 3 gal RW Liquor, Red Wing, Minn. Contact ralphryan@charter.net or 651-388-9820. 4/13
Wanted: Mini and salesman sample flower pots. Contact Scott at cobe142@cox.net or 402-331-4749.
Wanted: Chromoline pcs especially #675, #687 & M3006 in blue/green. Contact Rick at 414-416-9464 or newsletter@redwingcollectors.org. Will buy damaged Chromoline too.
Wanted: Red Wing jug with Calgary Wine & Spirits Co. advertising. Contact 414-416-9464 or newsletter@redwingcollectors.org.
EVENTS
Elkhorn Flea Market, Walworth County Fairgrounds in Elkhorn, WI. Sundays: May 19, June 30, Aug. 11, Sept. 29. More than 500 quality dealers! Gates open at 7 a.m. Admission is $5/person. Visit www.nlpromotionsllc.com for more information.
Walnut Antique Fall Festival – Walnut, Iowa, Sept. 14-15, 2013. Primitves, stoneware, advertising, toys, furniture, art pottery, etc. Dealer space available. Contact Tim Lockard at 641-862-3239. 6/13