RWCS Newsletter Classifieds!
BOOKMARK THIS PAGE FOR ONLINE ONLY AUCTION ADS ALL YEAR LONG!
Convention 2014

July 10-12, 2014 in Red Wing, MN
Membership is only $35 a year and includes six full-color newsletters
AUCTION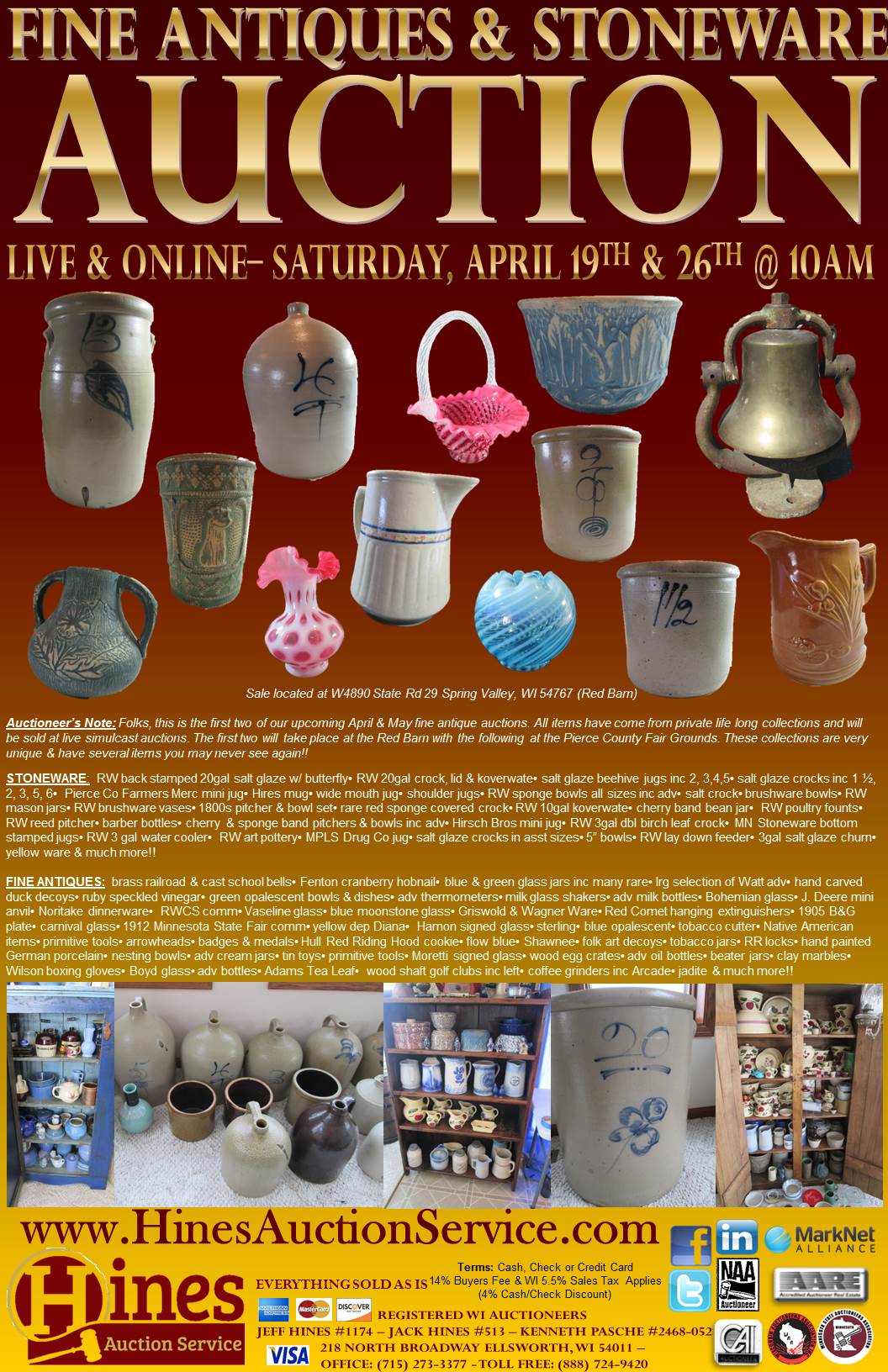 3 p.m. Tuesday July 9, 2014 at the Bluffs, Hager City, WI – very large collection of Red Wing art ware – vases, planters, jardinières, bowls, candle holders, ashtrays, Commemoratives, plus much more.
10 a.m. Wednesday July 10, 2004 at the Bluffs, Hager City, WI – crocks, jugs, dinnerware, Red Wing art ware, souvenir items, memorabilia, plus much more.
Catalogs available June 1 at $5 each. Houghton's Auction, 1967 Launa Ave., Red Wing, MN 55066 www.houghtonauctions.com
---
---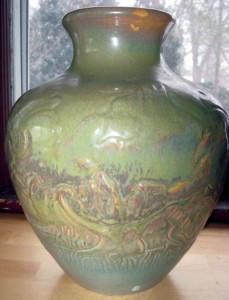 Red Wing Nokomis Lion Art Pottery #164. Excellent shape. Small glaze skip near the bottom. Asking $295 or best reasonable offer. Contact ruhlo@tds.net.
Illinois Chapter Commemoratives: 2002, 2004, 2005, 2006, 2007, 2008 – selling as a set. Also have Red Wing Stoneware Co. "Hometown Family Christmas" crocks from 2000, 2001 and 2002. Also selling as a set. Call 815-732-7141 . Leave message.
Complete collection: safety valve jars; 3 & 5 gal ball lock jars; 1 qt. Stone Mason jar; two 5 gal hand-turned water coolers (complete – on pg. 66 of RW Stoneware book); Red Wing & birchleaf butter churns; Elephant Ear; birchleaf & Red Wing crocks; 5 gal Red Wing jugs; salt glaze crocks; numerous bottom-marked Albany slip Minn. Stoneware pcs.) Call Billie in Missouri at 573-231-6727.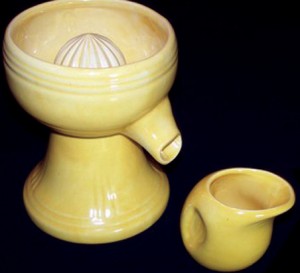 Vintage Red Wing Gypsy Trail Fruit Juicer with Cup set. Mint condition, no hairlines, chips or staining. Juicer is marked "Red Wing 256" on the bottom; no mark on cup. Asking $350 OBO. Contact 630-728-2902 630-728-2902 or jcflinner@gmail.com
Complete Hamm's Beer Popcorn Set: one large bowl, four small bowls, salt & pepper and pitcher. Perfect condition. Asking $2,300.00. Photo on request. Must be able to pick up. 414-737-1750  or ajcasino@ymail.com.
Various Red Wing items including but not limited to 1/2 gallon and 1 gallon Mason fruit jars, 4 gallon and 5 gallon salt glaze beehive jugs, first 3 Commemorative buttons, various deco pottery such as birds and banjos, Bob White salt & pepper, Pepe salt, pepper & sugar set and a small Diamond Jim plate (pink) #385-32. If interested, please call 309-264-4611 .
50 gallon Red Wing birchleaf crock, squatty 25 gal birchleaf – both excellent condition. Contact Richard at rnatynski@frontier.com or 608-617-7424.
---
RED WING WANTED
Wanted: I want to buy a Red Wing Hamm's Bear Bank in the brown bear version or other versions. Call weekdays at 763-252-0114 or e-mail me at kirkschnitker@gmail.com 4/14
Wanted: "Early" Normandy, the first version of the Normandy pattern, with maroon and blue bands at the outer edge of the plates. Will buy or trade. Any condition considered. Also wanted: Ivanhoe pieces. Contact John at secretary@redwingcollectors.org or 612-861-0066. 6/14
Wanted: Red Wing 2 gallon Salt glaze Ribcage crock, any condition considered. Also interested in 4 or 5 gallon Ribcage crocks with turkey droppings. Contact 570-239-5259 570-239-5259 or bmattmandi8@aol.com. 4/14
Wanted: Mini and salesman sample flower pots. Contact cobe142@cox.net or 402-331-4749.
Wanted: Round Up teapot, mugs, base for water cooler, serving tray and large casserole dishes. Please contact 320-573-3300 or barrettems@sytekcom.com and leave message.
Wanted: Pelican Ash Receiver #880 in matt Oxblood glaze. Deer Figurine #1364 in Luster Burgundy glaze. Vase #B1433 in burgundy. Magnolia group all in Luster Oxblood (burgundy) glaze: Pitcher #1020; Vases #976/1021, #1027, #1216-8", #1216-10", #1316, #1319, #1321; Bowl #1313, #1323; Planter #1234; Candleholders #1314, #1315, #1324; Plate #1032. Contact: Jay at 952-881-1676 or jayjuergens@mac.com.
Wanted: NORTH DAKOTA! Looking for jugs, crocks, butter crocks and churns with advertising. Will pay top dollar for the right pieces. Contact beehive@polarcomm.com or 701-270-0242.
Wanted: Red Wing #687 & M3006 vases especially in blue/green Chromoline. Contact Rick at newsletter@redwingcollectors.org or 414-416-9464. Also seeking mint #675 blue/green Chromoline bowl. Will also buy damaged Chromoline pieces. Also want to buy "Shimmel the Grocer Sturgeon Bay, Wis." advertising jug.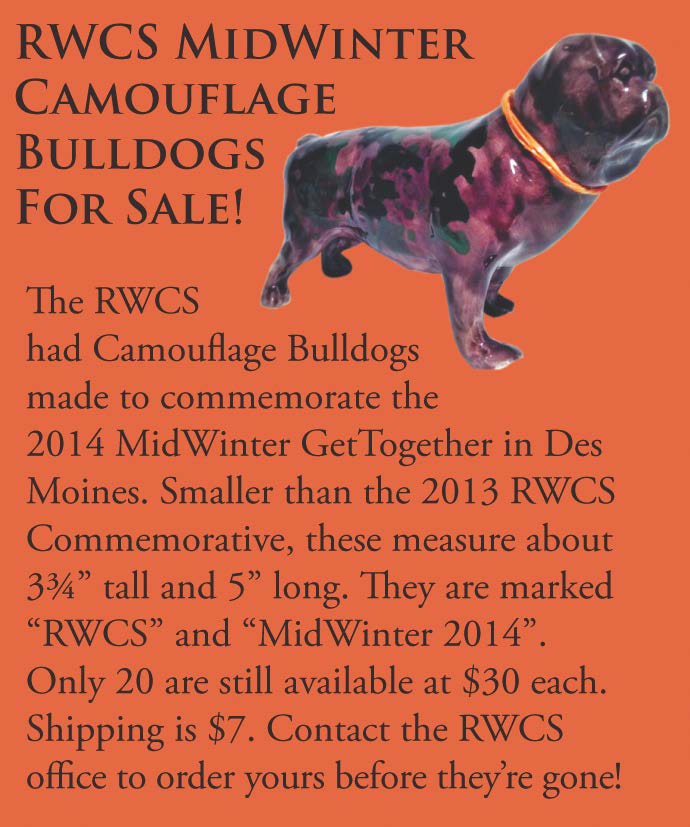 ---
Election Ads
Disclaimer: The following campaign advertisements were paid for by the candidate, or their committee, and reproducing them on the RWCS website in no way constitutes endorsement of any candidate by the RWCS Board or members.
Click on advertisement to enlarge.
---
CLUBS &EVENTS
Advertise your upcoming antique show, flea market, or club event here.