RWCS Newsletter Classifieds!
BOOKMARK THIS PAGE FOR ONLINE ONLY AUCTION ADS ALL YEAR LONG!
Convention 2016

July 7-9, 2016 in Red Wing, MN
Membership is only $35 a year and includes six full-color newsletters
---
AUCTION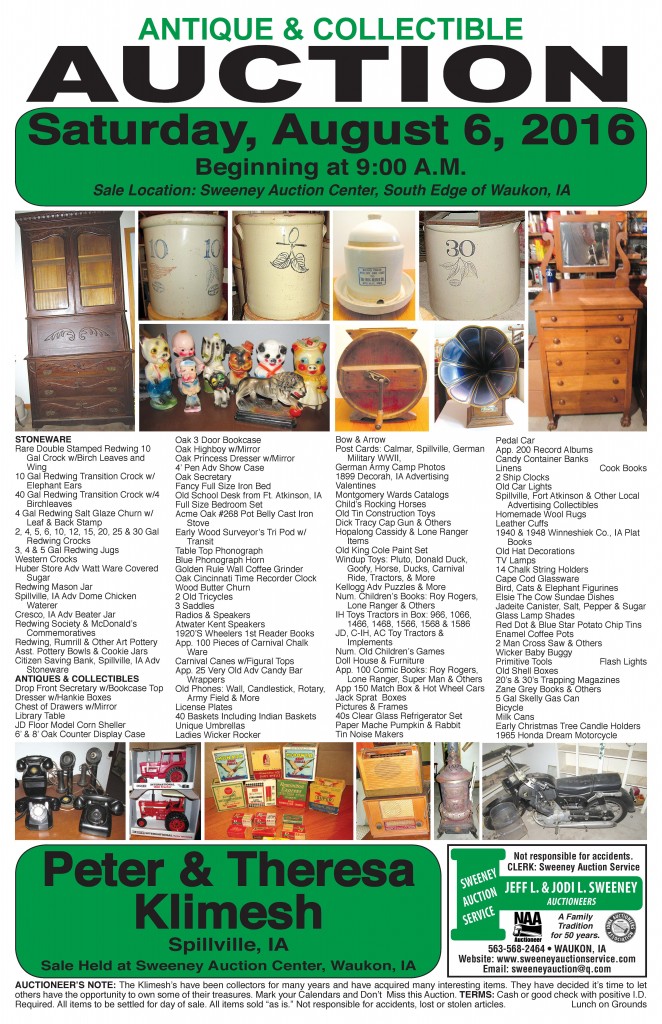 PDF of Peter & Theresa Klimesh Auction
FOR SALE:
Commemoratives from years 1990-2003 Clay Giants Book 3 and Red Wing Stoneware by Dan & Gail DePasquale and Larry Peterson signed by Larry. Asking $1400. Call 712-870-1469 Spencer, IA.
FOR SALE:
RWCS Commemoratives 1977-2015. Contact 605-351-6477 or 1959zerf@goldenwest.net.
FOR SALE:Complete set of 7 Red Wing paneled sponged bowls, 5 thru 11, $995; 2 gal. Red Wing churn/lid, 4" wing $275; Bob White cookie jar $75; Nine RWCS commemoratives, 1995-2003, $180; First 28 consecutive RWCS convention buttons, 1977 – 2004, $140. Will deliver to Convention. IOWA contact: clreedinwdm@mchsi.com or 515-225-3024.
FOR SALE:Want Bob White? We've got lots – any piece you would want. We'll be at the Pottery Place parking lot during Convention, or call 816-797-6998.
FOR SALE: Downsizing:must sell all my remaining commemoratives at a bargain price. Years 1986 – 2011 for just $ 900.00.  Twenty seven (27) commemoratives  (two of 2009 – "Merry Christmas" & "Compliments"). Value is over $ 2300.00. Each commemorative has been carefully boxed and stored; none has been displayed. Delivery in St. Paul, MN, or at the July convention in Red Wing. Call (651) 484-2959 or E-mail: bagnoli555@aol.com.
FOR SALE:1990 thru 2015 commemoratives, 2011 & 2014 version B (missing 4 info cards). 30th  Anniversary commemorative tile (2007). 1857-2007 Red Wing Pottery Museum piece, 1988 Convention plate. Sell as complete set only; best offer. 1991- current newsletters sold as group only; best offer. Approx 138 newsletters, missing 13. Call Mark at 651-357-4265.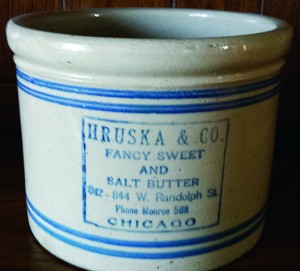 FOR SALE:10 lb. "Hruska & Co Fancy Sweet & Salt Butter Chicago" adv. crock, excellent condition. $995. Contact joicieann@comcast.net.
FOR SALE:Red Wing Rose dinnerware in excellent condition. Selling items as a set. $500. Buyer pays shipping.10 each: dinner plates, cups and saucers, bread/dessert plates. 6 each: salad plates, sauce/fruit bowls.Also large salad bowl, nappy, divided vegetable dish, 1 qt. pitcher, 2 qt. pitcher, trivet, creamer, sugar bowl w/cover, butter dish w/cover, casserole w/cover, gravy boat, salt shaker & two-tier tidbit tray. Contact Maria at MLB231@comcast.net or 505-353-1510.
FOR SALE:12-placesetting to Bob White dinnerware delivered to Convention, $325. Call Jim at 715-792-2668.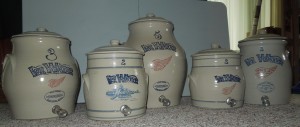 FOR SALE:5 Red Wing water coolers – never used. Made by the new Red Wing Stoneware Company in the 1990s or 2000s??5 gallon (only 3 made), $1,275;?3 gallon (20 made), $625; 2 gallon Collectors' Club (1986 5th 1990), $475;?2 gallon Hormel Barrel, $425;?2 gallon Hormel barrel with red wing, $475?(fewer than 50 made). Free shipping in the contiguous United States. Prices firm. Questions? Please call Tom at 507-298-1495.

---
RED WING WANTED
WANTED: Maroon Daschund planter & 12 gallon advertising crocks. Please contact Matt at mhuepfel@svtel.net of 715-778-5684.
WANTED: Oomph plates, all sizes. Large brown mugs with the Oomph rim and a set of baking dishes. Please contact Marty, mepeterson1955@gmail.com with description and cost. Shipping is to 04021. Thanks in advance, Marty from Maine.  8/16
WANTED: 9-inch Red Wing blue & white sponge panel bowl. Will consider any condition. Contact 414-731-0218 or redwingr@gmail.com
WANTED: NORTH DAKOTA! Looking for jugs, crocks, butter crocks and churns with advertising. Will pay top dollar for the right pieces. Contact 701-270-0242 or beehive@polarcomm.com
WANTED: Moose Jaw, Saskatchewan Canada advertising. Please contact me at ghouda@tcsd.org or 307-543-2010 evenings/weekends for Greg or Judy.
WANTED: Mini and salesman sample flower pots in any colors. Contact 402-598-1315 or cobe142@cox.net
WANTED: 2 gallon salt glaze ribcage churn. Also seeking Red Wing #687 & M3006 blue/green Chromoline vases in mint condition. Contact Rick at 414-416-9464 or newsletter@redwingcollectors.org
---
EVENTS

Elkhorn Flea Market, Walworth County Fairgrounds in Elkhorn, WI. Sundays June 26, Aug. 14 and Sept. 25. More than 500 quality dealers! For information, visit www.nlpromotionsllc.com.
Ceramic Arts Studio Collectors' Convention.
From 9 a.m. to 4 p.m. on Aug. 27, attendees will take in the Wisconsin Pottery Association Show & Sale at the Alliant Energy Center. Later, all will gather at Madison's Howard Johnson Plaza for Convention festivities, with activities and décor centered around this year's theme: "The Ceramic Arts Storybook". The evening will begin with a social hour and the popular "CAS On Display Contest"; all in attendance are invited to enter. A buffet dinner, raffle and meeting will be followed by the club's auction. Events will conclude with door prizes, and presentation of the 2016 CAS Collectors Commemorative Convention registration, which remains at $60 per person, includes all evening activities, plus the Commemorative. Forms and additional information are available on the club's website, www.cascollectors.com, or by writing CAS Collectors, 206 Grove Street, Rockton, IL 61072.