RWCS Newsletter Classifieds!
BOOKMARK THIS PAGE FOR ONLINE ONLY AUCTION ADS ALL YEAR LONG!
MidWinter 2016

Feb 4-7, 2016 in Oconomowoc, WI
Membership is only $35 a year and includes six full-color newsletters
AUCTION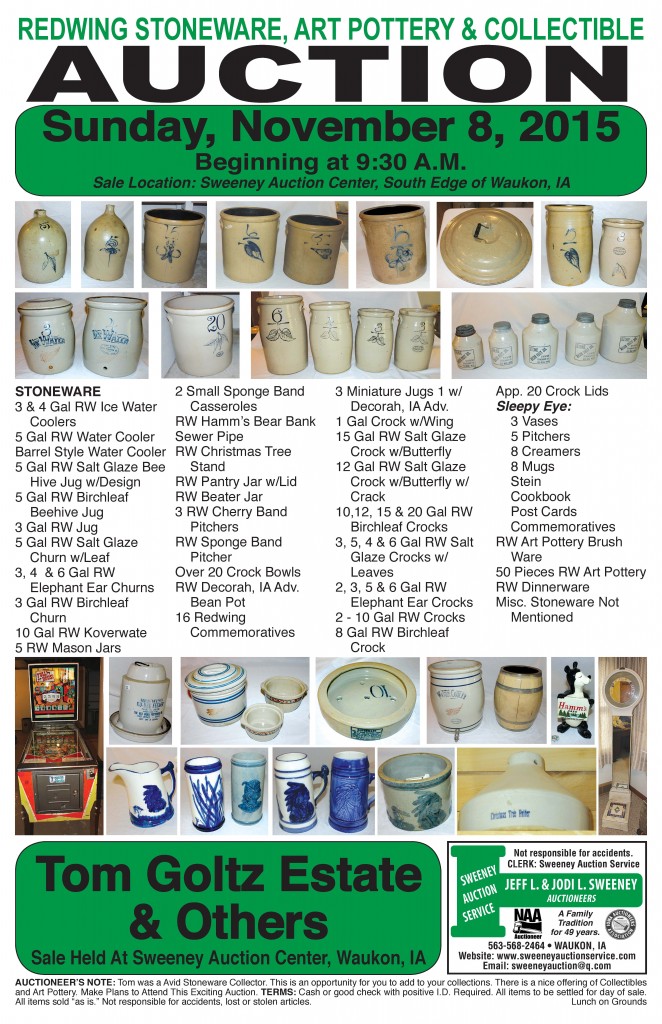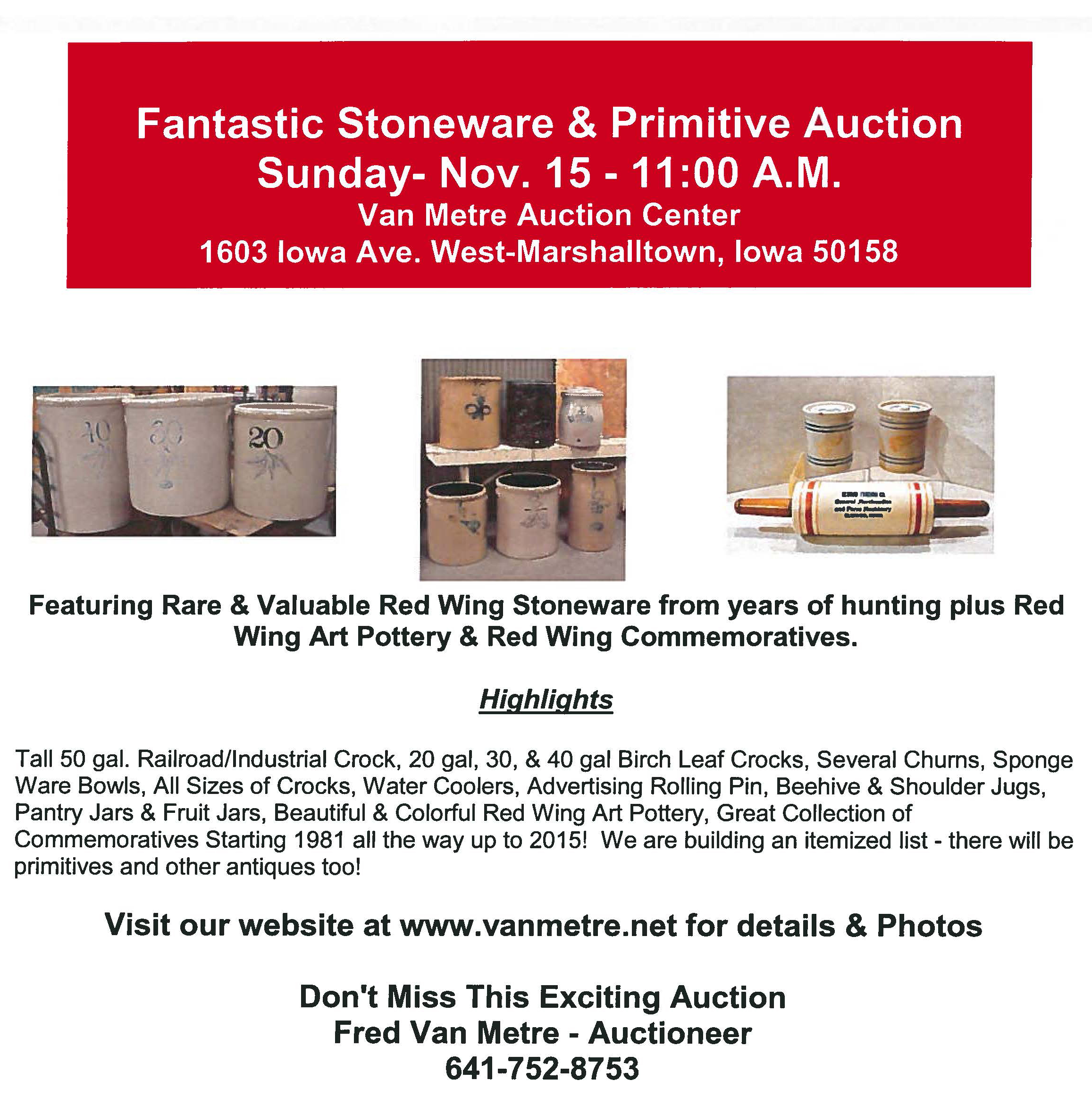 For sale: RWCS Commemoratives 1992-2014, $1200 OBO. Contact Lynda Davis at 402-525-8553 or enldavis4@gmail.com.
For sale: ADVERTISING PIECES: including cherry band pitcher ("Philip Carlson", Grantsburg, WI); grey line pitcher ("C.W. Schmelling", Brownsville, WI). Small refrigerator crocks: ("Guttmann Bros. Co", St Paul, (1# w/lid); 1# "Model Dairy", Chicago; ½ # "Fischl's", Manitowoc, WI; 1# "Hazel Lard", Chicago (w/lid and handle); 20# "Hruska & Co" butter crock, Chicago (hairline on back of crock w/4 gal RW crock lid chipped for ladle); "Ed Maske" fancy bean pot, Milwaukee.
Bowls: "Columbian Metal Products", 7" Albany slip milk pan, Chicago; 9" white bowl w/blue bands, "Adam Kroner Company", La Crosse, WI; 7" blue/pink band, "Miller's Grocery", Elkhorn, WI; 9" blue/pink bands, "Lomas, Tuckwood & Eisele", Fennimore, WI.
Shoulder jugs: fancy 2 gal "John Sexton & Co", Chicago (chip on lip); 2 gal "Steuben County Wine", Chicago (chip on bottom, bottom stamped Minn Stoneware; 1 gal "Gunther's Natural Fruit Syrup", Chicago.
Advertising probably not RW: cream colored ½ gal vinegar jug, "N.J. Bottling Co. Summerville Branch, NJ."; 7 ½" spongeware bowl, "Gabe's Quality Store", Oxford Jct, IA.
NON ADVERTISING RW PIECES: Very good to excellent condition, except as noted.
Water coolers: 5 gal birch leaf "Ice Water" (no oval) cooler w/hex spigot hole (no lid or spigot); 5 gal "Water Cooler" small wing, original handles and spigot (central) w/lid (lid chipped in back for ladle); wonderful 10 gal salt glazed lazy 8/target straight sided water cooler w/large round ring around spigot hole (no lid or spigot).
Crocks: 3 gal salt glazed North Star crock (upturned leaf); 4 gal salt glazed crock w/ rib cage and target; 2 gal salt glazed double P/target (bottom stamped Minn Stoneware); 2 gal salt glazed double P/target (bottom stamped Minn Stoneware, cracks and lard stains); 2 gal elephant ear bottom stamped Minn Stoneware (hairline crack): 2 gal small wing, Union oval; 1 gal (bottom signed Minn Stoneware); two 2 gal crock lids (petal and bar, both perfect on top, one has chip on underside).
Other: ½ gal blue and white "Refrigerator Jar" (w/lid and handle); two ½ gal Stone Mason Fruit Jars, one w/black label and Atlas metal top, one w/blue label and Ball metal top; 1 quart Stone Mason Fruit Jar w/blue label and no marking on rusting metal top; 6" stacking "Red Wing Refrigerator Jar"; matching Albany slip "iris" pitchers ½ gal and 1 qt (smaller has chip on lip and is bottom signed); 1 gal and ½ gal fancy shoulder jugs with 2" wings (chip/flaking on shoulder of smaller jug); 3 gal Koverwate; 10" Ko-Rec Feeder (no base or handle); small 4 ½" x 4 ½" bean pot w/handle, small side chip (no lid), bottom signed Union Stoneware oval; wide mouth Albany slip ½ gal beehive fruit jar (bottom marked Minn Stoneware); 1 gal Albany slip snuff jar (no lid; slip was applied OVER large paper label for "Polaski Snuff", Chicago which is still readable; 9" spongeware wide rim bowl; 9" and 6" spongeware panel bowls; 8" blue band saffron bowl; blue band "Red Wing Beater Jar ("eggs, cream, salad dressing"); white 10" art pottery rose bud vase bottom signed Red Wing USA 1557; ½ # white refrigerator crock with four floral side panels and lid.
PROBABLY RW BUT CAN'T VERIFY: very cool fancy spittoon
NICE PIECES PROBABLY NOT RW: ½ gal Albany slip grape cluster pitcher with 5 point star on bottom; 11" wide rim spongeware bowl; 7" straight side spongeware bowl (hairline crack); 9" white with blue bands bowl; white baled stoneware cooking pot with light blue interior, bottom stamped "Dutch Cooking Ware"; 3 gal salt glazed crock stamped "J Burger Jr." with nice cobalt multiple leaf design, early upstate NY (Rochester?) piece.
CONTACT: Paula at pandries@hotmail.com for more details: advertising, condition and pictures.
---
RED WING WANTED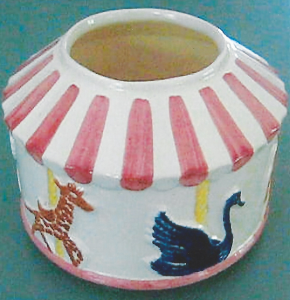 Wanted: Cover for the Red Wing pottery cookie jar pictured here. E-mail information to Marlene Nihart at marnihart.4@gmail.com.
Wanted: Pink Spice trivet and soup tureen to complete a set. If you have either of these items and you're willing to sell, please contact Steve at 507-351-9142 to discuss a price.
Wanted: NORTH DAKOTA! Looking for jugs, crocks, butter crocks and churns with advertising. Will pay top dollar for the right pieces. Contact beehive@polarcomm.com or 701-270-0242.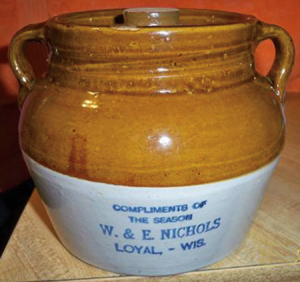 Wanted: Xmas advertising bean pots for W&E Nichols – Loyal, WI. Any condition considered. Also looking for 9-inch blue and white panel bowl. Will consider any condition. Contact redwingr@gmail.com or 414-731-0218.
Wanted: Mini and salesman sample flower pots in any colors. Contact 402-331-4749 or cobe142@cox.net.
Wanted: 2 gallon salt glaze Red Wing ribcage churn. Also seeking Red Wing #687 & M3006 blue/green Chromoline vases in mint condition. Contact Rick at newsletter@redwingcollectors.org or 414-416-9464.
---
EVENTS

Contact us to post your event.
---