Monmouth's Pottery Celebration
Monmounth, IL –
Celebrating Monmouth, Illinois' historic tradition of creating quality stoneware and pottery is the idea behind our annual Pottery on the Square Swap Meet event on June 26th, 2010 starting at 8:00am. Monmouth's history with stoneware and pottery dates back to the 1890's and continues today with Western Stoneware and Maple City Pottery, both of Monmouth.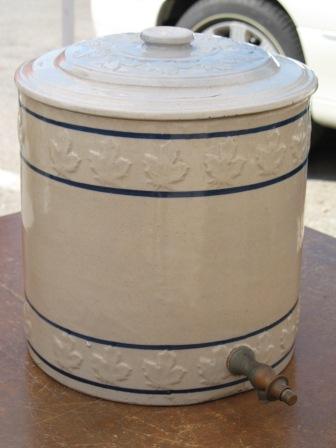 Beginning at 8:00 a.m. and running until noon, on Monmouth's Public Square, activities will include a pottery and stoneware swap meet, pottery demonstration, and window displays of rare pottery pieces. A pottery/stoneware consignment auction will begin at 10:00am. The public is welcome to bring vintage items the day of the event for the auction or can register them ahead of time and have them advertised on the auctioneer's website
www.burnsauctionservice.com
. Auction fees are 10% for a sale, 3% no sale, and $5 per item or set check in fee. Swap meet and consignment auction participants are not limited to Illinois pottery, but pottery items must be vintage.
Also returning to the event this year is the pottery appraisal clinic beginning at 8:30am, where knowledgeable Illinois pottery collectors will be on hand to examine pieces of Illinois pottery brought by the public. Rare items that have been seen at the appraisers booth are a rare Macomb Pottery Duck Decoy, a Bardolph Pottery Pig, and a Western Stoneware ice water cooler with maple leaves around it plus the correct lid made it a prized item.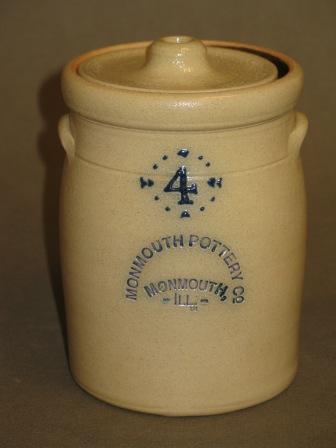 In conjunction with the event the Monmouth Area Chamber of Commerce is offering to the public an opportunity to purchase a handcrafted limited-edition, salt glazed small replica that is molded after an existing original 4 gallon Monmouth Pottery Co. butter churn. Like the original Monmouth Pottery Company butter churn, this smaller butter churn is hand turned. The replica created at Maple City Pottery, measures approximately 4 ½ inches tall and 3 ¼ wide. Impressed on one side is "Monmouth Pottery Co, Monmouth, ILL" in cobalt with a hand painted "4" above. "Pottery on the Square" is impressed on the other side along with the Maple City Pottery logo. Orders are currently being taken for the Monmouth Pottery Company butter churn, that will be available the day of the event. The deadline for orders is May 20th, 2010, and they are priced at $30. Shipping charges vary based on quantity.
For more information on the event or the commemorative Monmouth Pottery Company butter churn please contact the Monmouth Area Chamber of Commerce at 309-734-3181 or e-mail
maccdir@maplecity.com
. You may also go to the tourism page of the Chamber's website,
www.monmouthilchamber.com
.