July 7-9 Red Wing Collectors Society Summer Convention
Kicks Off Year-long Celebration
Red Wing, MN- The 2011 Red Wing Collectors Society (RWCS) Convention marks the beginning of a year dedicated to recognizing the Society's 35
th
year in existence, which will culminate with next year's RWCS Convention – the 35
th
annual event. Scheduled for July 7-9 in Red Wing, Minn., the theme for this year's event is "Stirring Up the Memories".
RWCS members have a wide variety of activities and educational seminars to attend during Convention, including street sales held throughout the community, a string of auctions highlighted by the always popular RWCS Thursday Night Auction at Red Wing High School, the Potter's Picnic open to the public at Red Wing's Colvill Park, and the official RWCS Show & Sale at Red Wing High School that begins for members at 9 a.m. Saturday, July 10 and opens to the public from 10:30 a.m. to 1:30 p.m.
Other major activities include a "Crock Hunt" scavenger hunt around the historic Mississippi River town, self-guided tours of the RWCS Foundation Museum, and the KidsView educational program. There is also a special display room at Red Wing High School, where members create their own unique displays for the education and enjoyment of attendees, combined with some fun and creative competition.
The annual RWCS Brat Feed and pre-registration badge pickup will take place in the parking lot of the Red Wing Pottery and Shops, 1920 Old West Main St., from 11 a.m. to 3 p.m. on Wednesday, July 6. RWCS members will staff a membership tent at the Brat Feed for people seeking materials and information about joining the club and Red Wing's KWNG 105.9 FM radio station will also be on hand, broadcasting a live remote at the tent from 11:30 a.m. to 1:30 p.m.
An annual commemorative will be unveiled and distributed to members beginning Thursday, July 9. The commemorative piece is a closely guarded secret and there is much speculation as to what the piece will be each year. It is a miniature replica of a Red Wing pottery item with a limited number made, contributing to their increase in value in following years. Last year's commemorative stoneware pig figure was well-received by the membership.
The Convention will officially kick off with a keynote presentation from Ronald C. Schirmer, Ph.D. from Minnesota State University at Mankato, an expert on ancient pottery from the Red Wing area, at 10:30 a.m. July 8 in the Hove Auditorium at Red Wing High School, 2451 Eagle Ridge Dr. The presentation will be open to the public.
A good selection of educational seminar topics are also on tap for Friday, July 8, including an orientation for first timers, demonstrations by a working potter from Ephraim Pottery "throwing" pieces on a wheel, Red Wing 101, recent finds from the old pottery dump, Red Wing dinnerware, Pennsylvania's Sherwood Brothers pottery, Red Wing Saffronware and using Facebook to enhance your collecting experience. In addition, writer Ruth Nerhaugen will share her unique insight from having created the RWCS Convention Supplement for the Red Wing Republican Eagle newspaper for so many years and the RWCS Foundation will hold an info session about its the exciting news and progress.
Another unique aspect of the RWCS Convention is the participation of the younger generation through the KidsView program. The Society is on the leading edge of creating engaging and educational ways to get the younger generations involved in collecting. The focus on these RWCS members is an important part of the vision of the Society to ensure its continued existence and growth. There are many interactive and challenging activities and seminars for children of all ages to get involved in, such as learning how to bid at an auction, what to look for in an antique, and several hands-on pottery creation projects.
To further complement KidsView, a new program will be held at this year's Convention geared towards helping young Red Wing collectors ages 15 to 20 to grow their interest in Red Wing. This will be a great opportunity to learn more about Red Wing, develop new friendships through peer-to-peer discussion groups and participate in hands-on activities.
The Red Wing Collectors Society was founded in 1977 in Red Wing, Minn. and is devoted to educating people about all American pottery. There are more than 4,000 members worldwide. The Red Wing Potteries had diverse pottery lines that included stoneware, dinnerware and art pottery. For more information or to become a member, call the RWCS business office at 800-977-7927, e-mail membership@redwingcollectors.org or log on to www.redwingcollectors.org.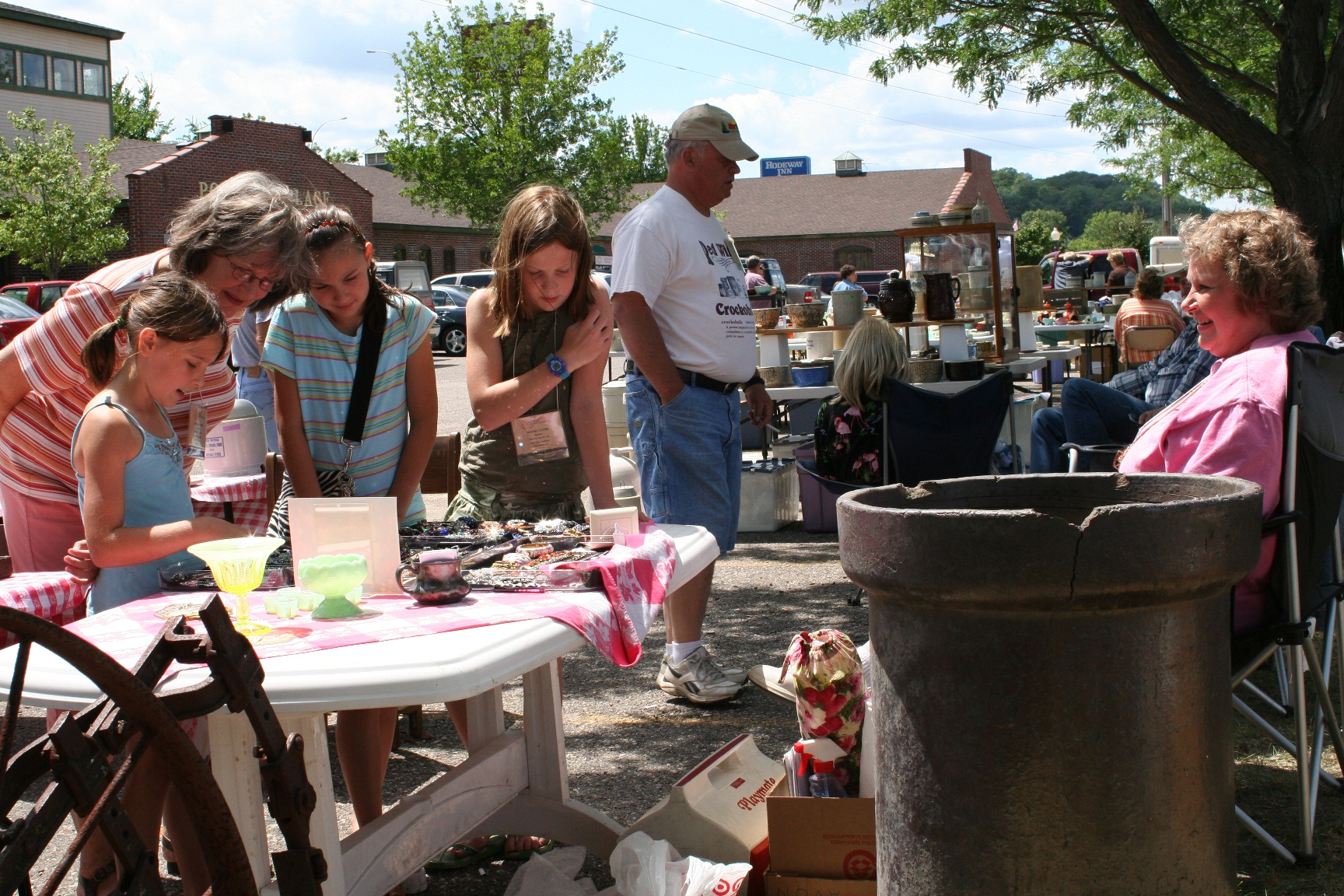 Even kids get into the act at the RWCS Convention. The RWCS KidsView educational program has greatly enhanced the Convention experience for kids and helped them to get more interested in collecting.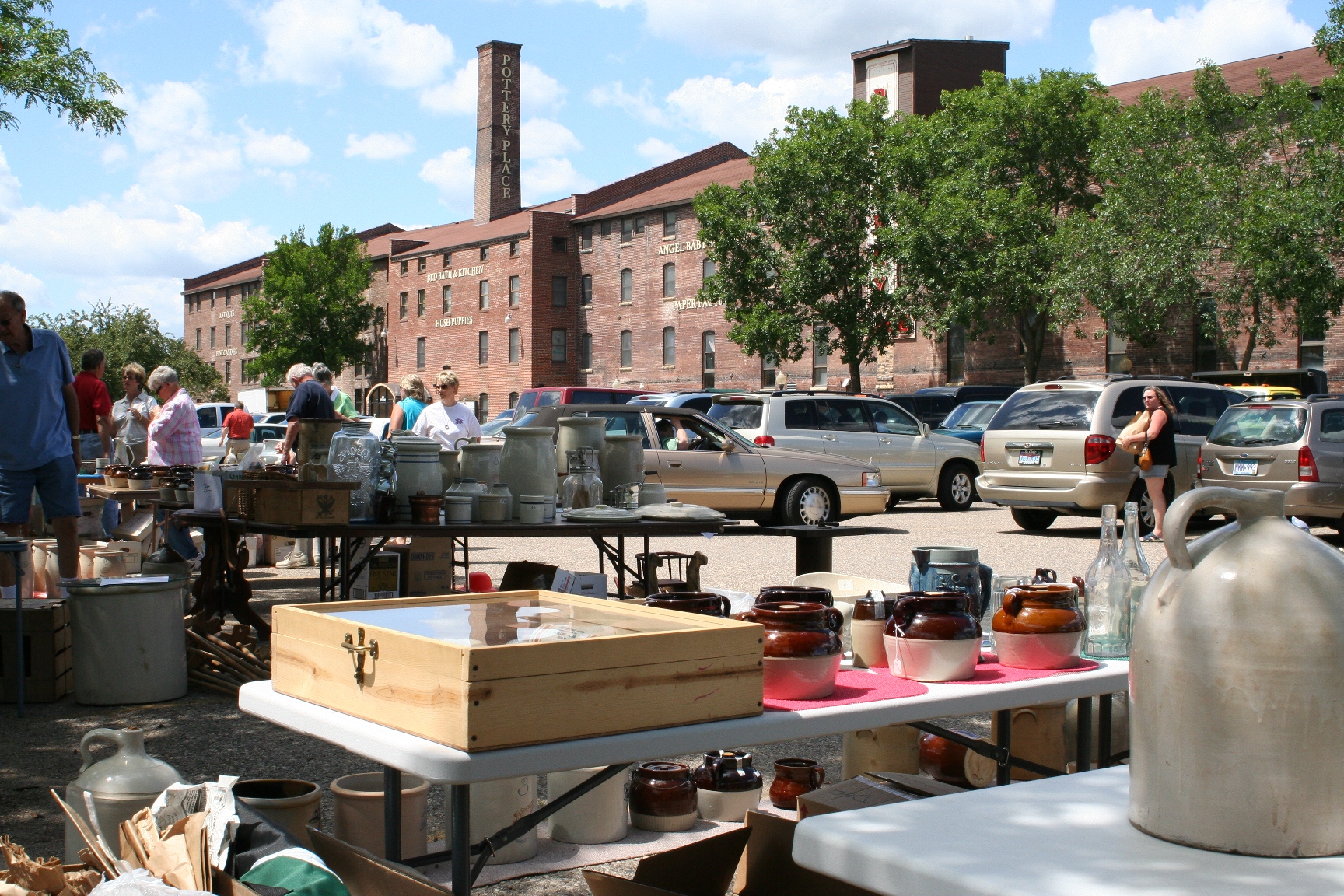 With the old Minnesota Stoneware factory in the background, there's nothing like the experience of buying and selling Red Wing stoneware and pottery during the Red Wing Collectors Society's annual Convention Week in Red Wing, MN. Many attendees will show up as early as July 3 to begin selling and hunting for pieces to add to their collections, but the event officially begins on Thursday, July 7.