Question: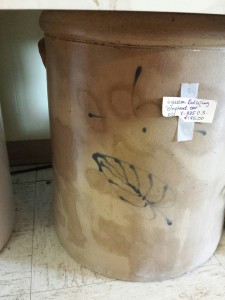 I came across an unusual crock today at a consignment antique store. It is a 6 gallon crock with a hand painted leaf logo. The price tag says it's a red wing crock.
To me the leaf design resembles an elephant ear, yet not done very well and upturned.
I didn't get to inspect the overall condition very well. It was being used, along with another 6gal crock, to hold up a shelf. I did see one area on the upper rim where a chip had been reattached. Other than that no visible cracks from the front and sides. The back, bottom and inside were not visible.
My questions are:
Is it a red wing crock?
If so, is it worth the $145 if in decent condition? Sean
Answer:
Sean, from what I can see of the crock, it looks like it could very well be Red Wing. With the re-attached chip, the light decoration and some staining, I think $145 is a fair price.  Al Kohlman