Question: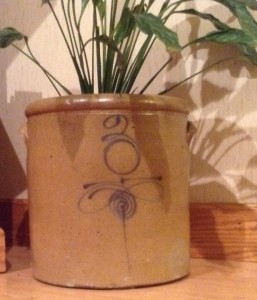 Hello,
I have a 2 gal salt glazed crock that was my grandmothers, I'm sure it is from the red wing era.
Would like to find out what the design is on it, i think it is called a crazy 8 or something like it.
Could you help with the authenticity and some kind of value on it.
Many thanks,
Pete
Answer:
Pete, you have a 3 gallon salt glazed crock with a Lazy 8 target design.  Value on these if in perfect condition is $125 to $140.  Al Kohlman