Question:
Hi all,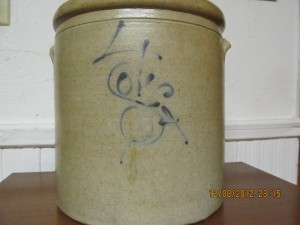 I just picked up a couple of farm fresh pieces of stoneware. A 4 gallon salt glaze and a 25 gallon double birch leaf.
I'm not sure if the 4 gallon is Red Wing. What do you think?
I love how the tip of the lower birch leaf cuts into the ski oval on the 25 gallon (squatty?)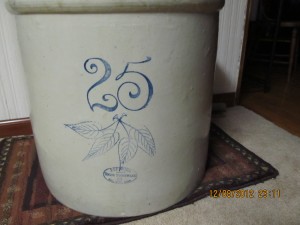 (please see att. pics.) They are both in excellent condition.
I was hoping you could give me your opinion and value.
Thanks,
Andy
Answer:
Andy, your 4 gallon salt glazed S\A crock is not Red Wing from the looks of the clay.  Either way the S\A pieces are quite sought after.  In mint condition, $200 to $300 to the right collector.  The Red Wing 25 gallon squat with ski oval and birch leaves is a nice piece.  In perfect condition $250 to $300.   Nice pick.  Al Kohlman