Question: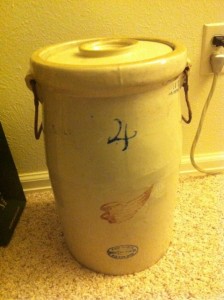 I purchased a 4 gallon Red Wing butter churn today (in Denver!).  It has the original lid and it is in good condition, some minor distress on the bottom rim.  I've been looking for a similar churn online, and I don't see any with the metal handles that mine has.  Mine also has the "1915 Patented" stamp on the top of the churn.  Can you provide me with any other information about these churns?
At the same flea market I purchased two Magnolia collection dinnerware pieces, that were being sold as "covered soup dishes."  I can't seem to find any information about these dishes either.  Do you have any information about these as well?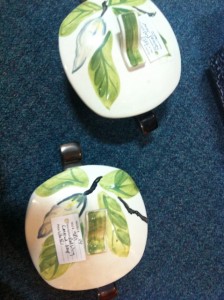 Thank you!
–Courtney
Answer:
The metal handles and patent date are less common on butter churns.  They do not necessarily add value to the item.  The churn lid is not a Red Wing lid.  Value is between $200-$250.  Jeff T.
The covered bowl is called a "Cream Soup Bowl with Cover" in the Red Wing catalogs.  Value is $20 to $25, assuming excellent undamaged condition.
Larry