Question: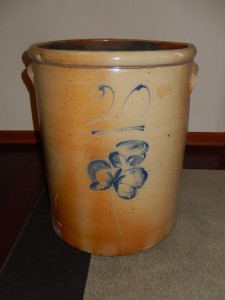 I was wondering if you could give me an idea of these three pieces:
The first is a 20 Gallon Butterfly Crock with a crack in the side.  It appears a long time ago, someone stabilized this piece with a ring of bale wire around the top.  It does have a couple of chips/flaws too.  I have taken pictures from every angle.  I would be happy to take more pictures if you like.
I also have a brown top jug and a crock.
Any help you can provide would be most appreciated!
Randy
Answer:
Randy, your Red Wing 20 gallon salt glazed Butterfly was produced between 1887 & 1895.  I just love the different tones of salt glaze on your piece.   Not being signed and the large crack in the back, the value would be around $250 to $300 at best.  The brown top jug may or may not be Red Wing.  Either way, with no decoration or advertising, the value is around $10.  The bottom signed butter crock does have a small chip on the bottom.  Value is around $30.  Hope this was helpful.  Al Kohlman