Question: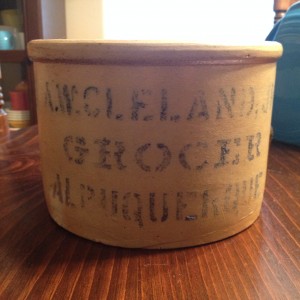 I am attaching the following photos of a Red Wing Crock I found.  I wanted to know if you could give me any more information about it (age, value, what it was used for, etc.).
It is marked:
A. W. Cleland, Jr.
Grocer
Albuquerque
Bottom marked with Redwing Stoneware Co.
It is approximately 5″ tall and 7″ in diameter.  It has a glaze drip on the outside that's the color of the inside brown.
Thank you for any information you may be able to provide,
Andrew
Answer:
Andrew, you have quite a find here.  You have an early Red Wing Stoneware A.
W. Cleland, Jr. Grocer Albuquerque bottom signed butter crock which was produced between 1877 & 1894.  If it is in perfect condition, the value would be in the area of (are you sitting down yet) $2500 to $3500 or so.  Al Kohlman