Question: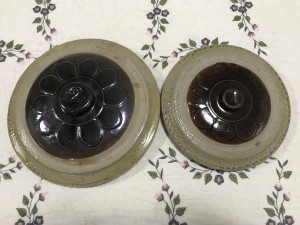 Hi –
I came across these 3 lids for our collection earlier this summer. The pair of salt glazed (one and two gallon) and the other 2 gallon that's Albany slip. I've done a couple of searches on the site, but have come up empty on anything.
I'd love to know more about these; the year ranges they were likely produced in, if only one of the Red Wing companies made each, and their value.
Thanks for your time,
Randy
Answer:
Randy,
These 2 lids are Red Wing salt glaze. 1 gal. value  $100-$125 , The 2 gal. Value around $200-$250 in mint condition.
Clifford Olson