Question: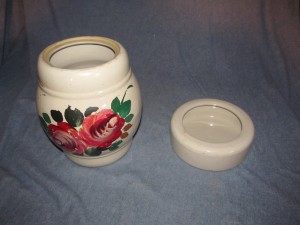 I have couple of stoneware peices I need help with, The cookie jar ,I was wondering if it is Red Wing it is a $2.00 estate sale find.
The other is a 25 cent garage sale find, I think it is a dog dish? Niether are marked, I was in antique store and they had a poster of Red Wing products from the thirties and both items looked similar to ones on the poster. They called the one an animal jar it has the same dimentions listed on the chart 41/2 " inside diameter and 71/2″ outside diameter. Is ther any value here
the cookie jar is in good shape no chips or hairlines but no cover, the dog
dish has some hairlines? I have been dealing Red Wing for a few years now but I
have never seen an animal jar, any help would be greatly apreciated.
Thanks, Papa Ted
Answer:
The cookie jar was made by Red Wing.  A July 1942 brochure titled "Hand
Painted Pottery" depicts a squat Munch Jar, a Cookie Jar,
and an 11″ Salad Bowl in three different designs: Incised Peasant,
Fruit and Rose. All three pieces in all three designs were available in three
colors: Brown, Green and White. You have a Rose cookie jar in the white color.  In mint condition this
jar complete with its cover would be worth $30-40.  Without the original
cover the value drops significantly, probably to no more than $10.
Larry