Question: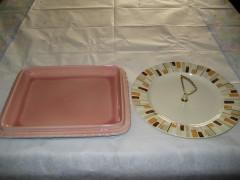 I have two pieces of redwing potter – 1.A pink and blue piece 9 1/2 x 12", 1" inch deep with scalloped edges, 1039 Red Wing USA on the bottom, and is an older piece. 2. A serving piece I received in 1974, 10 1/2 inch round with gold handle in the center 2 3/4" high and brown, tan and orange rectangle decoration around the 1 1/2" decorative edge. Red Wing Hand Painted ovenproof USA 3T3 on the back. Looking for more information and approximate value. Thank you. Susan
Answer: Hi Susan
The 1039 dates to around 1940, it's considered a console bowl, with a value of around 25.00. thanks, steve n rose
The plate with handle is called a tidbit tray. It is a Desert Sun dinner plate with a handle that was attached by Red Wing Potteries staff. Tidbit trays were not shown in brochures for dinnerware patterns. But they were pictured in Gift & Novelty brochures. Various sizes of plates and bowls were pieced together into 1, 2, 3 and even 4 tiered tidbit trays. The plates and bowls used were usually surplus or from discontinued patterns. The Desert Sun patten was introduced in 1962. In excellent condition this tidbit tray is worth $10 to $20.
Larry