Question: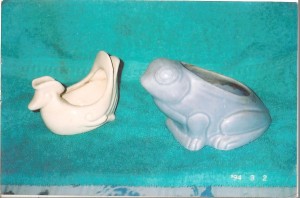 Hi,
Was wondering if you had any information on these two red wing items in the attached picture.
I can't seem to find any info on the internet. If you could tell me about them and what an estimated value would be would be great.
Thanks, Chad
Answer:
The yellow duck-shaped item is an individual ashtray from Red Wing's Gypsy Trail dinnerware line. The catalogs listed these as Duck Ashtrays and showed them as available in the standard Gypsy Trail colors (blue, orange, yellow, turquoise and white).   They were made from about 1937 to 1942.
Value fora Duck Ashtray in excellent condition is $40 to $60.  Some are marked RED WING, others are not marked.  The value for a marked ashtray would on the higher end of the range. Larry
the frog is a planter, #992,worth around 60.00 or so.  thanks, steve n rose