Question: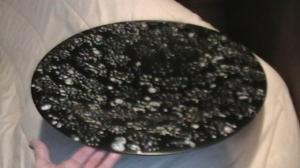 What is this pattern called. It is black & blue. Is it a console piece or a fruit bowl. Thank you Donna
Answer: Hi
Donna
this maybe dinnerware, I'll pass it on to our other expert. It doesn't look like any art pottery that I know of. thanks, steve n rose
Answer: Sorry, I know nothing about this item. It definitely is not Red Wing dinnerware.
Larry