There may be a RWCS Chapter near you
Learn more on our Chapters Page.
Membership is only $35 a year and includes six full-color newsletters and exclusive, members only, online content
Question: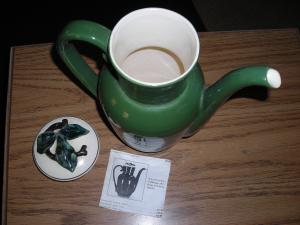 I researched this pitcher about 15 yrs ago (a Normandy) and found it to be value at $75-$85. Is it still? Thanks, Donna

Answer: Your Forest Green covered beverage server would go with either the Normandy or Ardennes patterns. Accessory pieces for Normandy and Ardennes were available in either Forest Green or Dubonnet (maroon). The $75-$85 value range isn't far off. I'd put the current value at around $80 – $100, assuming excellent condition.
Larry