There may be a RWCS Chapter near you
Learn more on our Chapters Page.
Membership is only $35 a year and includes six full-color newsletters and exclusive, members only, online content
Question: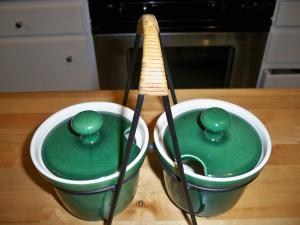 this is red ware, right? It says ES USA on the bottom with a leaf pattern. They appear to be in great shape OTHER than a v. old crack on one near the lip. Thanks! I am not a collector, this just sort of fell my way. Seth
Answer: Hi Seth
it is a line of dinnerware Red Wing made, I will pass you onto the dinnerware expert, it's more his expertise. thanks, steve n rose

Answer: The two green containers were made by Red Wing Potteries. The iron holder with rattan-wrapped handle was made by another company.
Ernest Sohn was a well-known designer who contracted with various businesses to make products for his sales company. He specialized in serving pieces and buffet sets, not full dinnerware patterns. His dealings with Red Wing were not well documented, but at least two lines of dinnerware items were produced for Sohn. "Butter Mold" is the better known of the two. It consisted of serving pieces such as pitchers, teapots, casseroles, bowls, platters, etc. The pieces had a ribbed effect in the glaze, similar to Village Green. Most Butter Mold pieces were dark brown, dark green, or yellow (uncommon). Each piece was marked with a design taken from a vintage butter mold. The design featured a fern and leaves enclosed by 5 rings, and included the letters " E.S. USA". Production years are uncertain but most likely fall between the late 1950s and early 1960s. An ad for Sohn's Butter Mold line appeared in a February 1961 magazine.

Value for the two containers with stand shown in the photo would be $50-75, assuming all pieces are in excellent condition. The crack would reduce the value by 25-50% or more depending on the size and visibility of the crack.

Larry