There may be a RWCS Chapter near you
Learn more on our Chapters Page.
Membership is only $35 a year and includes six full-color newsletters and exclusive, members only, online content
Question: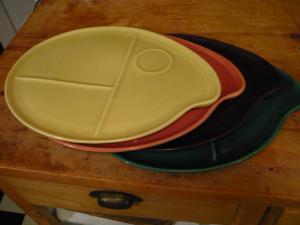 Someone gave me these plates several years ago. They are in perfect condition, four colors. Can you tell me anything about them? Looks like I can only attach one photo, so I'll send another form with the rear view and stamp. Wendy

Answer: Supper trays in two shapes, Patio and Festive, were introduced by Red Wing in 1951. They were available in the same four colors as the Quartette dinnerware pattern that was also introduced in 1951. The names of the colors are Ming Green, Mulberry, Copper Glow and Chartreuse. Cups were made to go with the trays. Festive trays were oblong in shape and had a squarish cup; Patio trays were shaped like an artist's palette and had a cup borrowed from the Town and Country pattern. Some trays were marked with the Red Wing name on the bottom, others were not marked. These supper trays are fairly common today. The cups can be more difficult to find as they were not marked. Value for a matching cup & supper tray is around $25-30. A supper tray without a cup would be worth $10-20. All values assume excellent condition.
Larry