Do you have a piece of Red Wing Stoneware, Dinnerware, or Art Pottery that you want to know more about?  Or perhaps it was just given to you by a family member or a friend, pick up a yard or estate sale? This is the place to get all your questions answered.
A panel of Red Wing Collectors Society members are at here and this service is FREE! Our online Experts are Red Wing collectors and many times other pottery, have the respect of their peers for their knowledge and maintain a general interest in Red Wing pottery, has been formed.
There are two ways to find answers to your pottery questions:
1. Search the Archive – The RWCS website has over 20,000 questions that have been previously answered on our website. Just use the search box on the RWCS website. Type in  few key words. The search will bring up any question that reference the terms you use.
2. Submit your question – Follow the instructions below to submit your questions.
Our experts have been providing answers to questions onlins for over 10 years. Here are the biographies of the RWCS Ask the Experts volunteers!
Artware – Archive Questions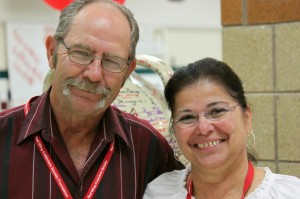 Rose and Steve Splittgerber are the Curators of the Schleich Red Wing Pottery Museum in Lincoln, Nebraska. They have been intimately involved with the museum since the initial design. In addition to Red Wing pottery, the Splittgerber's also collect Van Briggle pottery. Steve and Rose are active in many pottery organizations such as the Nebraska Redwingers, Iowa Art Pottery Association and the Van Briggle Collectors Society. Even with their extensive knowledge of Red Wing pottery and other pottery, they love to do research to expand their knowledge base.
Dinnerware – Archive Questions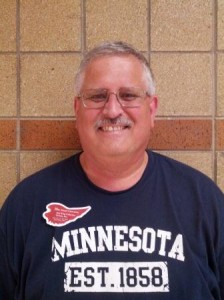 Larry Roschen has collected Red Wing dinnerware for over 30 years. He and his wife Kathy have collected nearly complete sets of four dinnerware patterns, every known standard production dinner plate, and almost every teapot, pitcher and salt & pepper set made by Red Wing. Larry also has a strong interest in rare, lunch hour, and test or sample dinnerware items. He has presented numerous dinnerware seminars at RWCS MidWinter and Convention events, and is contributes regularly to the RWCS Newsletter. Larry and his friend Terry Moe have gathered vintage documentation on Red Wing dinnerware lines, primarily old Red Wing price lists, brochures and company memos. These documents help form a more complete picture of production dates and time lines than can be found in existing Red Wing reference books.
Stoneware – Archive Questions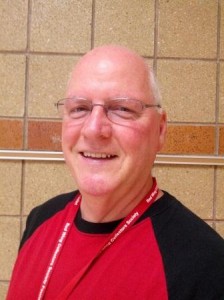 Al Kohlman has been collecting Red Wing Stoneware since 1985 and joined the Red Wing Collectors Society in 1987. His primary interests are stoneware and Red Wing animals, but he has dabbled in other areas of Red wing as well. Al is also a collector of decorated Wisconsin Stoneware. Al's Red Wing collection started with zinc glaze crocks, from 1 gallon to 60 with lids. From there he moved to zinc glazed butter churns & ice waters (never having an interest in salt glaze). He has now thinned his hobby and collects only decorated salt glaze (tastes must change with age).
To get your question answered, here is the process:
Currently the RWCS Online Ask the Experts automated service is being upgraded. Please email your questions and photos to director@redwingcollectors.org and Stacy Wegner, Executive Director, will be able to get your questions to the proper expert.
Please provide the following information in your email:
Provide a detailed description of the piece (size, condition, decoration, markings, glaze). If you are asking about dinnerware please include the number of each piece in the place setting.
Attach a picture in the space provided if possible. It's always helps the Expert to have a visual. You can also text your photo to 651-388-4004 (please include your name)
Your question will be sent to the appropriate Expert.
The Expert will provide you with an identification of the piece, the time period it was produced, the rarity/desirability of the item and a range of possible value*.
Please be patient as answers to questions make take a few days to post to the website.
Your question along with the answer will be posted on the website so others can view the question and answer. Neither your full name nor email address will be posted on the web site.
While the RWCS Online Ask the Expert service is being upgraded, answers will be sent directly to you.