There may be a RWCS Chapter near you
Learn more on our Chapters Page.
Membership is only $35 a year and includes six full-color newsletters and exclusive, members only, online content
Question: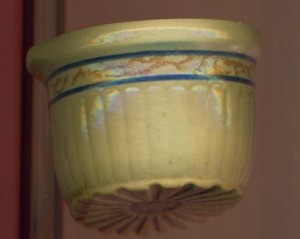 Hello.
We have a small crock that says it was made in Red Wing. I was wondering if you could tell by he logo what time period it's from. I put it on our scanner and took 3 "pictures".   haha It is about 3″ high and not quite 6″ diameter and in dang near perfect condition.
Thank-you so much for your time.
Sincerely,
Karen
Answer:
Karen, you have a Red Wing Sponge band Casserole.  Without lid, the value is around $150 if in perfect condition.  The Sponge band stoneware was introduced in the late 1920's by the Red Wing Stoneware Company.  Al Kohlman