There may be a RWCS Chapter near you
Learn more on our Chapters Page.
Membership is only $35 a year and includes six full-color newsletters and exclusive, members only, online content
Question: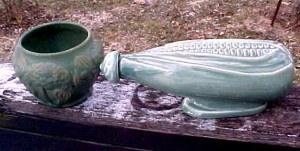 Someone suggested this corn decanter might be Red Wing….would love to know for sure and a possible value….thanks again.  Is the stopper original?
Bob
Answer:
Bob
I think this is Red Wing, the corn decanter, although not marked.  shape A51, and having the stopper is a real bonus, they are hard to find.  value around 3-400 if in great condition.  thanks, steve n rose