There may be a RWCS Chapter near you
Learn more on our Chapters Page.
Membership is only $35 a year and includes six full-color newsletters and exclusive, members only, online content
Question: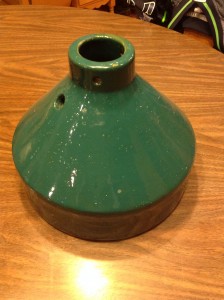 Good morning
My wife and I where on a treasure hunt around 25 years ago when we found this in a basement crawl space. We have seen many with basic glaze and Red Wing markings but have not found one like this. It measures 8 1/2 inches tall and has a 10 inch diameter. I believe I had read years back that Red Wing experimented with green enamel. It does not have any markings on it. Could you please let us know if this is Red Wing and what the value if it would be?
Thank you for the help.
Nick & Lori
Answer:
Yes, the Christmas tree holder was made by the Red Wing Stoneware company.
It was made around 1930.  I have seen some of these with the Red Wing art pottery ink stamp.  I would place the value between $250-300.  Add $50 if it were ink stamped.
Jeff