There may be a RWCS Chapter near you
Learn more on our Chapters Page.
Membership is only $35 a year and includes six full-color newsletters and exclusive, members only, online content
Question: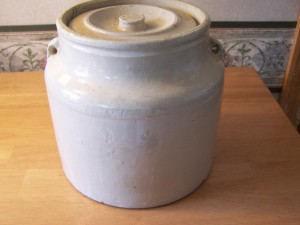 This seems to be a salt glaze pot, about 7 " tall x 7 1/2″ diameter at the bottom, and the bottom is marked Red Wing Stoneware Co. I need help to determine whether this is genuine and if so how old it is.
Thank you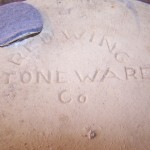 Answer:
Your Red Wing bean pot is the oldest version of their bean pot line.  It is kind of a Boston bean pot version and is show in the 1884 catalog in the Albany slip line.  Yours is zinc glaze which began right in the 1894-95 era,  It is an original Red Wing bean pot.  Al Kohlman