There may be a RWCS Chapter near you
Learn more on our Chapters Page.
Membership is only $35 a year and includes six full-color newsletters and exclusive, members only, online content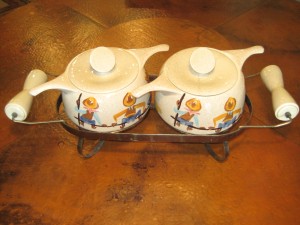 Question:
We have two questions for your experts.
1. We just purchased a Round Up copper casserole holder that holds two casserole dishes.  I have attached a photo.  I am wondering if this could be rare as I cannot find any information on this piece.  We are also wondering if the experts could give us a value. One of the casseroles is in mint condition and the other is in bad condition.
2. We collect Round Up and Chuck Wagon. On the bottom of the plates (see attached photo) some have just a red wing, and others have writing which says, " Red Wing Hand Painted Ovenproof U.S.A." and then a number like 231. We are wondering what the difference is and what the number might mean.
Thank you for your help.
Mike and Carol
Answer:
1.  The copper warming stand is not easy to find but not rare.  The double-wide  arming stand was made to hold two 2 quart casseroles or one 20 inch platter.  The Round Up stand has two pottery handles in beige fleck glaze, which is identical to the stand made for the Bob White pattern.  In other words, a double-wide warming stand with beige fleck handles could be used with either Round Up or Bob White.  The stand by itself is worth $50-75 if it is complete and is not damaged or badly tarnished.  A two quart Round Up casserole with cover is worth around $100 in mint condition.  Hard to place a value on the damaged casserole but it's probably in the range of $10-15.
2.  Red Wing bottom stamped much of their dinnerware with the familiar pinkish-red
wing from 1950 to 1957.  The ink stamp markings changed beginning in 1958.  The design of the new marks varied depending on the pattern, but the color for all changed to black.  Thus your pieces marked with the pinkish-red wing were made in 1957 (or possibly earlier) and thus were made for the Chuck Wagon pattern.  The pieces marked Red Wing Hand Painted Ovenproof USA in black ink were made in 1958 or later and thus were made for Round Up.  Three digit numbers such as 231 were stock or lot numbers; they do not identify the item or hold any meaning to collectors.
Larry