There may be a RWCS Chapter near you
Learn more on our Chapters Page.
Membership is only $35 a year and includes six full-color newsletters and exclusive, members only, online content
Question: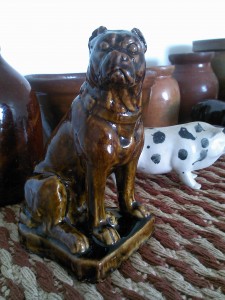 Hi Al, I've collected stoneware animals for ten years and have three Redwing bulldogs and one sitting bulldog that looks like my others. Do you know if Redwing had a sitting bulldog? Even his collar looks the same!  If so what
value would you place on it and the classic ones? I also have the Ruckle's
Bristol glaze pig in the Whitehall Illinois stoneware book,  the same one
in the book by the markings. Have you ever seen this sitting bulldog?
Thanks for any information you can give, Angela
Answer:
Angela,
this is the first sitting bulldog that I have seen.  It does look like the
Red Wing Bulldogs and I bet it is.   That is quite a piece and would
love to know if any other collectors owns one.  The value on that dog
would be scary at best.
Now the pigs being Red Wing on Monmouth?   I can't tell.  Unless
they are signed, they look exactly the same.  Both potteries must have
used the same molds   Al Kohlman