There may be a RWCS Chapter near you
Learn more on our Chapters Page.
Membership is only $35 a year and includes six full-color newsletters and exclusive, members only, online content
Question: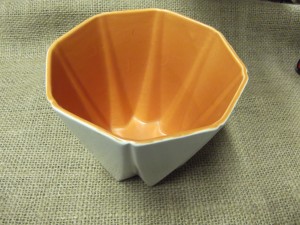 Greetings,
Thank you for offering information on Red Wing Pottery.  I am a novice collector / auction addict.  I purchased this vase last week in Wyoming and can't seem to find any information on it.
Any help you can offer would be greatly appreciated.
Thank you,
Marty
Answer:
this is part of Belle Kogan's Prismatique line, circa 1962.  Value is around 45.00 or so.  thanks, steve n rose