There may be a RWCS Chapter near you
Learn more on our Chapters Page.
Membership is only $35 a year and includes six full-color newsletters and exclusive, members only, online content
Question: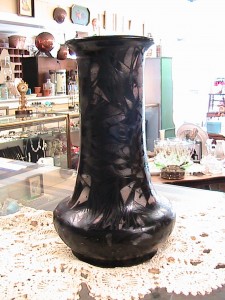 Hi,
I purchased this Red Wing Art Pottery vase from an estate along with some Roseville pieces and have been unable to find out any information on this particular glaze. It has the Red Wing Art Pottery ink stamp on the bottom with a raised 196. I am aware that there are "hobby shop"
pieces out there, so am wondering if this may be one of those, although the time frame for this particular piece doesn't really fit considering where I got it. The inside of the vase is white except along the upper part where an underglaze was sort of dripped down on the inside of the neck. The black design has the look of peacock feathers and fern leaves (?). Any information including value that you can give me will be appreciated.
Thanks,
Kathy
Answer:
kathy
I've seen a few of these early forms with a crystalline type glaze, altho not quite like this.  is it paint?  it seems to have texture to it.  the original vase is quite smooth.
 
if it's actually glazed, I would say around 300.00 or more.  thanks, steve n rose