There may be a RWCS Chapter near you
Learn more on our Chapters Page.
Membership is only $35 a year and includes six full-color newsletters and exclusive, members only, online content
Question: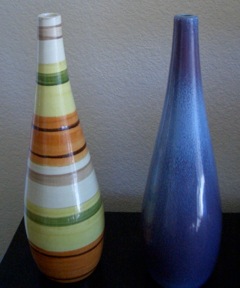 What can you tell me about this vase. The orange one has the part number 682?
Answer:
The orange vase is from the Chromoline series that dates from the 1960s and the glaze color on the stripe one is rust and green. The value for this shape is $150. The RWCS actually did this shape as our commemorative last year.
The blue one is from the Doric line, a year after the chromoline, value around 70.00 on that one.  thanks, steve n rose