There may be a RWCS Chapter near you
Learn more on our Chapters Page.
Membership is only $35 a year and includes six full-color newsletters and exclusive, members only, online content
Question: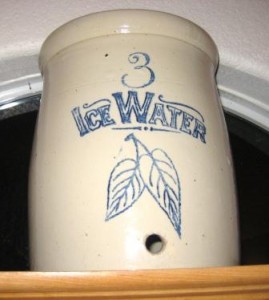 Al:
We were wondering if you could give us a value of this Blue Birch Leaf Water & Ice Crock. It is in excellent condition, with one small rock pop to the left of the top of the three. 
Also, we would like to get a lid but are not sure which lid goes with it.  Is it the button lid or the bar lid?  Thank you for your time.
Carol & Mike  
Answer:
Carol & Mike, your Red Wing 3 gallon birch leaf Ice Water has a value between $800 & $1000.  The correct lid for this Ice Water is a 2 gallon Red Wing button lid.  All Ice Waters that the crock button lids and for every gallon size of Ice Water you will need to go down one gallon size on the lid in order for it to fit.  Al Kohlman