There may be a RWCS Chapter near you
Learn more on our Chapters Page.
Membership is only $35 a year and includes six full-color newsletters and exclusive, members only, online content
Question: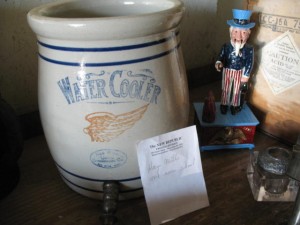 Dear Folks, I have a 3 gallon water cooler with the lid. The lid has a few chips on the inside but in good shape on the outside. The crock its self is in good shape with little to no spider cracks. a small manufacture flaw and the spout works. Is the 3 gallon produce in quantity or not ? What years where they made, and what is its value.
It is marked in an oval Red Wing Union Stoneware Co. thanks For your time Jesse
Answer:
Jesse, you have the early hand turned Red Wing water cooler with the correct and hard to find button lid.  The cooler itself has a value in the area of $500 to $600.  The lid with just the chips underneath as the same value of $500 to $600.  In total $1000 to $1200 for the complete cooler with lid and spigot.   The 3 gallon coolers are common, but these hand turn coolers are somewhat harder to find.  The hand turn water coolers were produced somewhere between 1918 to the early 1920's.