There may be a RWCS Chapter near you
Learn more on our Chapters Page.
Membership is only $35 a year and includes six full-color newsletters and exclusive, members only, online content
Question: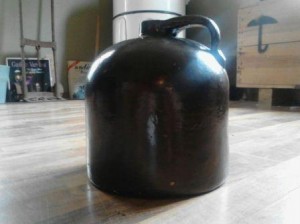 While we are at it I may as well get a current value on my little jug. This is probably my favorite piece in my meager yet still growing collection. 
Thank You 
Rob 
Answer:
Rob, your 1 gallon Albany slip Red Wing bottom signed jug in perfect condition has a value between $60 & $75.  Al Kohlman