There may be a RWCS Chapter near you
Learn more on our Chapters Page.
Membership is only $35 a year and includes six full-color newsletters and exclusive, members only, online content
Question: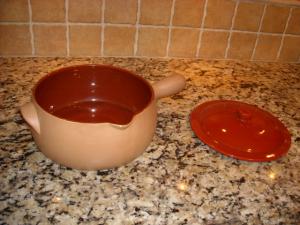 I got this Red Wing pot yesterday from my Aunt's house who recently passed away. It is brand new and says Red Wing USA 125 on the bottom. I don't know what to do with it. Can you cook on top of stove or what? She had never used and was 83 years old. It is light brown on the outside and glazed on the inside. Kaye

Answer: You have a 3 quart casserole from the Provincial Bakeware set. This set was made in the 1960s and consisted of various baking dishes such as casseroles, bean pots, oval baking dishes, and egg baking dishes. They were intended to be used to bake food in the oven. If your casserole is intact (no cracks) it should be perfectly fine for that purpose today. It should not be used with direct heat, such as on a stove top.
Larry