There may be a RWCS Chapter near you
Learn more on our Chapters Page.
Membership is only $35 a year and includes six full-color newsletters and exclusive, members only, online content
Question: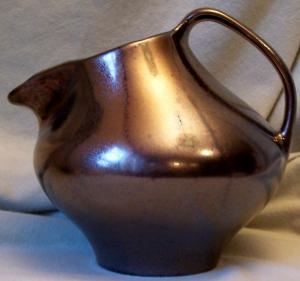 I have sent a picture of a pitcher that I have. I would like to know the pattern name. It is bronze metallic and measures about 7 1/2" high. Thank you so very much Amy

Answer: Amy, your pitcher is from the Kashmir dinnerware pattern, one of four patterns in the Like China line. This pattern was introduced in 1964. Kashmir is rather difficult to find today due to its short lifespan. I don't have an exact day but am quite sure Kashmir was discontinued a year or two before the pottery closed in 1967.
Larry