There may be a RWCS Chapter near you
Learn more on our Chapters Page.
Membership is only $35 a year and includes six full-color newsletters and exclusive, members only, online content
Question: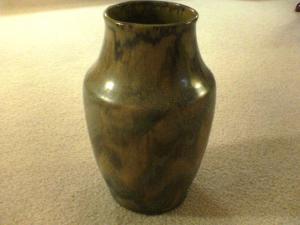 Hello, I have an old red wing vase with "nokomis" glaze. Its marked Red Wing art pottery and stamped 208 and hand numbered 69. They only flaw is a small chip towards the bottom. What's do you think its value may be?

Answer: Nokomis is still a popular glaze, although it's value has declined some lately. The chip will hurt it some as well. Just a guess, maybe around $150 or so. thanks, Steve n Rose